There isn't much that's more fun than when people rank things. This time it's the "25 most dangerous neighborhoods [in America] 2010" from AOL's Wallet Pop: Because you need a consumer reports magazine to tell you to buy a place that's not in the projects.
The data in this report comes from "Dr. Andrew Schiller's team at NeighborhoodScout.com," who told Wallet Pop that "even the cities with the highest crime rates can have relatively safe neighborhoods, and thus it is less useful to generalize about an entire city."
Which means that instead of saying Cleveland is a dangerous city, we can say that two Cleveland "neighborhoods" make the list of America's top 25 most dangerous. Even though the two "neighborhoods" aren't really neighborhoods, and even though they're literally right across the street from each other.The first is what NeighborhoodScout calls the Scovill Avenue neighborhood, and the second-most dangerous neighborhood in the Country (as measured by violent crimes (mostly robberies and assaults) per 1,000 resident). Half of this neighborhood, as gerrymandered by NeighborhoodScout, is housing projects, and the other half is the Woodland Cemetery. Why the projects off Scovill got lumped in with the cemetery instead of any other section of blocks in any other direction is anyone's guess. And while the Scoville Ave. projects might actually be the second-most dangerous projects in America, we have to wonder to what degree anyone who lived in any of the other sections of blocks in the other directions would be more inclined to commit statistically significant offenses in the cemetery among all the trees (the only trees around) as opposed to other nearby locations, all else equal.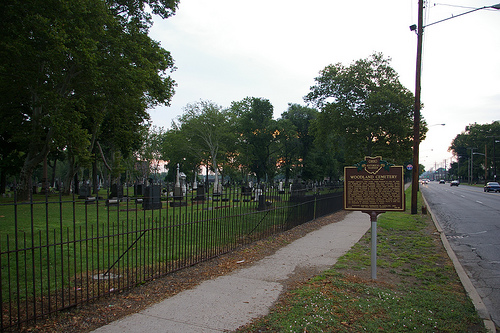 Anyway, all isn't lost for the Scovill Ave hood. For starters because NeighborhoodScout also rates it as more "hip and trendy than 89% of U.S. neighborhoods," defined as "some character akin to Greenwich Village and Harvard Square." We don't know much about Greenwich Village or Harvard Square, but do hear it can be really dangerous to have some character. Plus, we've been to the JJ Fish & Chicken that lies squarely in this danger zone and can tell you that it's good as hell and sort of flies under the radar. So like everything else, it's just like they say about "a gift and a curse."
Another thing that's getting lost in these dangerousness rankings is the walkability factor. The Scovill Ave. hood is ranked as "more walkable than 70% of U.S. neighborhoods" (walkable defined as "easy to navigate on foot"). Amazingly, the Chestnut Place neighborhood (which is basically all projects itself, and comes in as the 20th most dangerous hood on the list) is more walkable than 99% of all U.S. neighborhoods even though it's just across the street from 70% Scovill, which must be because there aren't any trees or headstones to trip over. Anyway, of course, if this area wasn't so walkable, there's no way it would be so dangerous. Just another form of the gift/curse thing, like what Kissinger said about the susceptibility that comes with mobility.
The sun follows the moon follows the sun. What's walkable and trendy is dangerous. Naturally, in Cleveland, the realest place there is.
(Especially real since anybody who wants to get from any of a number of parts west to the East Side in any reasonable amount of time has to creep slowly right through the heart of the second-most dangerous neighborhood in America to do it. Sometimes its hard to know how dangerous you are until somebody tells you.)
UPDATE: Recognizing the connection between walkability and danger, local parking lot operator does its part.
———-
It's Danger Day, and this guy is right about T.J. Ward's hit on Jordan Shipley. Up with brains. There are other ways to be an enforcer, like breaking people's ribs, or hips.  
———-
Randy Moss traded back to the Vikings. "Pissing Coach Belichick off at every turn," they say. Which means he won't play in Cleveland this season. Which is totally fine.
———-
Back tomorrow with the Cheddar Bay Open Thread and the week's NCAA football picks. Hope everyone has a decent go of it in the meantime.