So LeBron responds to a baiting question on race with a vague truism and the internet and talk radio go Mississippi Burning. Meanwhile, nobody makes a peep at Cavs owner Dan Gilbert having joined the pile-on by calling LeBron an "A-Hole" on Twitter.
It's impossible to assume that it's anything but that when less than 24 hours after LeBron's now infamous comments on CNN, when nobody's talking about anything but LeBron, Gilbert decides to drop some wisdom about rich A-Holes from his @cavsdan account: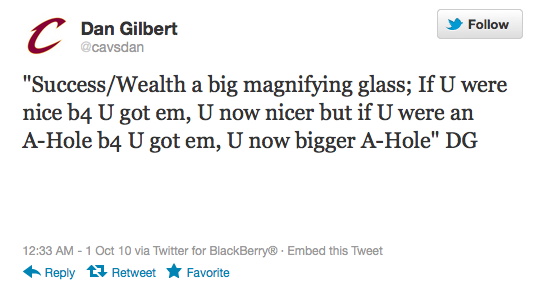 "Success/Wealth a big magnifying glass; If U were nice b4 U got em, U now nicer but if U were an A-Hole b4 U got em, U now bigger A-Hole" DG
Amazingly, nobody seems to want to ask the Cavaliers owner about his latest "Gilbert-ism."  Not the Plain Dealer, not ESPN, not 19 Action News. Nobody. Hasn't decades-worth of programming been squeezed from a lot less than this?
So it must be official now. Spades are spades. It's Dan Gilbert and "real Clevelanders" against A-Hole LeBron until the end of time, with nothing in between. If the NBA really is turning into the WWE, it's not just the players making it happen. And everybody's totally fine with all of this.
———-
UPDATE: Kelly Dwyer of Yahoo Sports weighs in:
"[W]hile we continue to shake our heads at the unfortunate way James continues to be led around by a mug like Maverick Carter, he's still a 25-year old with a diminished sense of perspective that is growing up in public.
"Dan Gilbert's a 48-year old guy who calls other people "A-Holes"s on Twitter. So, win/win, NBA.
"… [L]et's not forget, of course, that Gilbert's constant pampering and acquiescing to James' handlers had as much to do LeBron's current bout of nasty narcissism as anything. Or that his former GM's personnel moves, the ones that left James without a supporting cast to match the sort of outfits that helped Kobe Bryant(notes) and Dwyane Wade win rings, had just about everything to do with LeBron taking his talents to South Beach.
"Naw, let's keep flailing away. Nothing like ethics insight done in 140 characters or less, with six of those bad boys being used up to type "A-Hole." Twice."
———-
UPDATE: Gilbert denies that the tweet had anything to do with LeBron, and questions my "cyber-courage."
———-