(UPDATE: Eyewitness Account of "Attack" here.)
A lot seems fishy about today's sensational reports that an 8-year old Jets fan from Painesville was tackled and bruised by a Browns fan in the Muni Lot after Sunday's game at Browns Stadium.
Before we get to the long list of things that are unbelievable about this story, here's the most relevant excerpt from what's so far, sadly, the most comprehensive report on it, by WEWS NewsChannel5:
Danielle, who didn't want us using her last name [Brennan], said things inside the game were great for her husband and [eight-year old] son, but outside it got rowdy.
"Calling him a bad word, to my husband and to my son, throwing food at them," Danielle said. She said the worst of it was in the Muni Lot, as they were walking to the car to leave.
"As he was walking, holding my son's hand, a guy from behind tackled him. A drunken Browns fan tackled him and pulled him out of his dad's hand. He was on the ground crying," Danielle said.
She said the little boy's ankle was scraped and bruised. The dad didn't call police, opting to leave instead.
"He just wanted to get him out of there, out of that environment," Danielle said. . . .
Danielle decided since she couldn't confront the angry fans herself, she would write a letter to the editor of the Plain Dealer.
"I just wanted that person to read it and know that he really ruined a good game, a fun game. It was a great game and ruined it for a little boy. It doesn't matter if he was a Browns fan or a Jets fan, he was a little boy," Danielle said.
Start with the idea that someone would be in the Muni Lot who's enough of a sociopath to tackle an 8-year old, even if blind drunk. We've seen people do dumb things, and we've seen them do terrible things, even in the Muni Lot, especially when blind drunk, and especially to opposing fans, but this would be about as bad as it gets. Completely sensational.
The idea that something like this would happen in broad daylight and go unreported until the victim's mother decided to write a letter to the newspaper is the hardest thing to believe here. When did the alleged attack occur? If it was anytime close to when the game ended, the Lot would have been crowded, both with lingering tailgaters and with folks trying to exit the crowded lot in their vehicles. The game went into overtime, and the Stadium remained full until the very last second.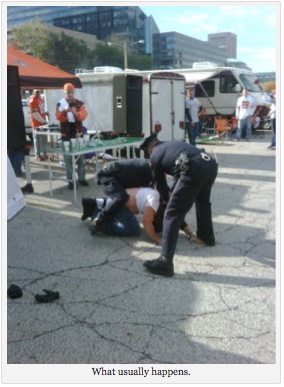 The lot would have been crowded with law enforcement officials, uniformed (at least sixteen according to City Safety Director Martin Flask), and undercover, especially after the game when folks might rightly be expected to be the drunkest, most frustrated, and most likely to get behind the wheel. More than once in Cleveland, we've seen undercover cops materialize from thin air at a ballgame to arrest somebody for looking sideways at a security guard, usher, uniformed officer, or someone in an opponent's jersey (e.g., second-to-last photo here).
That this could have happened without an officer seeing it is one thing (especially if folks were throwing things at the accusers leading up to the alleged tackling), but that anyone, even the companions of the alleged attacker, would have let the attacker get off with such a thing is even harder to believe. Even assuming maximum drunkenness of the crowd, the attacker likely would have been attacked himself, if not by the father of the alleged victim, then by another witness, causing a brawl that would have been sure to attract the attention of law enforcement. Who would have seen this and not have gone James Harrison on the attacker here, or at least have called the police?
Along these lines, we're supposed to believe that the alleged victim's father let his kid get pile-driven by a drunk, didn't hit back, didn't call police, but did let his wife go on TV to complain about it? Wouldn't Christ himself at least have filed a police report?
It really doesn't take a conspiracy theorist to acknowledge the likelihood that any of a number of agendas could be at play here to manufacture this sensational story. It could be something as simple as a husband not wanting to catch hell from his wife for letting his kid getting scraped up at the game. A postgame tailgater who accidentally fell on or tripped the kid and wasn't apologetic enough? We've seen what people will do to their kids to get on TV. And on the evidence presented, it's just as easy for us to believe that some lunatics think they're doing the Lord's work in manufacturing this story to help send the heathens up as it is to believe this actually happened. The soundbites are just too perfect.
Though the boy's injuries were minor,** the incident left a lasting impression.
"My husband asked him, 'Did you have a good time?' He said 'Yes." He said 'Would you want to go back sometime?' And he said 'No, I don't like Browns Stadium.' Who could blame him?" Danielle said.
The Muni Lot is operated by the City of Cleveland. Cleveland parks and recreation director Michael Cox told NewsChannel5 rowdy fan behavior, like this incident, is one of the reasons the lot no longer opens at 4 a.m. on game days.
"Rowdy fan behavior like this incident." Where? When? Ever? In 65 years of Browns games in Cleveland has anything "like this incident" gone down?
The Jets organization offered to fly these folks to New York and give them the VIP treatment for a game, and the family declined. Why? Why not let the boy have a trip of a lifetime, and let him see that America's really not such a cold place that 8-year olds should have to endure being tackled by adults in parking lots after football games?
Because an 8-year old never really was tackled by an adult in a parking lot after a football game?
Where's at least one more witness? Where's dad? How soon after the game is this supposed to have happened? How'd nobody else see this? Who's the dad who lets his kid get attacked by an adult and doesn't either file a police report or try to bust somebody's face? Who's the mom who goes to the press with this? What good could she possibly think she's doing for her kid here? Why haven't today's reports as much as suggested that any of these are relevant questions?
Matt Higgins, the Jets' executive vice president of business operations, said "it's terrible, what happened to that little boy."
So it must have happened. Eight-year-old Jets fan tackled by crazy drunken Clevelander. Innocent until proven guilty, but not in the press today, where Cleveland's already incredibly been convicted of being a depraved wasteland where something like this could happen and go unreported until the victim's mother writes a letter to a newspaper.
Our heart goes out to any eight-year old who really has been tackled by a strange adult without consent, and to the Brennan kid here no matter what happened, but mom's story is really hard to believe.
———-
*Ms. Brennan's letter to the Plain Dealer is here.