The U.S. Census counted fewer people in Cleveland again, and Mayor Jackson really shouldn't be so defensive about it.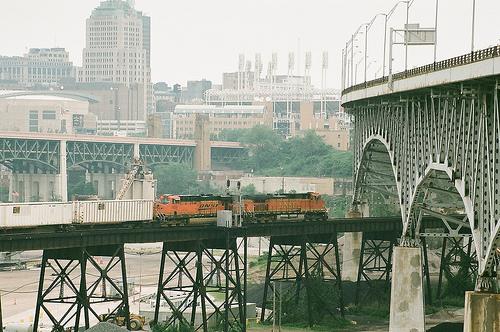 Per Rich Exner in this morning's Plain Dealer, "population plunged by 17 percent as 80,000 residents left the city" leaving "the smallest number of people to call Cleveland home in more than 100 years."
"We knew there was going to be a loss. We did not think it was going to be this many," said a surprised Cleveland Mayor Frank Jackson.

Jackson said he believes census-takers missed population and that the foreclosure crisis sparked unwanted flight, robbing people of their homes and forcing them to find new ones. . . .

"Without the foreclosure crisis," he said, "we believe the population loss would have been minimal."*
Exner himself calls the census report "grim news," and quotes Greg Brown, the executive director of Cleveland think tank Policy Bridge, who says "there's just a fear that [shrinking cities] are the cities people don't want to move to, that businesses don't want to go to. We certainly have a lot of work to do to turn this around."
"From a purely demographic standpoint, Ohio's just not getting the Hispanics that other, even Midwest states are getting," said William Frey, a national census expert with the Brookings Institution.
"The Hispanics! We're just not getting them. Which one of you bums is going to bring me the Hispanics!?"
We're all for think tanks staying busy but how about let's leave the Hispanics be and not get so worked up about them wanting to be closer to places where they already have plenty going on? Our sense of civic well-being should probably depend on something other than having the Hispanics reinvent the wheel here.
And one thing that would help for sure is if we could agree to recognize that references to population loss as per se "grim news" are per se offensive. If you roll your cursor over the map at the bottom of the PD piece, you'll see that Ohio's population growth is right in line with every other state in the Northeast, where people have been leaving for parts south and west for decades now. Which makes all kinds of sense even if you only remember that the Northeast is where most of them came in to the country in the first place.
There's also the 'massive transformation of the industrial heartland' thing that nobody seems to be looking at the right way here. Real Facts of Science: All else equal, massive transformation is something the average person tends to try to avoid. It doesn't mean that there's not plenty to do for the folks who stick around for it, and probably means the opposite, like the guy from the think tank said. But it really can't be anything to be scared of.
In the meantime, today's as good a day as any to remember what Harvey Pekar said about boosterism. It gets tiresome repeating the same things over again, but no matter what the Census says, if we just keep this place a nice one for the people who are here, there will still be places for us to get a really decent bite to eat; The lake probably isn't going to dry up anytime soon; The Clinic probably isn't moving; the Browns won't for sure; and we're a long way from anybody shutting the highways down, or the sewers, or Map Room or anything. If those things happen, maybe then we can start thinking about a Plan B.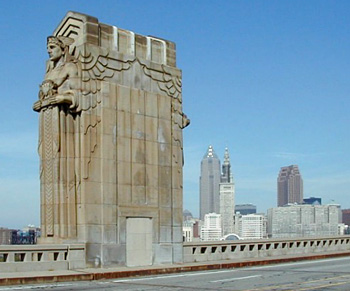 ———-
If you needed any more proof, this 2011 Northeast Ohio fish fry guide will make your head explode. Spend days counting all of them, or just trust us on this one:
SS CONSTANTINE AND HELEN GREEK ORTHODOX CATHEDRAL: 3352 Mayfield Road, Cleveland Heights. 216-932-3300. 4:30-8 p.m. Fridays through April 15. All-you-can-eat fish fry, calamari basket, shrimp dinners and walleye dinners with spanakopita, tiropita, rice pilaf, New England clam chowder, mac & cheese, greek salads and rice pudding. Kids meals and homemade Greek pastries (baklava, finikia, and galatobouriko) are available. Plus live entertainment. $8.95 (all-you-can-eat), Other dinners available up to $12.95. $4.95 for children ages 5-12 (all-you-can-eat) and a free fish dinner for children ages 4 and under.
The Greeks: Because nothing says "lenten austerity" like all the fried fish you can eat, plus live entertainment. Don't tell Constantinople.
—————
Cleveland: Our Gangsters are Realer than Yours.
—————
Cleveland: Where there is no sports news today.
Hope everyone has a decent one. We'll be back tomorrow as always unless something crazy happens.
—————
————–
(UPDATE: Cleveland: The Realest Most Resilient Impervious Irrepressible Place There Is)