As sad as it is when it happens, when we can so clearly see the ills of society-at-large come to infect our national pastimes, it at least helps show how following sports can be important. Like how our inability to join the rest of the civilized world in providing for universal health care helps get us an NFL lockout, or the fact that we can't make peace with plants and let go of a demonstrably backward policy on controlled substances helps people get away with saying with a straight face that one of the most truly awesome athletes of our time, Manny Ramirez, doesn't belong in baseball's Hall of Fame (and much worse).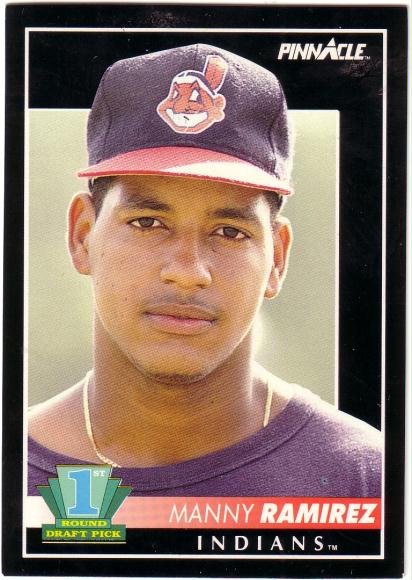 We don't have to pretend that resolving these bigger issues is simple, including MLB policy on performance-enhancing substances, because with respect to Manny and the Hall of Fame it's enough to note a few things: 1) That efforts to develop new untraceable substances and delivery methods have always outpaced the efforts to police the users; Which makes sense because, 2) the incentives to use these substances to further MLB stardom are incredibly compelling and probably impossible for a non-competitor to fully comprehend; Further, 3) people don't follow rules when they perceive compelling reasons to risk breaking them; So we shouldn't be surprised that 4) there's plenty of evidence suggesting that many if not most of the era's stars (if not just about everybody) used the substances; Finally, 5) we've come a long way from greenies, clubhouse cocaine, and Lyle Alzado in that athletes, with the help of doctors, have continued to make progress in learning how to use the substances safely.
Of course, it's easy enough to see that these questions exist, and from there reflect on Manny's career for a moment to understand that Manny's greatness transcends the era and his own role in it however the questions are resolved; that Manny Ramirez would have been one of the greatest players of any era, no matter which specific kind of performance-enhancing substance was in prevalent use. It's hard to imagine how it could be easier than it is with Manny to acknowledge (if not celebrate) that the world is a complicated place, and that even our most famous baseball stars aren't immune to the complications.
Easy enough for everyone except the sports columnist whose apparent goal is to ensure that the neurologically-impaired stay that way. Because one has to pretend that everything is really simple when he writes like the Plain Dealer's Bud Shaw did that Manny Ramirez's "true legacy" is "being dumb; really dumb." It hurt Clevelanders when Manny left as a free agent to go on to win two World Series with the Red Sox, so Shaw not only reduces the PED-issue but also, implicitly, that of MLB's skewed economics to dismiss the legacy of one of baseball's best hitters and compelling characters as that of, simply, a dumb cheater. Extra dumb, Shaw tells us, because Manny tested positive for PEDs, got cited for making an illegal U-Turn, and once thought his teammates were talking about teammate Chad Ogea when they were really talking about O.J. Simpson.
And Shaw's money shot:
"I'm at ease," Ramirez told ESPN Deportes. "God knows what's best [for me]. I'm now an officially retired baseball player. I'll be going away on a trip to Spain with my old man."

So, God decided for him? And not the 100-game suspension he was facing for failing a spring training test for performance-enhancing drugs — again?
So we see that it's completely unfathomable to Shaw that Manny or anyone could be comfortable enough acknowledging that at least some of the world's complications are out of Manny's hands in some significant part.
And here's more of the same from the PD's Dennis Manoloff. "Manny no more belongs in the Hall of Fame than Bozo the Clown," D-Man writes, "and that might be an insult to Bozo."
In fairness, Manoloff does better than Shaw in at least asking some questions while making the "cheaters don't get in" argument, but does much worse in worrying as much as he does about a need to punish Manny:
If Ramirez, a former Indian, is allowed into the Hall some day, he will have gotten everything he could have wanted out of baseball but paid no legitimate price for cheating. And if you think shame is enough of a price paid by Ramirez, well, "Manny being Manny" must not have computed the last 19 years.
But if the PED's are supposed to be so dangerous, what does Manny need to be punished for? Why aren't the supposedly harmful effects of the drugs punishment enough? If they're not, why ban the substances in the first place?
It's understood that there's a 'race-to-the-bottom' element to the discussion; the argument being that by giving Manny and the rest the right to experiment with these medicines, it encourages others to do the same to keep up. But eventually everyone learns from those who pushed the envelope the furthest (again, as folks have learned from Alzado's example, and no doubt continue to learn). Under the existing rules, the experimentation happens anyway, but in an underground black market, making it almost impossible to take lessons from it. And to the extent that the race-to-the-bottom is a concern even under prohibition, then the unsupported wishful thinking by Manoloff (and others) that "the vast majority have been clean" has to be wrong.
When the sportswriter can't so much as bother to acknowledge that these questions exist, we're left to assume the column is about the columnist's revenge as much as it's about anything else. Flogging the "dumb cheater" is the easiest way there is to take out legitimate frustrations against an economy where the ballplayers are paid so much more than everybody else is. And Time's Sean Gregory gets right to it here:
[Manny] never truly engaged fans, or reporters, who at the end of the day connect players to the public. When it comes to judging his legacy, and wondering whether Ramirez used steroids throughout his career — if he got busted during the days of tougher testing, it stands to reason that he used drugs when testing was a joke — why give him the benefit of the doubt? Manny clearly never had any love for those who paid his $20 million per-year salaries. There's no reason to love Manny back.
So it's not hard to see that Manny is being held to account in large part simply for not caring about the same things that the sportswriters who cover him care about. The Chicago Tribune's Phil Rogers was even more to the point. "As little as Ramirez seemed to care," Rogers asked, "why should we?"
One good reason we should care is that there could hardly be any worse horseshit than the notion that "Manny never truly engaged fans." Manny, once described in The New Yorker as "the closest thing in contemporary professional sports to a folk hero," one whose "originality resonates at the level of species," captivated fans whether they loved him or hated him, and embodied eccentric genius as much as any athlete of our time. In this world, apparently, at least as regarding Major League Baseball, that might be the precise reason an athlete is kept out of his sport's Hall of Fame. Which isn't just sad, but scary; as bad an example as there is of "it's different, I don't understand it, so I'm going to put it in this box labeled 'BAD' at the first opportunity I get." America's warped relationship with plants and medicine and related warped notions of criminology are what creates this particular opportunity, and we only have to reflect on these incredibly reductive sports columns and Manny's career for a moment to see it.
Keeping Pete Rose out is one thing, but if you really want to know that things are upside down, try a baseball Hall of Fame without Manny Ramirez in it.
—————
*Per Bob Matthews of the Rochester Democrat and Chronicle, "The top eight [AL] MVP finishers [in 1999, when Manny finished 2nd]  should be used as a clue to how prevalent PEDs might have been: Ivan Rodriguez, Pedro Martinez, Manny, Roberto Alomar, Rafael Palmeiro, Derek Jeter, Nomar Garciaparra and Jason Giambi."
Gordon Wittenmyer of the Chicago Sun-Times reported that Ramirez's former teammate Reed Johnson:
"wondered aloud about how many players in recent years might have had game-changing and season-changing performances for their teams because of steroids or other banned substances, but were low-profile enough to escape suspicion."

"It's hard to really point the finger at those [high-profile] individuals just because the other guys didn't get caught,'' he said.
((*)UPDATE: A hypothetical from Eno Sarris at Fangraphs:
Say you're in a market-leading law firm. You're eligible for partner. You survey the scene, and see that many of your peers are banking more hours than you. They're madmen, clocking 16-hour workdays, and yet their output is not suffering. In fact, they're killing it. All the adoration of the younger lawyers is directed in their direction, and they're taking on huge cases, sometimes many at a time. As a senior associate, you've been successful, but you're also an ambitious guy, and you can feel your grip on that partnership slipping. How are they doing what they're doing? One day you catch an paralegal talking about how all the associates are using ephedrine and adderall, and how the drugs help them stay up and get work done – even calling them the "new coffee." They are prescription drugs, and abusing prescription drugs is against the law. But your firm doesn't drug test, and there's been no institutional talk against the drugs.

Do you still manage to say no?

You may yet answer that you wouldn't give in to temptation, but I submit that the hypothetical situation still humanizes the choices that Barry Bonds[, Manny and the rest] made.
If this applies to life in a corporate law firm, it applies exponentially to Major League Baseball, or times however many billion fewer people there are who grow up wanting to be corporate lawyers than ones who want to be ballplayers.)
**Scott Raab on how he'll remember Manny:
The steroid era fits right into the game's mythic history. That's how I look at it — in the same context as the Black Sox, the color line, Pete Rose, Ball Four, and a thousand other aspects, small and large, of my favorite sport — and that's how I talk to my son about it. . . . . Manny will always be in the batter's box in my mind's eye, unleashing that perfect swing, head down, hips turning, hitting the shit out of the ball.
***Some relevant statistics, again, per Matthews:
When this season began, here's where Ramirez ranked among active players:

First in extra-base hits.

Second in slugging percentage (.586; behind only .624 by Albert Pujols) … 2nd in total bases (4,825; behind only Alex Rodriguez's 5,043) … 2nd in doubles … 2nd in RBI (1,830; behind only A-Rod's 1,831). … 2nd in at-bats/RBI (4.5; behind only Ryan Howard's 4.3).

Third in home runs (555; 14th all-time; behind only A-Rod's 613 and Jim Thome's 589) and on-base percentage.

Fourth in games, runs and walks.

Fifth in hits (2,573).

Ramirez retires with a .312 career batting average, and a major-league record 28 postseason HRs. He is [15th on the all-time home run list], 18th on the all-time RBI list [and second all-time behind Lou Gehrig with 21 grand slams [to Gehrig's 23].
Ramirez has also appeared in more postseason series than any player in history, 23, and his team won 14 of them. He's tied with Pete Rose for the longest LCS hitting streak in MLB history (15).
More on Manny's numbers here at Hardball Talk.
****The New Yorker piece by Ben McGrath quoted above is probably the definitive Ramirez profile.
And a comprehensive summary by Eric Walker of how warped the arguments over Baseball's Drug War have become, also an excellent read.
UPDATE (2): Joe Posnanski at SI.com: "Peter over at Cleveland Frowns has a passionate post about Manny Ramirez and the Hall of Fame, and it made me think about Lyndon Johnson."