"The Greater Man upstairs know when it's my time. Right now isn't the time." — LeBron James, 6/13/11
—————
It has to be the rightest thing LeBron James has done in at least a year, making his first last word on a shocking NBA Finals meltdown a reference to a higher power. All the turnovers and missed free throws, the statistical drop-off, the bizarre fourth-quarter paralysis, the complete lack of resemblance to the team that ran through the Eastern Conference playoffs, a supposedly elite NBA defense unable to keep the Dallas Mavericks from putting more than half of their three-pointers through the nets in the final two games of the series. It's hard to imagine a basketball team looking more like one on the wrong side of nature's law than the Miami Heat did in the 2011 NBA Finals.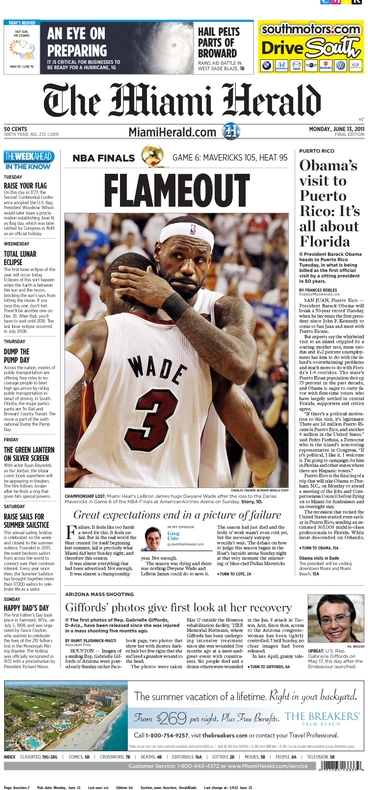 With the details having been set forth as they have, it's especially hard to see the Heat's failure as a result of much more than the inability on the part of its superstars, especially LeBron, to react to the unprecedented pressure they created for themselves. If LeBron's amazing meltdown in this series represents the largest disparity between an athlete's talents and his output in recent memory (if not modern sports history), we probably shouldn't be so surprised. Power/responsibility, mobility/susceptibility and all that. There's never been a more powerful free agent athlete than LeBron and it's not even close; and whatever else about The Decision, it represented LeBron exercising that unprecedented power to the maximum.
Of course just because you have power doesn't mean you should use it, but I'd be able to enjoy this Mavaliers win a lot more if I hadn't so clearly (rightly or wrongly) viewed the Decision as a gross misapplication before it happened. Nobody should have needed the Heat to lose to confirm that the Decision, at least as executed, was largely revelatory and a result of LeBron's own personal weakness, and a Heat championship this June wouldn't have changed that picture in the slightest. Different strokes, different folks (obviously), but LeBron's weakness — the spectacular failure of a guy Northeast Ohio spent eleven-plus years pumping up — was never anything I cared to revel in, and certainly isn't now.
The question for me has always been about whether and how LeBron would turn into something else; how he and we could best move past the sadness of the Decision to salvage anything at all of the magic that was all but say four painful weeks of LeBron's seven-year run as a Cleveland Cavalier (go ahead and count the four years at St. V., too). I figured that a Heat championship in this first season could be as quick a road as any here, to the extent that LeBron would realize that even a perfect run with the superfriends wouldn't earn him the kind of love and respect that he had when he wore the Cleveland jersey. But maybe this bizarre loss is just as well, especially in view of LeBron's "I'm still rich and you're still you" response to critics in his press conference following last night's loss.
Not because whatever pain LeBron feels from this loss will finally impel him to use this first-in-so-many-summers away from chasing global iconhood in China or with an unprecedented mess of a free agency to add the post-up game that the experts have been screaming about for years. How much practice will it take to keep "The Greater Man upstairs" from putting a lid on top of your team's hoop and a vortex below the other's?
Probably not all the practice in the world for LeBron, at least not until he manages to break free from the "Team LeBron vs. The Rest of Humanity" mentality that's as well explained by LeBron's background as it is by anything, and equally explanatory of the Decision (How much freedom to use? Why not all of it? Knowing what we know now about what was going on then, how else was LeBron going to answer this question last July?). LeBron's post-game presser made it clear that there's a long way to go, but also that there's an obvious place to start. Now that he really can't point the finger at anyone but himself, he's as likely as ever to listen.
—————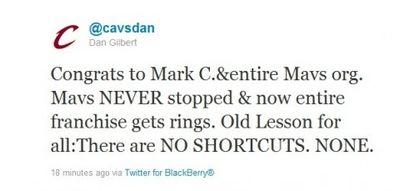 In closing, just a few quick questions about Dan Gilbert's tweet celebrating the Mavs win: First, if I don't have the money to buy a home, is it a "SHORTCUT" if I borrow the money from someone else to do it? Is it more or less of a "SHORTCUT" if I take out a loan called a "Quicken Loan"? Would it be better if I borrow money with a loan that has a less speedy name?
If I'm going to buy an NBA franchise, shouldn't I avoid a SHORTCUT by buying a franchise that didn't just win the lottery to draft the greatest and most marketable prospect in NBA history?
What kind of screening will the new Cleveland casinos do at the door to make sure they don't let anybody in who's trying to use casino games as a SHORTCUT to having more cash when they leave the casino than they had when they entered?
Is there a more incredible A-hole on the planet?