"When you come to work every day and you see the owner's car parked right out front. He's right upstairs and you can go talk to him and he comes to practice every day … " — Pittsburgh Steelers nose tackle Casey Hampton
"It is about the organization. The way it is run; like a family. To see a man like Mr. Rooney, who I think is probably the most respected owner in football right now, to see him in the lunch room, he knows your kids names, and he hugs your wife. I think the family aspect of the whole thing makes you not want to leave." — Steelers safety Ryan Clark
—————
It's one thing to know for a fact that the owner of the Cleveland Browns hates Cleveland (and America, and American football, and cars), it's another thing to have data from an airport in the Hamptons that says the same thing.
Per Curbed Hamptons, in a post titled "Randy Lerner Escapes from Ohio at Every Opportunity," Lerner's private jet has touched down in the East Hampton, NY airport 390 times since 2007, which is almost twice as many times as any other plane has landed at the same airport.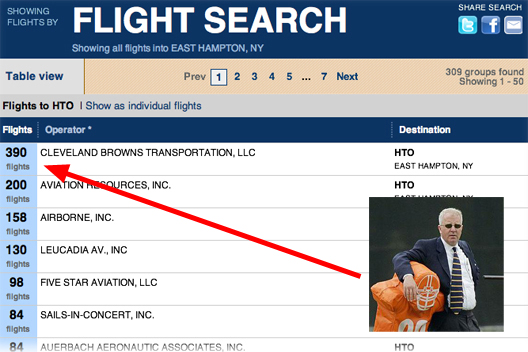 Some NFL owners treat their franchises like family, others like a bank account. Read the quotes from Steelers players about their owner Dan Rooney at the top of this post, and how could the Browns ever  make up for the disparity? Is there anything more depressing about being a Browns fan than this? Lerner can't be such a bad guy. What if he just sold the Browns to an owner the franchise deserves, or even just anyone in the gaping screaming canyon that exists between himself and Rooney on the spectrum of "people who should own an NFL franchise."
—————
Relatedly, back in 2009, Eric Mangini's hand-picked former director of operations, Erin O'Brien, was fired for mysterious "personal reasons," with unnamed sources telling the Plain Dealer that O'Brien "had burned so many bridges that Mangini could not save her job."
According to a trusted source, someone who worked in the building at the time, O'Brien was actually fired for not keeping her mouth shut about a romantic relationship between Lerner and a female Browns employee, and the order came from Lerner himself. So that's for sure right about burning bridges.
Take it or leave it of course, but this person wouldn't lie to me about something like this.
Some people get to be born billionaires who hold Cleveland's most cherished public trust hostage from a private jet somewhere between the Hamptons and the UK, others get to publish single-sourced anonymous reports at phenomenal websites, so.
Alright, we'll have to get to the important NBA draft thing later this week. Hope everyone has a decent Tuesday.