The Definitive Review of "Growing Up Colt," an autobiographical account of Colt McCoy's life as told by the Browns quarterback and his father Brad, has been written and posted and printed at Cleveland Scene so click here to go there to read it. But first, a few things about the book that didn't make it into the Scene piece: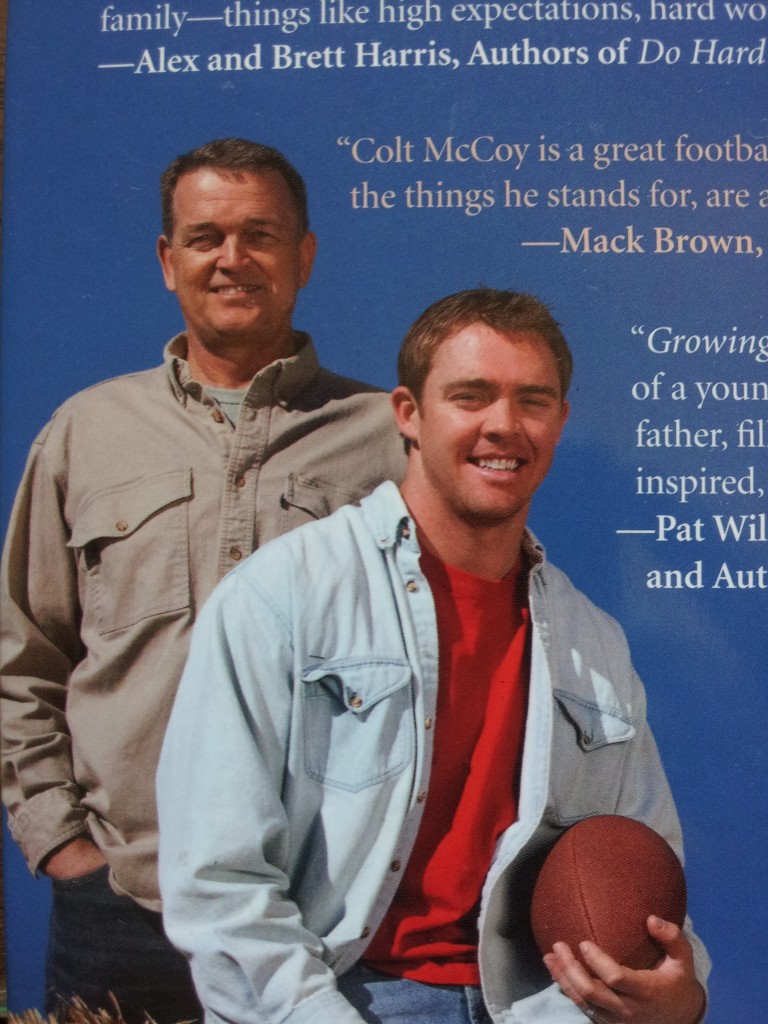 For starters, note that Colt McCoy's dad not only has God but also the ghosts of the underworld behind him:
When I started coaching the San Saba Fighting Golden Armadillos, I learned that Rogan Field was built over what used to be a cemetery before it was converted into the high school football field in 1935. But not all the graves were removed, which meant that there were still some Civil War skeletons resting underneath the sod. . . .

[I got] an idea. I had the Ag shop build a a big wooden sign with the words WELCOME TO THE GRAVEYARD burned into the wood. . . .

Some interesting things happened during our home games. We started getting some freaky breaks. A player from the opposing team would catch a ball in the open field, have nothing but green grass ahead of him, and then suddenly trip and fall. Loose fumbles miraculously bounced our way. Holders mishandled routine snaps, causing their kickers to miss game-tying PATs, giving us the win.

These were normal things that happen in high school football games, but weird stuff happened so often that our opponents wondered if ghostly arms and hands were reaching up from their graves to help the hometown eleven. The Graveyard even gave new meaning to the football term coffin corner because it seemed like our punts always took a favorable bounce out of bounds inside the 10-yard line.
Of course, anyone from Cleveland knows that ghosts can and often do get involved in football games, and baseball and basketball games, too. But the ghosts in Texas are different from the ones in Cleveland because they only work for people who are especially "godly," as Brad McCoy is described on the back cover of Growing Up Colt. As Brad tells it, "the wheels were [eventually] greased" for his departure at San Saba High because the school board believed he was "too tough on the kids." Having heard that, Brad turned in his walking papers. Years after the fact, he notes:
"Back in San Saba these days, they say that the Graveyard has lost it's aura, that there's no home-field advantage like we had in the good old days. In those days, the Armadillos went to the playoffs, but for the past seventeen years, basketball season has started on schedule more often than not.
Which is what you get when you try to tell Brad McCoy how to treat the kids.
Other items of note:
Brad McCoy on the crowd at a Browns/Steelers game in Pittsburgh:
"Compared with what went on at a Texas-Oklahoma game, this was child's play."
Colt McCoy on corporal punishment:
"Mom and Dad may say I didn't get spanked that much, and they're probably right. But when you're a kid, it sure doesn't seem that way. I can remember both parents popping me on the bottom with a bare hand, Mom spanking me with a wooden spoon, or Dad spanking me with a belt. If we were outside, Dad sometimes used a switch."
Colt on female classmates who lived in his freshman dorm at the University of Texas:
"Most everyone on campus had access to Jester Hall, and there were girls who lived on the same floor as me. (Mom wasn't too happy when she heard about that.)
"Around 9:30 or so … I'd turn out the lights and try to fall asleep … .

"… Then the knocks on the door would start. Some of them were from random guys walking around the hallway wanting to talk football. Others came from females who didn't want to talk about football.
"… Some of the comments were so blatantly sexual in nature that I can't repeat them in a family book like this. … I also woke up to notes that had been slipped underneath my door from girls giving me their names and cell numbers. Some offered me services that you can't even imagine.
"I was being tempted, but I fought off the urge to give in and call one of those numbers. I crumpled those notes and tossed them into my trash can. I told myself: Why would I want to be with any of those girls anyway? They're probably acting like this with all the guys!"
The nerve of these whores.
Thankfully, after Colt's freshman year, head coach Mack Brown made an exception to the rule that all Texas football players live in campus dorms for their first four semesters at school, and Colt and his folks looked for a new place for him to live "in a nice neighborhood called Tarrytown, about five minutes west of the UT campus." After spotting a house in Tarrytown with an apartment above a four-car garage, the McCoys stopped to inquire of the home's owners, Tami Anderson and her husband Dick. The rest was history. Brad explains:
"Dick Anderson stands about 6 feet, 6 inches tall and was a great athlete, a man's man who played college football at SMU. I never really worried about Colt anymore after he moved into Dick's backyard."
Of course, there are man's men, and there are people who aren't 6-foot-6 former SMU football players, and you know whose backyard to let your son live in if you're going to raise a champion.
And if you're going to raise a champion, you're going to make sure to "prepare your children for the path, not the path for your children." According to Brad McCoy, too many parents "[seek] to smooth life's bumps in the road for their children" and "do not punish their children because they fear not being liked by their offspring." McCoy explains that over his 27 years as a head high school football coach in Texas:
"I've dealt with hundreds of parents who've come into my office to sit down and talk about their sons and their participation on the football team or other teams I have coached. I can always see them subconsciously trying to prepare the path for their child. It's like they've brought an imaginary pickax and shovel with them so they can break up all the big rocks and push them off the road … so their sons will have an easy time without any problems."
If only you sniveling enablers would do what Brad McCoy did, your kids could be champions today, too. Head over to Scene for more on McCoy's blueprint, if you're godly enough.
And if you missed it in April, you'll want to read about another element of the McCoy advantage: Non-transdermal holographic chips for better health.
Back tomorrow to talk about Browns free agents and who knows what else. Hope everyone has a decent go of it until then.