Four-for-four Pro Bowler Joe Thomas signed a seven-year contract extension with the Browns for $84 million, $44 million guaranteed, and nobody isn't happy about that. But when such a newsworthy event happens, there will always be folks who can't help themselves from projecting with it, and unfortunately for Browns fans, those folks happen to work for Cleveland's flagship newspaper. So you probably already know that we have lock first-ballot Hall of Fame head coach Pat Shurmur and Pat Shurmur alone to thank for the left tackle's new deal.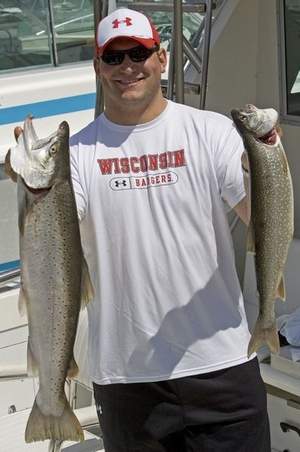 Of course, every NFL franchise has money to print for four-for-four Pro Bowl left tackles. But only one has the Shurminator.
Here's Tony Grossi leading off a piece titled "Pat Shurmur's aggressive offense is bringing welcome excitement to Cleveland Browns:
If you knew Joe Thomas, you'd realize that money alone wasn't the reason he agreed to bypass free agency and sign a new contract with the Browns for $84 million over seven years. Thomas explained that he believes the direction of the franchise now is pointing the right way. He said something else that should not be discounted.

"I really like having an offensive head coach, that's another reason why I wanted to be here," Thomas said.

"I think Coach [Pat] Shurmur's an awesome person, a great coach, a hands-on coach. That's something I haven't had because we've had defensive coaches here. To have him in every gameplan meeting, running the offensive strategy meetings, that's fun to be around."

Fun is the operative word when players describe the change in offense.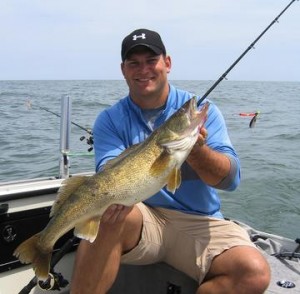 And per Mary Kay Cabot, "[Joe Thomas] signs 7-year extension, says team is 'building something special'":
Joe Thomas sees a Super Bowl victory in the Cleveland Browns' future and he was determined to be around for it. That's why the Pro Bowl left tackle signed a seven-year contract extension Monday.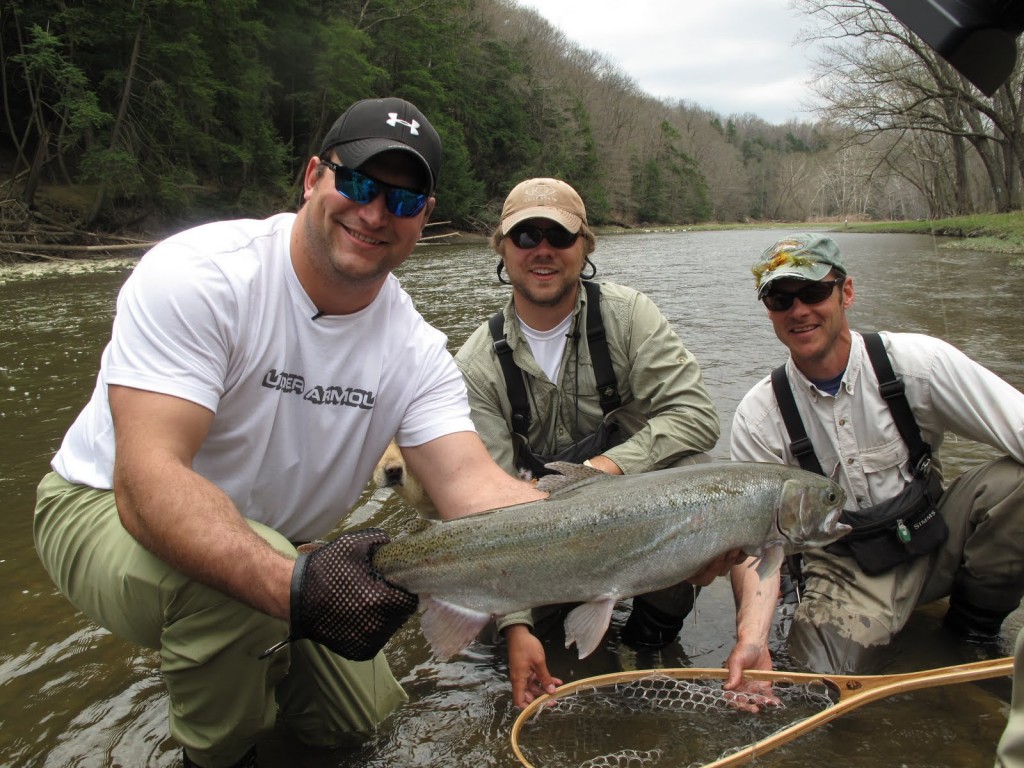 More from Thomas himself by way of Cabot:
"I know a championship is coming to Cleveland and I have to be a part of it," he told The Plain Dealer by phone. "That's everything. That's why I wanted to do a long-term deal. Five years ago when I started this thing, that was my top goal on my list was to bring a championship here and I see the huge strides we've made.

"Sometimes we've had to take one step back to take steps forward, but I see the direction this thing is headed and I want to be part of the championship." …

"No question, that was a big goal of mine coming in was to be able to start and finish with the Cleveland Browns and it means so much to me," he said. "We're really building something special with [General Manager] Tom Heckert and [President] Mike Holmgren and I think this program is headed in the right direction. It was really important for me to make this a real long-term deal so that I can finish my career here."

"I'm so excited to continue playing in front of the fans that I love and the organization that I love," said Thomas.

His enthusiasm for the Browns has been renewed by coach Pat Shurmur and the new regime.

"I've been so impressed with coach Shurmur and the staff that he brought in and the way he teaches the players," said Thomas. "Tom Heckert's been drafting guys I really want to be around and I want to be part of this really great thing that's going on now. The way the team has picked up the new offense, plenty of mistakes have been made, but you can just see the potential there. It's so exciting to be part of it."

Thomas is especially optimistic about the future of the offense with Colt McCoy at quarterback.

"I've been really impressed with Colt," said Thomas. "The jump he's made and the way he's really taking to this offense has been very impressive. To be able to block for him has been truly special and I'm very happy I get to continue to do that and hopefully someday I can tell my grandkids that I got to block for Colt McCoy."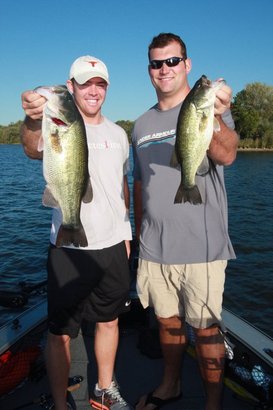 Which all sounds really nice, even if the only possible reasonable reaction to all of it is to ask what else anyone would expect Thomas to say about re-signing with the Browns?
More interestingly, what doesn't come up in a single one of the Plain Dealer reports on Thomas signing (or any other report we can find in a local newspaper, independent site, or anywhere else) is the question of what else anyone would have expected Thomas to do but re-sign with the Browns. Not a single one of these reports mentions the NFL's "franchise player" tag that the Browns could have slapped on Thomas to infinity to make sure that he stayed in Cleveland. Or that if any Cleveland Brown would have been sure to be slapped with the franchise tag in the absence of a workable deal, it would have been Joe Thomas.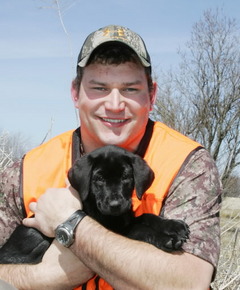 None of which is to say it's not a wonderful thing to have a perennial Pro Bowler and probable Hall of Famer start and finish his career in Cleveland. But yeah, the "avid outdoorsman" from Wisconsin with his own hunting and fishing TV show in Cleveland, the stoic offensive lineman who passed on attending his NFL draft to go fishing with his dad, why else would that guy want to finish his career where he started it, at the intersection of the Cuyahoga River Valley and the shores of Lake Erie?
Super Bowl! Super Bowl! Super Bowl! Shurminator! Browns!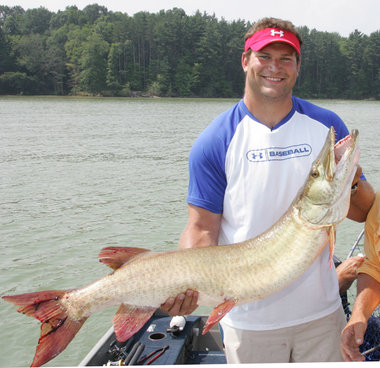 The hallmark of the credentialed Cleveland Browns press, the endless cycle of terminally adolescent enabling then tormenting of the head football coaches, is flowering so spectacularly right now that all there really is to do is just sit back and enjoy it.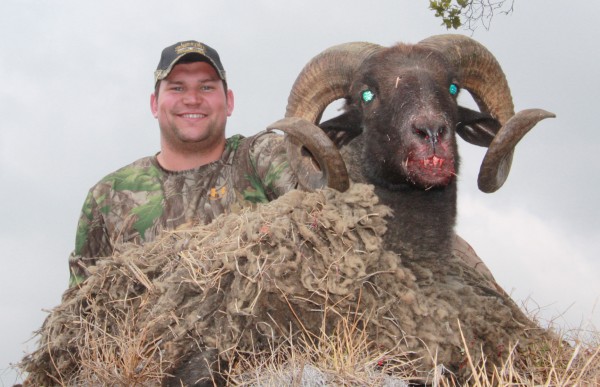 Like more on hallmarks from Tony Grossi. Did you know that:
Red zone efficiency is the hallmark of a strong offense. Scoring touchdowns instead of field goals not only lights the scoreboard but emboldens a team.
Other hallmarks of a strong offense: Having a non-third-round-rookie or non-eight-year-career-backup quarterback start more than three games in a row; Having a healthy receiver who's better than Chansi Stuckey; Having an offensive line that doesn't have to start Scott Kooistra or John St. Clair. See, things are looking way up.
A year ago, the Browns ranked 25th in red-zone efficiency, reaching the end zone 19 times in 42 trips from the 20 and in. It's only the preseason, but the Browns have scored TDs each of the three times they've reached the red zone.
Three for three, you guys. That's 100%. And Grossi doesn't mention this, but the Browns first-team defense has only given up touchdowns twice on three trips by their preseason opponents' first team offenses into the red zone, which is 67%.
—————
In other news, if you missed it on Monday, Greg Little says "enough with the Greg Little/Braylon Edwards comparisons, please."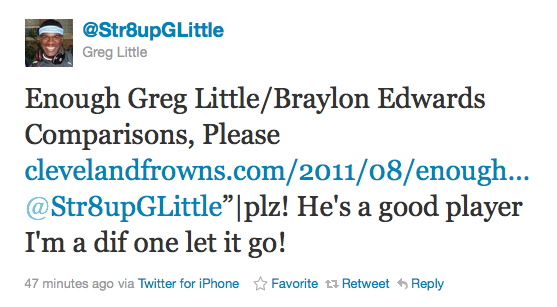 Which makes all kinds of sense and is all for today.
The Browns put their perfect red zone record at risk in Philly tomorrow, who can even wait?