We were expecting a quiet day here today even before we knew Terry Pluto would sum things up as well as he did after the game. Coming off a bye week, the Browns had a good chance to make a statement yesterday in Oakland. And a much better chance once the Raiders lost starting quarterback Jason Campbell in the middle of the second quarter and had to replace him with Kyle Boller, whose "bolo passes" and inability to complete anything but the short inside slant were duly recorded by the local press.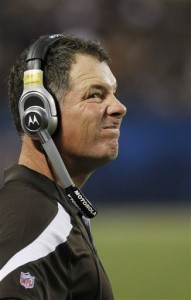 The Raiders came into this game banged up on defense as well, missing starting end Matt Shaughnessy and with rookie cornerback DeMarcus Van Dyke making his first career start in place of the injured Chris Johnson. Folks were expecting that the Browns might struggle defending against the Raiders' rushing attack and speedy receivers, but the idea was that the offense would keep them in the game against an Oakland defense that had been giving up more than 400 yards per game before yesterday. All that time spent not practicing special teams was supposed to have been put to better use practicing something else. We were told that the first four games served as something of an extended pre-season for the Browns, and that they'd use the bye week to make changes to the offense based on what was learned in the season's first quarter.
Which isn't to say the Browns didn't make a statement in Oakland yesterday, because of course they did. Which was mostly to say they've got a much longer way to go than a lot of folks thought they did.
Seven drives for the offense, five punts and one lost fumble before the Raiders took a 24-7 lead late in the third quarter in a game that only became interesting late because Hue Jackson, apparently extremely bored, decided to pass on a field goal to go up three scores with 4:44 left in favor of a failed 4th and 1 run from the Browns' 5.
We're not interested in trying to sort out whether its the coaching, the roster, or just the quarterback* other than to note that we weren't the only ones who saw receivers getting open yesterday; And that, according to ESPN's Stats & Information service, Colt McCoy "faced pressure from a blitzing defensive back on 22 of his 50 dropbacks, completing only 35 percent of his passes for 56 yards in those situations [after having] entered Sunday averaging 3.1 yards per attempt when the defense blitzes a defensive back, the fourth-lowest average in the NFL this season." Yet McCoy and Alex Mack said after the game that they were "a little surprised when Oakland came out blitzing." Why? And why isn't Colt finding the receiver that's supposed to be open every time the opponent sends a defensive back on a blitz?
On the bright side, a full three games had passed since the Browns had allowed an opponent to put them away on a pee-wee trick, which technically marks exponential improvement.
And of course, if the 2011 Browns have made a statement about anything at all, it's what an excellent job Eric Mangini did to keep the 2010 version competitive week in and week out with the very same quarterback (and worse). With each passing week it gets harder to see that guy not having a head coaching job somewhere soon.
—————
*Not Peyton Hillis. There's no reason to believe he doesn't have a hamstring injury, and the Browns probably had good reasons to avoid advertising that injury during the game.