The Cleveland Browns, of course! Welcome to the latest edition of "Xs and Os with the Bros" by Xs and Os editor @rodofdisaster. This feature represents a basic attempt to dive deeper into the game of football, learn something about X's and O's, and try to appreciate the games within the game by taking a close look at a play from the previous week. It's called "Xs and Os with the Bros" because you don't have to be a rocket surgeon or a former NFL player or coach to get something out of taking a closer look at a football play, so please enjoy the post and the discussion in the comments. OK, here's Rod:

Every football fan understands that football games are won and lost with offense, defense and special teams. Most coaches and analysts tell us that if you win two of the three phases, you should win the game. Most people can look at offensive and defensive stats and decide for themselves whether or not it was a good day. Special teams, on the other hand, are a different story. There simply isn't a lot of attention paid by fans and commentators to that part of the game.
The Browns made a furious comeback last Sunday in Oakland — made possible by an incredible Hue Jackson brain fart — but came up short, thanks largely to two special teams touchdowns by the Raiders. Getting hit with one special teams touchdown will happen from time to time (although generally not to the best teams), but suffering two in one game is understood to be fatal on any given Sunday (and let's not forget that Jacoby Ford had a return in the second half that was a single tackle away from another six points).
With that and the usual disclaimers in mind, let's take a closer look at kickoff coverage. Keep in mind that television coverage rarely shows you what's going on away from the ball and this part of football may suffer the most in televised coverage.
Situation: 2nd Quarter; 12:07 left
Score: Tied 7-7, Browns have just equalized.
I. The Personnel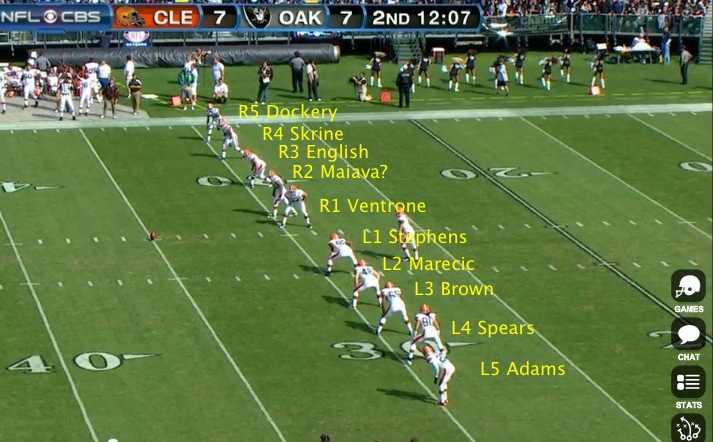 Some special teams coaches have special names for guys that are running down the field to cover kicks. The outside guys are typically called "gunners". There are also guys called "wedge busters" , the "bomber" and the "spear" although the terminology may vary. Others are more simple and they just designate them by the terms "L1-L5" and "R1-R5" with the L's being left of the kicker going out to the sideline and the R's by exclusion lining up to the kicker's right.
If you look at kickoff coverage as a specialized kind of running play, what kinds of players would you choose to put into the game? What skills should a coverage guy possess? They need to be fast enough to get downfield, elusive enough to avoid blockers, strong enough to shed a block and a sure enough tackler to take the ball carrier down. You won't necessarily exclude any position from this team except for QBs and offensive linemen but the bulk of kick coverage units are composed of defensive backs and linebackers. You will also see a few WRs. The team can't be too small however because you still need guys who can eat up the blockers and disrupt the blocking scheme. That means you'll also see some defensive ends on the unit.
If we look at who the Browns sent out to cover this kick, the breakdown is 3 defensive linemen, 2 LBs, a FB, and 4 defensive backs. I'm going to tell you that this is a standard group nowadays. You don't really have the luxury of carrying special teamers who don't play as backups or even starters in some capacity. If your team has injuries, one of these guys may have to spend more time practicing on offense or defense which is why you see the quality of special teams decline as injuries mount (they're pressing guys off of the practice squad into kick coverage). In this case, we see Auston English who just got activated due to Marcus Benard's injury on the coverage team.
II. Run downfield
The announcers always say that guys need to "stay in their lanes" and while this is true to some degree, it's not always that simple and it's not always what the coaches have told them to do. Before I go on, let's look at who they're up against.
The kickoff return team will be broken down into two groups: the front line and the wedge group. The front line acts like an offensive line and in many cases they're even called by those positions. This group will have a backup TE, a FB and perhaps even a backup offensive lineman as those guys tend to be your best blockers. They make sure it isn't an onside kick. They then run 20 yards back and then turn around. They each have a blocking assignment. If they see the name on the back of the guy's jersey, they're not supposed to block him. Some teams will have five guys up front. In this instance, the Raiders used six. Later in the game, they used seven (possibly thinking we had an onside kick called). If these six guys are successful, then only four guys remain unblocked. The wedge used to be more than two guys but now only two guys are allowed to join together to form the wedge for the returner to run behind. The goal is to pierce the coverage unit and create a seam. The other two "wedge" guys aren't allowed to join up with them but there's nothing stopping them from helping to block an area to create the alley.
For the coverage team, they have four responsibilities:
1. Be at full speed at the kick
2. Evade the front line
3. Attack the wedge
4. Make the tackle
The simplest way to actually cover a kick is to have the coverage team run downfield in their "lanes" which are basically five-yard areas that they are responsible for. The R1 and L1 guys typically are "wedge busters". These are guys like your "must have a screw loose rookie" who will run downfield and slam into the wedge. The outermost guys (L5, R5) many times WILL NOT stay in their lanes. Their job is to get down the field as fast as possible and go straight for the ball. This makes many teams vulnerable to returns up the sideline, which is why R4 and L4 typically have contain responsibilities. That leaves L2 &3 and R2&3 to make the bulk of the tackles.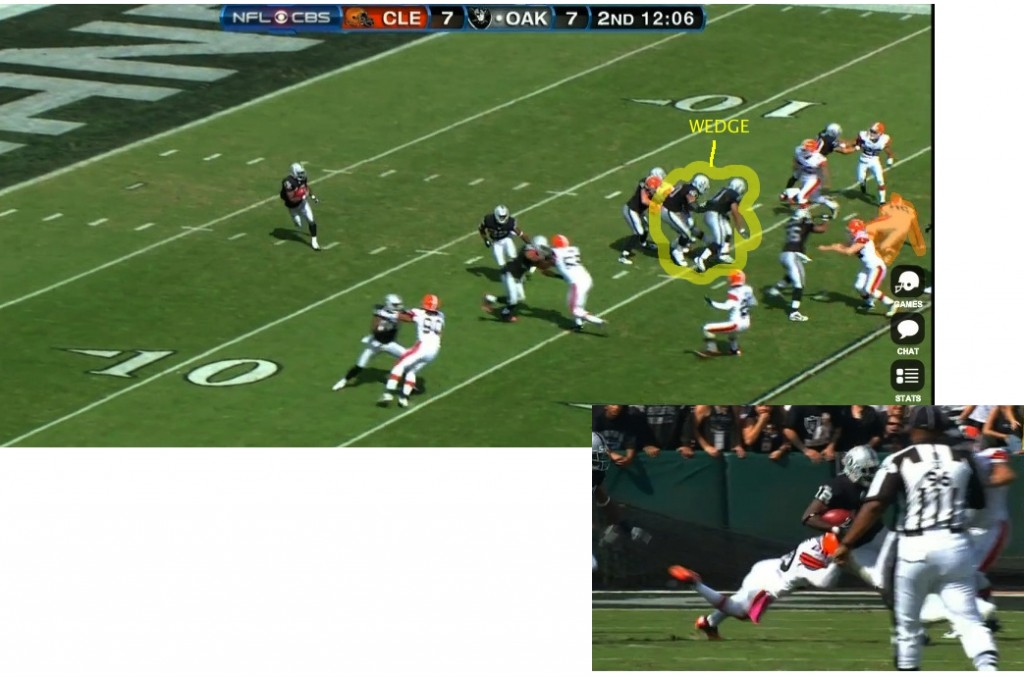 In this photo, we can't really see if guys are crossing on the way downfield but we can see that Mike Adams (L5) has crossed over two other teammates to cover an area more toward the hashmarks. That is hopefully by design. It's also possible that Adams figured that was the fastest way to the ball carrier. That tells me that they are really worried about Ford's ability. The wedge has sealed the left side and Ford is going right. Notice Stephens (highlighted) on the ground. In football, that's never good. At this point, I would offer that the front line has done a very good job blocking the Browns so that #22 doesn't even have anyone to block. Adams is caught a bit flat footed and flails at Ford as he runs past.
III. The Burst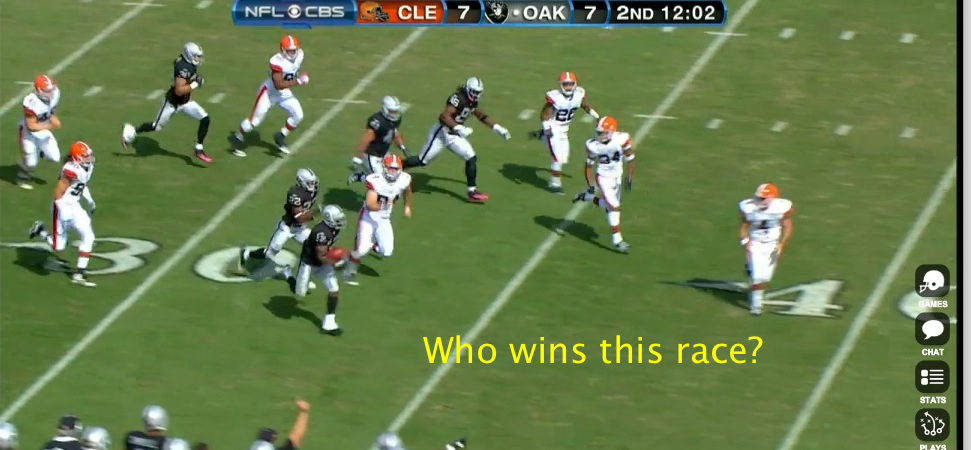 Once Ford makes this cut, Marecic has taken himself out of the play. English is easily outpaced. Notice we didn't mention the kicker? Well, that's because the returner's responsibility is to beat him. I won't fault Phil on this one. Ford is simply a superior athlete with exceptional speed. Dockery gets blocked (legally) and Skrine is the R4 or R5 who's run all the way across the field and Ford gets past him even though initially it looked as though he had the angle.
Analysis: I won't argue that the Browns had the wrong types of players on the field because they didn't. I will say that the Browns' lack of team speed and agility is clearly evident. It's perhaps a bit unfair to gripe that they couldn't catch a guy like Ford but the returner's identity is a bit irrelevant. A good returner who's gotten downfield with only the kicker to beat is generally in the end zone the majority of the time. I also won't suggest that the X's and O's of this were inappropriate. They simply didn't make the play. You could lay some blame on Mike Adams for completely whiffing but Brown, Stephens and Marecic all took themselves out of the play as well.
If we look at the kickoff after Dawson's FG in the fourth quarter we see a return that almost goes the distance, right up the middle.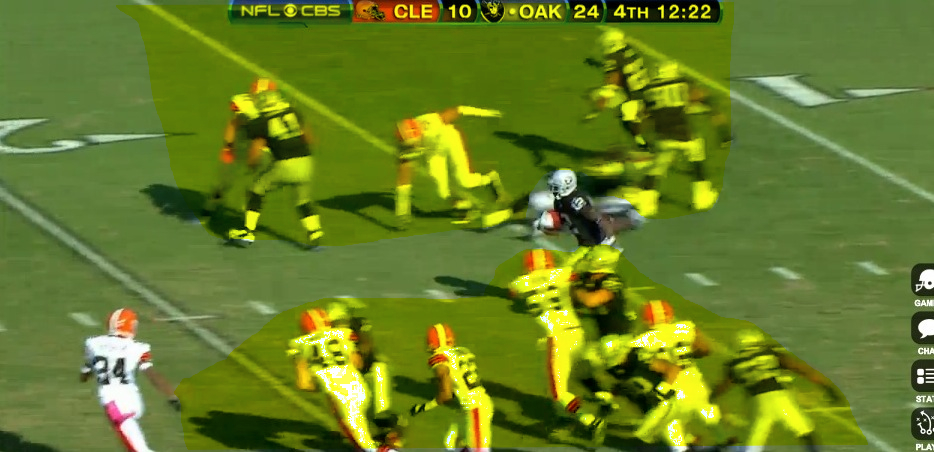 If not for the gunner (Dockery) closing early to make the play at the 34 yard line, that was another TD just barely avoided.
I think the problem here is primarily one of speed although some guys like Brad Seeley, Mike Westhoff and Bobby April are more creative at getting their coverage guys in position to make plays. At this point, you simply aren't going to increase the athleticism on the roster appreciably. It's probably going to need some tweaking of the coverage unit (crossing lanes, etc). This also underscores the philosophy of constantly turning over the bottom of the roster (a la Bill Parcells) because that's where your special teams players come from. Perhaps Josh Cribbs' offer to concentrate on specials isn't such a bad idea?
Which is all for this edition. Here's hoping there's something more inspiring to take a closer look at next time around.
—————
I found this piece by Michael David Smith especially useful and a good basis for analysis here.