Welcome to the latest edition of "Xs and Os with the Bros" by Xs and Os editor @rodofdisaster. This feature represents a basic attempt to dive deeper into the game of football, learn something about X's and O's, and try to appreciate the games within the game by taking a close look at a play from the previous week. It's called "Xs and Os with the Bros" because you don't have to be a rocket surgeon or a former NFL player or coach to get something out of taking a closer look at a football play, so please enjoy the post and the discussion in the comments. OK, here's Rod:
As much as we've heard this week about whether the "Browns won" this 6-3 slopfest or "Seattle lost" it, I'll take a win any time I can get one. One thing that's clear after six games this season is that the Browns have some nice pieces to work with on the defensive side of the ball, but this week's play is one that shows us just how far the Browns have to go before they'll be able to compete consistently against the NFL's best. I can't tell you that mine is the only answer or that it's the correct one, but you'll see for yourself that there are a lot of questions raised by this play:
Situation: 3rd Quarter, 4:18 left
Score: Browns 3-0
Possession: Seattle on Browns' 47, 2nd and 6.
Part I. Pre-Snap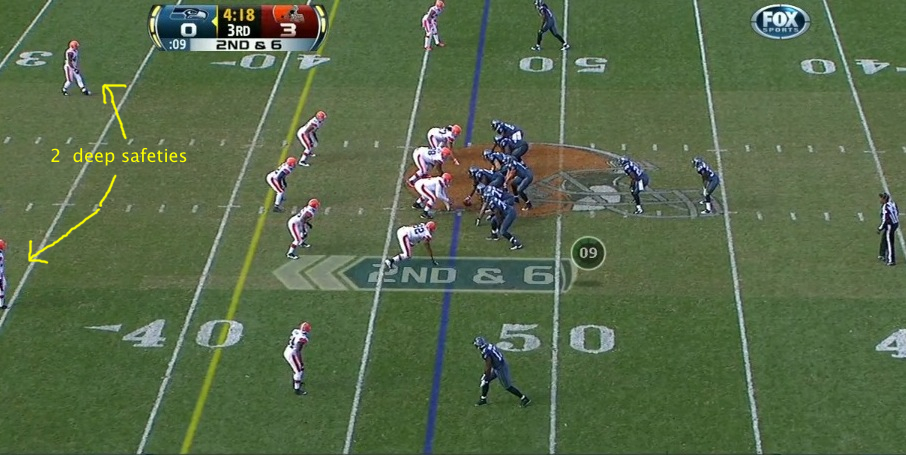 The Seahawks have come out in "21" personnel (2 backs, 1 TE). This is an I-formation. The strength of the formation is the TE (Anthony McCoy #85) to the right. Mike Williams is the X-receiver (bottom of screen) and Sidney Rice #18 is the Z-receiver (flanker) at the top of the screen.
The Browns counter with a base 4-3 and the base personnel. Sheard is lined up over the TE in a 7-technique, Taylor is the 3-technique, Rubin is a 1-shade (angled off the center) and Mitchell is a 9-technique. That's a fairly common alignment, which makes sense given that 2nd and 6 in the NFL is a pass play about 55% of the time.
The Sam LB is Gocong and he's over McCoy. Haden is over Rice and Sheldon Brown is on Williams. They aren't really declaring man-to-man v. zone but my guess is that it's more likely zone given the cushion and the way Sheldon is angled off and looking to the backfield. This is designed to look like man coverage before the snap. There are two deep safeties. That usually suggests one of two coverages: Cover-2 zone or 2-man. The first question of the day has to do with the deep safety to the bottom of the screen. He's cheating over to Williams big time. Remember this.
PART II. Coverage
Here we see the beginning of the play. The Browns have dropped into Cover-2 but there are already signs that things might go badly: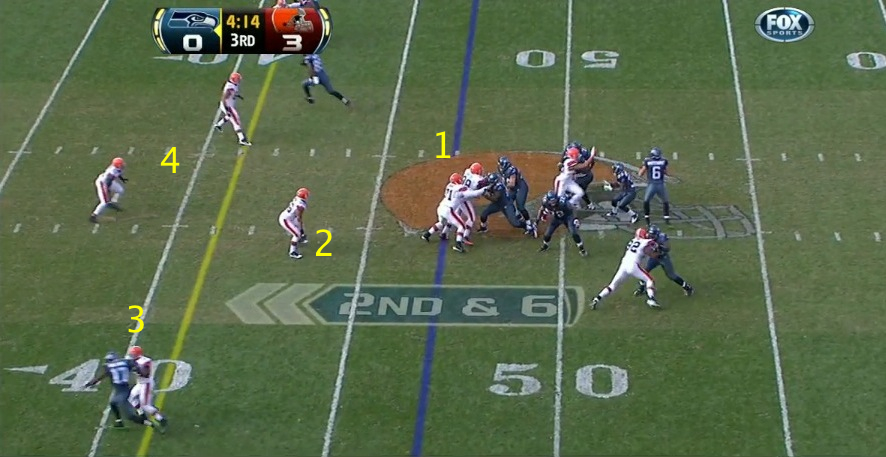 1) The pass rush on this play was good enough to flush Whitehurst. Notice that Sheard is eating up THREE blockers. He's crossed the face of the tackle and looks to be building on some of what we discussed two weeks ago. The pass rush from the other side isn't quite as effective but overall, I think the Seahawks blocked this up well. They kept two receivers in so there are only three guys out in the pattern against seven.
2) Maiava (the Will LB) has barely moved. That's never good.
3) Sheldon Brown has his back turned to the QB, which makes it look like he's playing more man-to-man than zone. Both he and Haden have funneled their receivers to the outside. More on that later.
4) The Mike (Jackson) and Sam (Gocong) are dropping into zones. Gocong is carrying McCoy who's clearly headed upfield.
III. The Handoff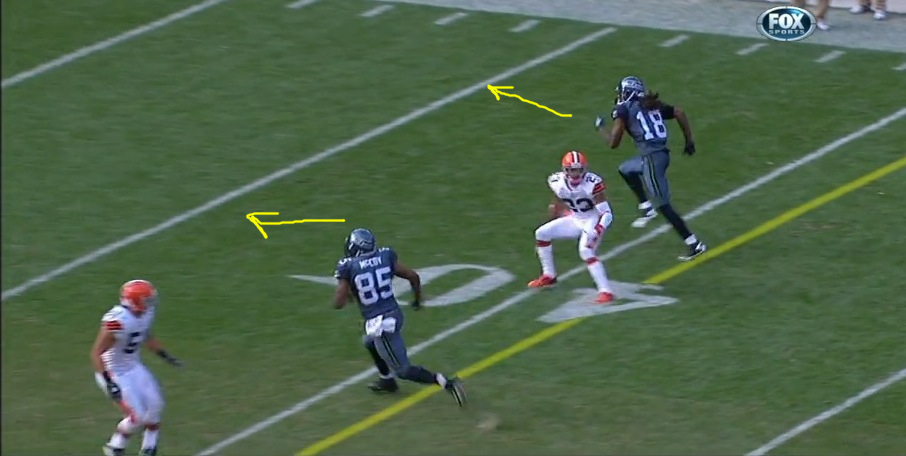 Here we take a closer look at Gocong and Haden. Both have squatted on zones seven yards downfield and each is handing off a receiver on a deep route upfield to the safety (Ward) who is responsible for that half of the field. The problem here is obvious. Ward can't cover both guys. With the other safety cheated dramatically over to Williams, there are two big holes to either side of the strongside safety. Actually, as we see in the next photo, TJ seems to barely even notice Rice running down the deep boundary.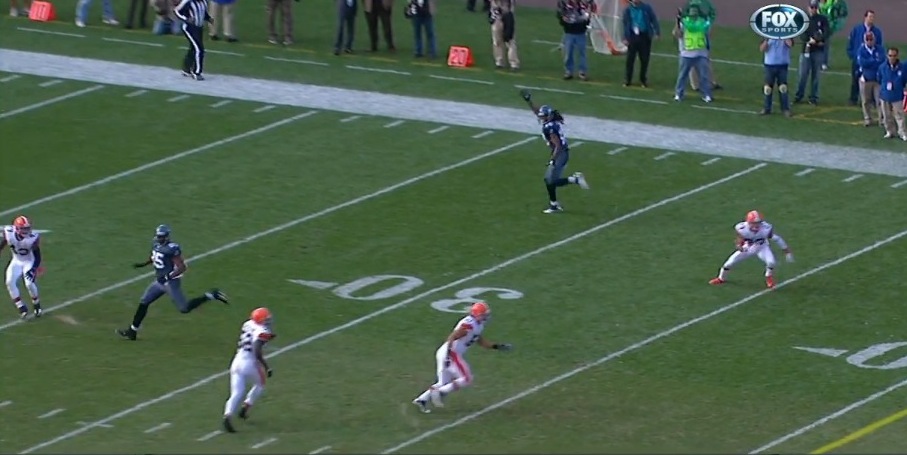 At this point, you have two defenders (Ward and Jackson) covering McCoy. You have two (Haden and Gocong) covering no one and you have Sidney Rice so wide open that even Charlie Whitehurst could hit him for 38 yards. Luckily, Whitehurst tangled Rice up with a bad throw toward the sideline, forcing Rice to lose his balance out of bounds when he could have simply crawled into the end zone with a halfway decent throw.
ANALYSIS: It's clear enough that the "think less, play faster" could have used some more "think" here.
Cover-2 defense is a very basic NFL scheme. You generally can't be an NFL safety if you can't play halves (i.e., cover half the field). This isn't to be confused with "Tampa-2" where the safeties cover thirds and the MLB covers the middle third.
The underneath defenders (2CB and 3 LBs) all have responsibilities as well. The 2 CBs cover the zones in the flat (roughly the numbers to the sideline). The middle linebacker (Mike) will cover the hook/crossers. The SAM and WILL will drop to a predetermined depth/landmark to cover the curls on either side.
With that in mind, the strengths of the Cover-2 are:
a) better flat coverage
b) better underneath zone coverage
c) better disruption of timing and WRs being funneled inward
The weakness of it is that:
a) there's no safety to help immediately in run support
b) (more importantly) there is a vulnerability in the deep middle and deep boundary
c) the WILL and SAM need to be able to drop to that curl route depth
With that didactic in mind, many things don't make sense in the execution of this play.
ISSUE 1: Why are Sheldon Brown and Joe Haden NOT funneling the WRs to the inside? If you watch the play, they line up and play inside leverage and actually force the receivers outside. If we can assume they were coached to do that then they've given up the deep boundary and they must run with their man in that case. Neither guy does this.
ISSUE 2: Gocong drops to what appears to be his landmark but lets his man run free up the seam. If he sees Haden release his man up the deep boundary then he must stay with his man deep. So, you can see that between Gocong and Haden, ONE of them must have been expected to run deep with their man.
ISSUE 3: Jackson and Maiava. I don't want to pick on Jackson because I think he realizes on this play that there isn't going to be a crosser and he's just getting depth but where he ends up isn't exactly playing his designated spot (i.e., he's probably freelancing here). Maiava doesn't drop to cover the curl and Williams could have sat down between him, Brown and the safety and been open as well. Maiava doesn't seem to commit to anything at all on this play.
ISSUE 4: TJ Ward. I like TJ, I really do. I find it hard to come in here and bang on him for breakdowns that may not be his fault. On this play, he was in a no-win situation. If he covered Rice, McCoy would have run free down the middle. But I would be interested to know if he noticed Rice at all because it doesn't seem that he does. TJ does seem to have trouble anticipating the development of plays as we saw in the first touchdown by Tennessee in Week 4.
Of course, breakdowns happen to any team from time to time, but what we're talking about here is football at its most fundamental. This wasn't four wideouts running verticals, it was seven men failing to cover three, which might help explain the disaster that went down the one time the Browns had to play against a semi-capable NFL quarterback for four quarters this season. If this doesn't get fixed we can expect more of the same as the season progresses.
For more on Cover-2 defense, see the outstanding work written up here.