"[Colt] reconfirmed for me that he's a tough guy and he's a battler … It feels to me like he's not reeling as much." — Pat Shurmur
"Our offensive coordinator calls the plays. I can't speak to his thinking." — Jack Del Rio
"It changes the whole attitude, gives you a new energy, makes you excited to go back to work." — Joe Haden
—————
Doubts about the Browns' ability to squeak by a team with an injury-ravaged defense and a horrendous quarterback were quieted yesterday, but not exactly silenced.
Mostly because what happened at the end of yesterday's game wasn't a goal line stand for the Browns as much as a hurricane of idiocy on Jacksonville's part.
After Maurice Jones-Drew's first-down run to the Browns' two-yard line with 41 seconds to play, the Jags let 28 seconds tick off the clock before ramming Jones-Drew into the line again, then finally taking a timeout with 8 seconds left, leaving them with one predictable "quick shot" pass, then one last play. Taking the timeout right after Jones-Drew's first-down run would have allowed the Jaguars to collect themselves with 36 seconds on the clock to call and run four plays against a reeling Browns defense instead of what amounted to two-and-a-half.
It helped that Jacksonville QB Blaine Gabbert missed a wide open Mike Thomas in the Browns' end zone (by about thirty feet) on their previous drive, that Jason Hill dropped a touchdown pass that was right in his hands on the game's second-to-last play (Del Rio said Haden "got away with an early strip"), and that the Jaguars offense kept the ball out of the hands of their best player (Jones-Drew) on the game's final snap.
We suppose we're glad it will be easier for Haden to go to work this week thanks to all of this, but we'd prefer if he was more motivated by his $50 million contract and the fact that the league's worst offense and by far worst quarterback were able to put so much heat on the Browns defense in the first place.
Watching Gabbert (22-41) routinely miss open receivers by thirty feet and then yell at them as they returned to the huddle gave us D.A. flashback nightmare sweats. We mentioned yesterday that when Gabbert was in college he told reporters that he's "driven by the mantra, 'FEPWDM,' which means 'for every person whoever doubted me.'" It should be clear enough after yesterday that anybody who can't come up with a better mantra than that is absolutely doomed.
As for the Browns offense, there was some good out there, including a rare yards-after-catch (YAC) sighting on Jordan Norwood's 51-yard reception (Jags safety Dwight Lowery said he jumped at an out route that Norwood redirected), and a fairly dominant second half running game. But it still amounted to just two scores against a defense that was missing five of its best starters by the end of the day. Yesterday was Jacksonville's first game adjusting to the loss of Pro Bowl corner Rashean Mathis, and the Jaguars also started yesterday without Pro Bowl defensive end Aaron Kampman, who missed his third straight start, and stalwart defensive tackle Terrance Knighton who missed the second start of his three-year career. By the fourth quarter, linebackers Clint Session and former Brown Matt Roth had left with concussions.
And Colt McCoy's third quarter interception at the goal line was fairly horrendous.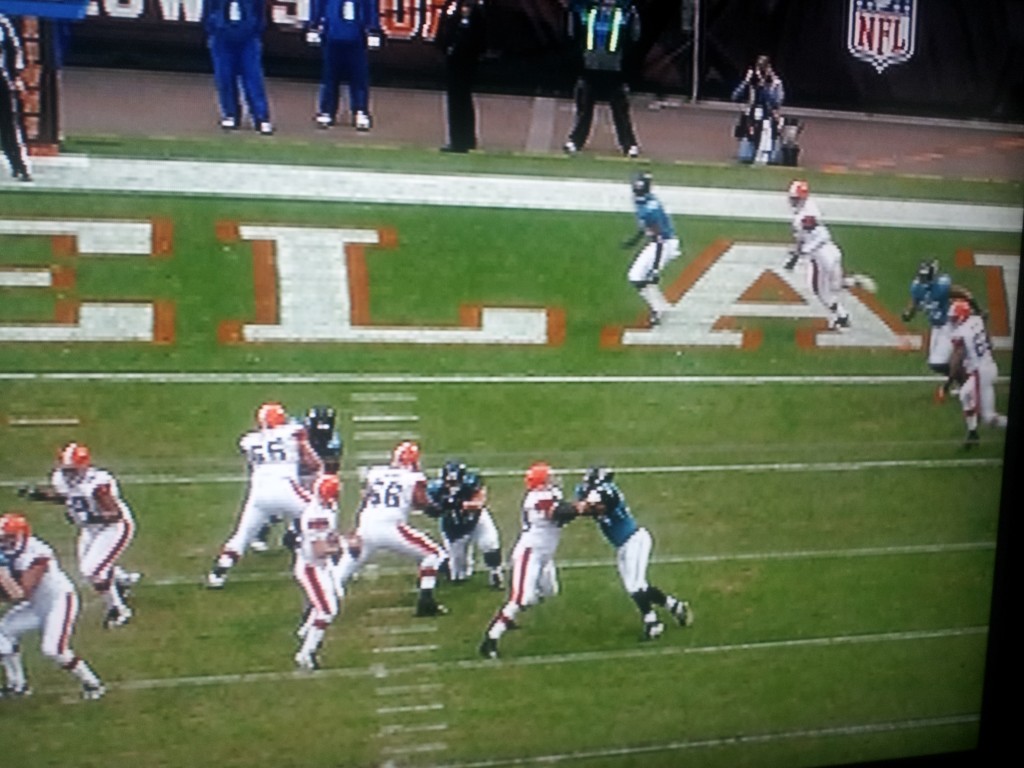 But probably not as bad as Pat Shurmur's decision to call a timeout after a Jacksonville first down with 2:36 left in the first half. At that point the Browns only had one timeout left, and Jacksonville was going to get to run at least four more plays barring a turnover. All the timeout did there was let them get down to the Browns' 35-yard line with plenty of time to kick a field goal. A false-start penalty pushed the Jags back to the 40 and they were eventually forced to punt, but three points there and they'd have been lining up to kick a game-winning field goal on the last drive instead of the mad scramble for a touchdown.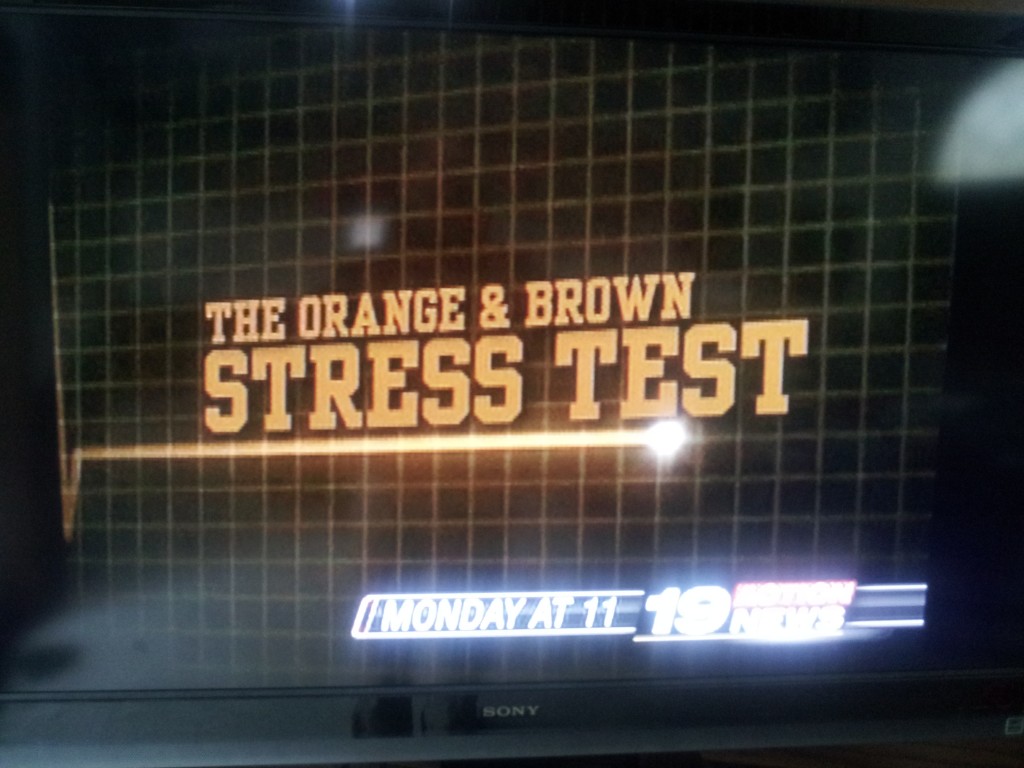 Thankfully the Browns were out-Brownsed by the Jaguars in the end, and avoided becoming the league laughingstock for the holiday week. Now with just the NFL's eighth-worst record, they should skyrocket from last week's consensus second-to-last placement in the power rankings. Whatever it takes to get "a new energy" here.
We'll look forward to seeing what they can make of it in Cincinnati next week against a Bengals unit that will either be reeling, or really glad to not be playing the Steelers or Ravens.