"I just leave with a helpless feeling. It's tough. You just kind of scratch your head and wonder where all of this bad luck is coming from and why." — Colt McCoy
"I thought this stuff only happened to the Rams. I didn't think it happened to other teams." — Steven Jackson
"We tried to hand him the football and he dropped it. That's the thinking [behind the fourth-quarter decision to handoff to tight end Alex Smith, who 'couldn't remember ever taking a direct exchange from the quarterback, ever, at any level' (including in practice)]. … There was a lot of good, there was a lot of bad. I promised everybody that I would be genuine from Day 1 'til the last day and I'm genuine right now in saying that. We can focus on what we want to focus on, but we lost the game. That's genuine." —Pat Shurmur
"Clearly, Shurmur took advantage of the fact he knew this Rams team well having been St. Louis' offensive coordinator the past two seasons." — Vic Carucci
—————
Browns head coach Pat Shurmur pulled out all the stops for this one. Having spent the last two years as the Rams offensive coordinator, and eight seasons before that on the same Philadelphia coaching staff with Rams head coach Steve Spagnuolo, Shurmur really should have had some good ideas about what to throw at the St. Louis defense yesterday.
It should have been even easier once a Rams secondary that had already sent an incredible eight defensive backs to the IR lost two more yesterday when starting cornerback Al Harris and safety Darian Lewis went down. And against a unit that was getting little help from an offense that's only scored more than 13 points twice this season, that turned the ball over twice in Browns territory, and was playing with two backup tackles by the first series of the third quarter. ('Street free agent' Mark LeVoir filled in when top 2010 second-round-pick Rodger Saffold (out of Bedford High) went out with a head injury, and undrafted Adam Goldberg was making his fourth start in place of banged-up '09 first rounder Jason Smith). And right on cue, here's Vic Carucci coming through our radio to tell us how great the Browns defensive line looked yesterday.
Anyway, no backflips here for a group that wasted its tricks on a 13-12 home loss to the St. Louis freshman team.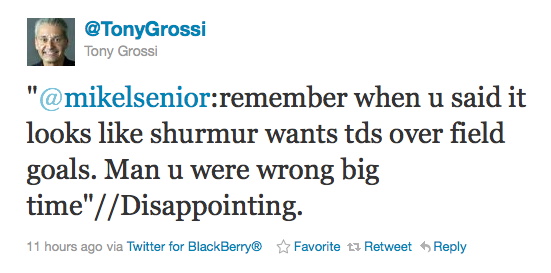 It's actually easy enough to understand why the Browns would want to kill clock and play for the short field goal on the last drive. St. Ignatius managed a 32-yard kick to get a big win on Friday night so you sort of expect the NFL team to make the 22-yarder go. As much as conceding any Plan B by taking the timeout right before the kick was completely indefensible (there shouldn't have been any difference between a 27-yard kick and a 22-yarder there), the better questions relate to why this game had to come down to a last minute field goal attempt in the first place
Chris Ogbonnaya gained 109 yards on 21 touches yesterday, so maybe he really isn't the problem. And we might at least start to understand why Colt McCoy wouldn't call an audible out of a play where the opponent's formation doesn't present an obvious mismatch. But with Shurmur having "turned crimson, pound[ing] the podium," and "testy"/"angry" yesterday when reporters pressed him on certain relatively unimportant details (Marla Ridenour reported that Shurmur "snapped at a smiling Browns' employee in the post-game locker room" as well), we're left to assume that there are no good answers to the bigger questions. With an improved roster in 2011, this franchise has regressed in every other way, and is on an unstoppable bullet train to 3-13. Worse, it's hard not to think it isn't exactly what we should expect under the leadership of a guy who kept Eric Mangini around to twist in the wind for a year (along with the Browns roster and fans), then told us with a straight face that the head coach was fired because he "didn't win enough," despite the obvious progress the football team was making on the coach's watch. Wonder when we'll be hearing from Holmgren next, anyway.
In the meantime, we can at least be glad that the Browns will likely have the strength-of-schedule tiebreaker in the draft over any other team that finishes this season 3-13 (the team with the weaker schedule gets the higher draft pick). The 2-8 Vikings should be able to get one more against the Redskins or Broncos; The 2-7 Panthers have the Colts left on their slate; And the Rams still have two against the Seahawks and one at home vs. the Cardinals. Really, the biggest obstacle between the Browns and the second-overall pick is the Dolphins, who would have to get one from Bills, @Cowboys, Raiders, Eagles, @Bills, @Patriots or Jets. But they're on a two-game win streak now, so, who knows? Anyway, the Browns look like a lock to be picking no lower than third overall in April.
—————
In honour of having something to root for in an NFL football game that doesn't involve a wager, we'll double our fun with the Vikings +13 over the Packers (5 units) tonight.
After yesterday, we're 23-13-2 (+48 units) with the NFL picks against the spread here so far in 2011 (1 unit = one percent of the season's bankroll).
Also, the Browns are currently favored by a point at home against the Jaguars next week.
ALRIGHT, we'll be back tomorrow with our review of Scott Raab's book, "The Whore of Akron" (and will be at The Happy Dog to hear Raab talk about the book tonight). Hope everyone's week gets better soon.