Welcome to the latest edition of "Xs and Os with the Bros" by Xs and Os editor @rodofdisaster. This feature represents a basic attempt to dive deeper into the game of football, learn something about the X's and O's, and try to appreciate the games within the game by taking a close look at a play or aspect of the game. It's called "Xs and Os with the Bros" because you don't have to be a rocket surgeon or a former NFL player or coach to get something out of taking a close look at a football play, so please enjoy the post and the discussion in the comments. OK, here's Rod:
—————
It's generally easy enough to write about what goes wrong for any given NFL team on any given Sunday because there's never any such thing as three eleven-man units performing perfectly for a 60 minute football game. Take into account that the Browns have a 3-6 record against a remarkably weak schedule and it becomes even easier to target deficient areas, and even more so last week after the Browns let Colt McCoy get absolutely brutalized by the Texans pass rush. So you'll be glad to read that a salute to the offensive line is in order this week.
Having spent a lot of time looking back at their play on Sunday, it's fairly clear that the offensive line played a big part in Chris Ogbonnaya's big day, and not only kept Colt from taking a beating, but also let him take some deeper drops, including on the long pass to Greg Little before the half.
Of course, playing on the offensive line is as dirty a job as there is in football. Like the cliche about referees, you generally only notice o-linemen when they make mistakes. Rarely do these guys get credit when they do things correctly, yet we're quick to blame them even for a quarterback's worst mistakes. This week we'll take a close look at how offensive linemen are graded. 
For starters it should be noted that while different teams value linemen differently, there are some rules of thumb to follow.1 Generally, the left tackle is most important because he protects the blind side of the right-handed QB and typically faces the opponent's best pass rusher. What comes next varies from team to team. For most teams the next player in terms of importance is the right tackle who needs to be only adequate as a pass blocker but also a punishing run blocker. After the two tackles, the left guard comes next because his skill set is more difficult to find; power and agility. Since most NFL teams are right handed in their approach, the left guard pulls more than any other position, which means he has to be able to move well. The center comes next for some teams and has to have strength and agility as well as the intelligence to make the line calls; quick and strong enough to avoid being bull-rushed back into the QB. The right guard generally gets the least attention from personnel people but might have the most difficult job on the interior line. Centers generally have a nosetackle straight up on them or they help the LG with blocking assignments. The RG is usually on an island.
There are many systems used to grade offensive linemen. The variance from one system to the next is based on the level of experience (e.g., high school, college, etc) as well as the person doing the evaluation (e.g., coach, scout, player). The goal in each case, however, is to evaluate all of the variables that go into being a successful lineman.
Some grade each variable individually and some consolidate them. For instance, one system may look at the lineman's stance, footwork, getting to his assignment, blocking technique, effort and finish whereas others may simply focus on footwork and outcome. The assigning of points to grade each area varies widely. A high school coach I know grades his linemen for their footwork, technique and finish with each worth two points resulting in a grade of 0-6 for any given play. I know that some scouting services will give each player an average grade of zero with a positive play resulting in positive points up to "+2" and a negative play resulting in up to a "-2" rating.2 Most ratings in this system will be zero (average) and the majority will fall between "-1" and "+1."
I figured the exercise this week would not be to break down a play but rather to grade the offensive line using the basic "-1/+1" system described above. As with any grading system, there's a lot of subjectivity. To minimize that, here are some ground rules:
The grader can only grade what he sees. If I don't see it, I can't assume a good or bad performance. Anything unclear is a "zero."
If a player neither won nor lost his one-on-one battle, it's also considered "average" and gets a "zero" rating for that play
"+2" and "-2" ratings are reserved for truly special plays. A pancake block, a penalty or outstandingly positive or negative plays are the reasons.
The effectiveness of the block is weighed heavier than technique because we really care about what is accomplished. A draft scout might place more emphasis on technique.
I am not concerned too much with figuring out what the player's assignment was since I don't know exactly what the line calls are.
The success of the player(s) is not necessarily predicated on the success of the play.
Even the best players can have bad plays. There are no points for seniority or the resume.
While I'm hesitant to question or grade players on "effort", it's clear enough that some guys let up sooner than others while others are truly "whistle to whistle."
So here are the raw results from Sunday:
I evaluated 63 offensive plays. The line was uniform for all 63, except that Joe Thomas appears to have missed one play (for reasons unclear). The lineup was (from left to right) Thomas, Pinkston, Mack, Lauvao and Pashos.
| | | | |
| --- | --- | --- | --- |
| Player | Score | Score per play | Special Plays |
| Thomas | 30 (62 plays) | 0.48 | 4 +  0- |
| Pinkston | 37 | 0.58 | 1+   0- |
| Mack | 42 | 0.67 | 4+   1- |
| Lauvao | 31 | 0.49 | 1+   0- |
| Pashos | 18 | 0.28 | 2+   1 |
Again, these are simply my own grades based on my evaluation of 1) footwork, 2) technique, 3) effort/aggressiveness and 4) outcome. "Special plays" are the ones that earned a +2 or -2 grade. Joe Thomas and Mack each had four plays where they achieved 2 points for truly exceptional play. Mack and Pashos each had one play where they were just beyond ineffective, earning a -2. For the most part, as these numbers imply, there was very little negative about the line play as a whole. They did their job. There were only two plays where the lineman was clearly overwhelmed or owned. There were many plays where they were simply average ("0") but "average" sometimes gets the job done just as well.
A few notes on each player:
Joe Thomas- I think that Joe is having a better year this year and you will note that he didn't score as many points as you would think. There are a few factors involved here. First, the Rams generally did not challenge him as much so there were many plays where he had no one to block or a half-hearted rusher. Second, the Browns didn't run left nearly as much as they challenged the right. On the run plays, Joe was adequate but he certainly was not dominant on each and every play. One play, however that was a standout for Joe was a screen to Josh Cribbs where Joe showed great athleticism getting downfield to maintain a block. Great work.
Jason Pinkston– I've maintained for weeks that Eric Steinbach is not nearly as missed as the Plain Dealer would have you believe. Steinbach frequently blocks as a waist bender and last season I cut up many photos like this one showing him getting blown backwards: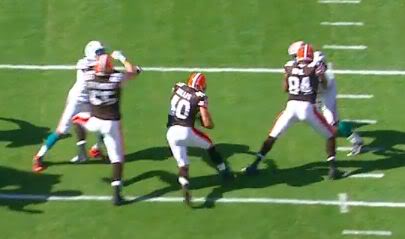 I think that Pinkston has done yeoman's work at LG and has shown good athleticism on the G-power plays as well as a lot of aggressiveness. He really did come ready to play on Sunday. He was physical and while he might not have won every block, he truly stayed on his man and finished his blocks better than anyone on the Browns' line.  He might not have been spectacular but he was certainly steady and was winning his battle more often than not.
Alex Mack– Over his brief career, I've frequently been impressed with Alex Mack's athleticism. He's an intelligent player who, along with Pinkston, really played whistle to whistle on Sunday. Mack was very effective and his "positive" plays were frequently a result of him releasing a lineman to seal off a linebacker at the second level. He had one really bad play where he got destroyed in pass protection but I suppose that will happen once in a while. While I'd love to see Mack be a little "meaner", I think he's plenty aggressive and that serves him well. Here we see Mack sliding over one whole gap to his left to pick up a late blitzer.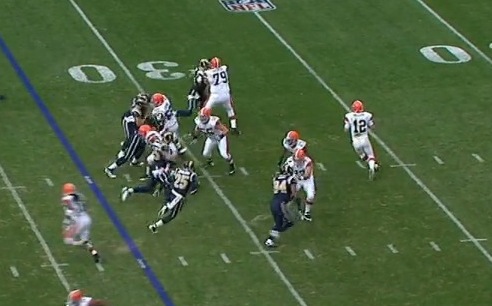 Shawn Lauvao– He had a good game on Sunday and when I see a  "per play" rating similar to Thomas, that feels about right. Shawn wasn't embarrassed at all but I didn't feel he was quite as effective as Pinkston was. He didn't execute one of his G-powers as effectively but another (see below) was great. I can't say too much more good or bad about Lauvao and that's probably a good sign.
Tony Pashos– As much as I have banged on Pashos for his play this year, I think that his low number is not for the reasons most people expect. Tony was aggressive in his play. I really don't think Pashos moves well enough to be a good tackle and at times his footwork is just awful, but he does have his moments. For instance, I gave him a +2 here for leveling the Rams best lineman Chris Long with a jab to the upper chest.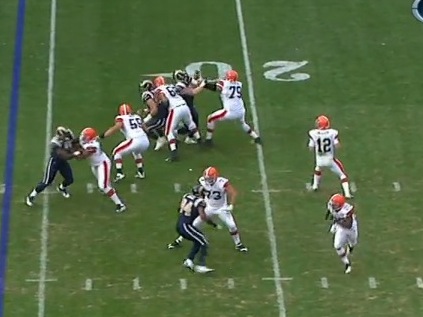 Pashos's low grade here is mainly the result of a number of average ("0") plays, which, again, often get the job done just as well.
To another point reflecting on the line as a whole, going into Sunday, the Browns only had 14 plays of 20+ yards all season, which was amongst the worst in the NFL. The offensive line allowed them to significantly improve on this against the Rams, with five such plays on Sunday. Like here, where we see a beautiful pocket with Colt nearly at the back of a seven step drop on the 52 yard pass to Little.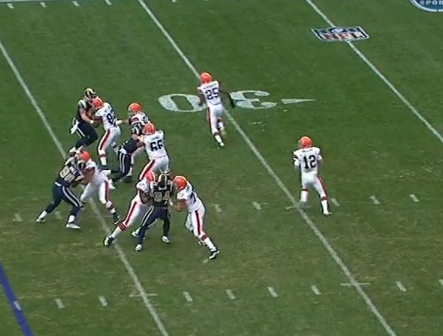 McCoy was sacked twice this weekend but I will offer that neither sack was truly on the offensive line.  The first of the two was on Marecic and the second was Colt rolling out and I can't really say that the line gave it up. He was hit far fewer times than against the Texans, and I think that the Rams defensive front seven is actually a bit under-rated.
Which speaks well of Sunday's 4.2 yard rushing average as well. Here's one last play that got the Browns down to the Rams 11 in the fourth quarter: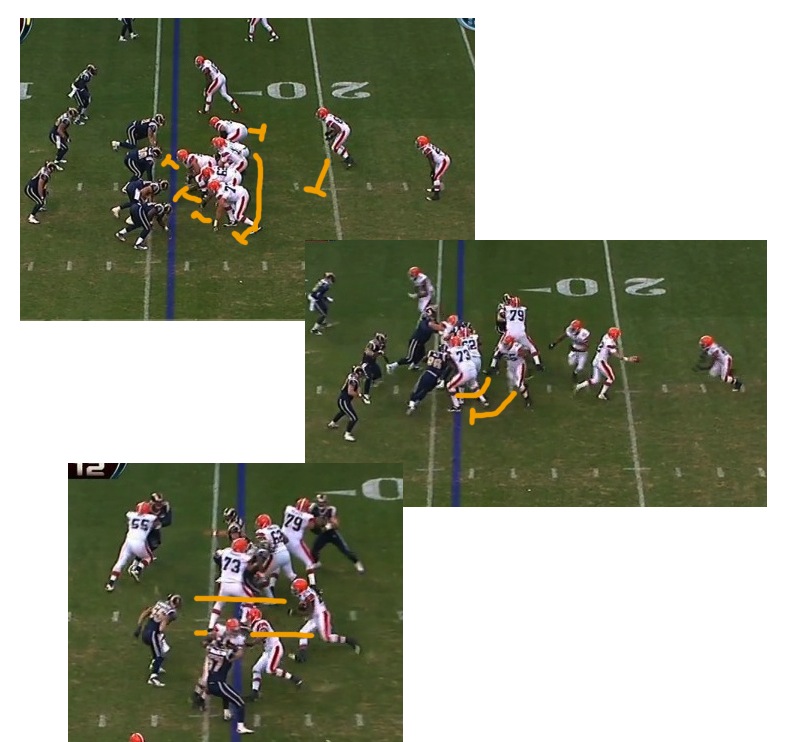 Here the Browns pull the RG Lauvao who comes across the formation as the LT, LG and C all block down. Pashos seals the backside. Lauvao does a really nice job of sealing the outside of the lane and Joe Thomas has crushed everything up inside.  Alex Smith is the lead blocker and does not get a clean block on Laurinaitis but the play does go for five yards to set up 3rd and 2. A lot of good things going on here.
Does this bode well for the Browns?  It at least meant fewer hits on the QB. I don't know that this answers the many questions about the coaching but on a performance level, the boys did well. To help with your own evaluation, I'll leave you with a few more points of analysis:
1) The first step an offensive lineman takes is a read step. He watches to see what the defensive player will do. The defensive player takes the second step. Whoever takes the THIRD step in the sequence generally has a decisive upper hand in the battle.1
2) Look for the stance of the player pre-snap to give you an idea of the play. The less he tips (e.g., weight back in stance, head turning) off the defense, the better. The motion of the helmets of the o-line after the snap generally tells you what the blocks are. Up = pass, down or level= run.
3) It doesn't take a coach or scout to be able to appreciate the ability to finish off blocks.
4) Offensive line play (perhaps even moreso than QB play) is all about footwork. Watch your linemen as they move. Do they move their feet well or do they shuffle? Do they end up lunging a lot? Do they keep a strong base underneath them as they block? Do they bend at the hips and knees (good) or do they bend at the waist (bad)?
5) How do they use their hands?  If their footwork is good, they should be in good position to engage with their hands (a stun jab like the one unleashed by Pashos pictured above is much harder to get off than it looks). Can the linemen keep their hands inside the frame of the defender? Can they manage to keep their upper body with the pads square to the line of scrimmage? Do they get underneath the pads of the rusher?
Hopefully this will help you better appreciate the work of these guys in the trenches that ends up determining so much. I'll look forward to picking up the discussion in the comments.
—————
1"Take Your Eye of The Ball" by Pat Kirwan, Triumph Books (2010).
2One such site is www.profootballfocus.com/about/rating