Welcome to the latest edition of "Xs and Os with the Bros" by Xs and Os editor @rodofdisaster. This feature represents a basic attempt to dive deeper into the game of football, learn something about the X's and O's, and try to appreciate the games within the game by taking a close look at a single play. It's called "Xs and Os with the Bros" because you don't have to be a rocket surgeon or a former NFL player or coach to get something out of taking a close look at a football play, so please enjoy the post and the discussion in the comments. OK, here's Rod:
Colt McCoy threw 1,645 passes as quarterback for the University of Texas, and it's doubtful that he was ever under as much duress as he was over the 25 or so snaps where he dropped back on Sunday in Houston. Texans rookie linebacker Brooks Reed, forced into a starting position when star Mario Williams went on the IR, had roughly one sack in every three games he played at the University of Arizona.  On Sunday, Reed sacked McCoy twice and hit him on four other occasions.  And Reed didn't just hit McCoy, he punished him. Quite honestly, the Browns made him look like Lawrence Taylor, as he exposed the weakness in the Browns' pass protection in just about every possible way.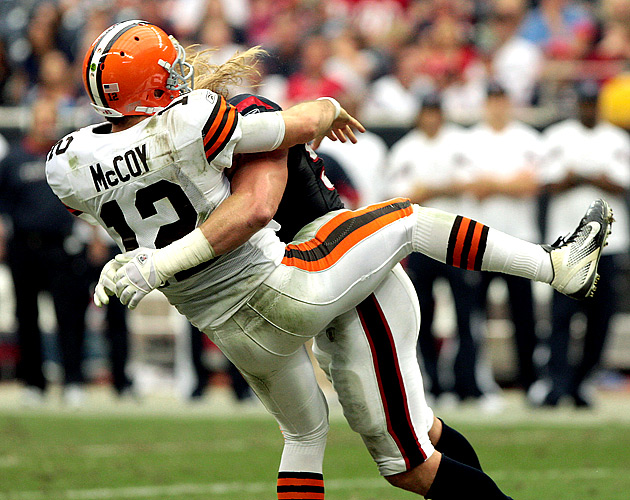 First some basic background: Every pass play that's called defines a formation as well as the routes that the receivers run. A QB's drop will vary from 3 to 5 to 7 steps based on the depth of the routes, and every play will have a pass protection scheme to organize the blockers.
From there, the QB has a pre-snap read to try and determine the front, coverage and the expected pressure.  He needs to understand if he'll be able to get the designated play off on the look he's getting from the defense. The blockers and receivers need to execute their assignments, and the QB needs to deliver the football on time. If they can't accomplish these goals, the QB will have to know where his escape options are (to scramble).
Now, to see what might have gone so wrong on Sunday:
Situation: 4th quarter;
Score: Houston leads 30-6;
Down-Distance: 3rd & 5 on Houston 29;
I. Pre-snap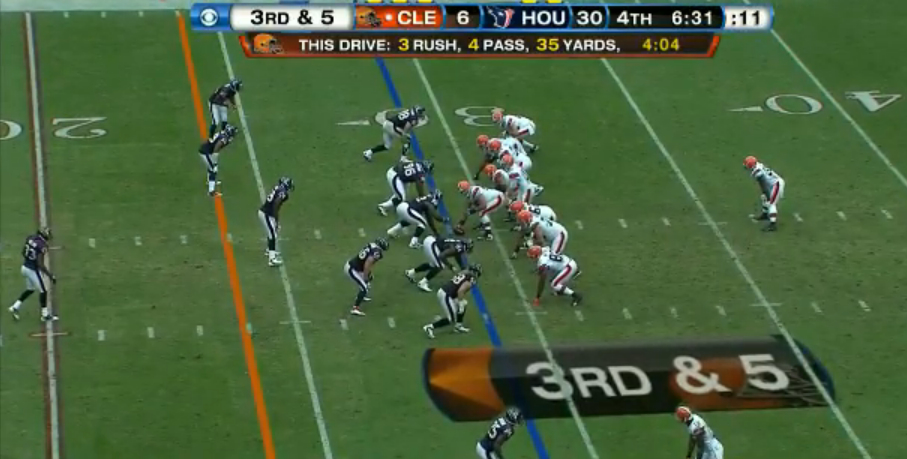 Here the Browns come out in "13" personnel — 1 back and 3 tight ends.  The strength of the formation is to the right. Earlier in the game, they passed from this formation. The Texans are in a 3-4 base defense. There are nine defenders "in the box". The corner on Greg Little is showing man-to-man alignment and it appears that the two ILB and strong safety are aligning on the tight ends.  There is one deep safety. That usually suggests man to man underneath and a deep safety (man-free) or 3 deep zone (unlikely against this compact formation).  It appears as though 5 or 6 defenders could be coming on the rush.  Greg Little has 1-on-1 coverage with no help over the top for the Texans cornerback.
II.   The Rush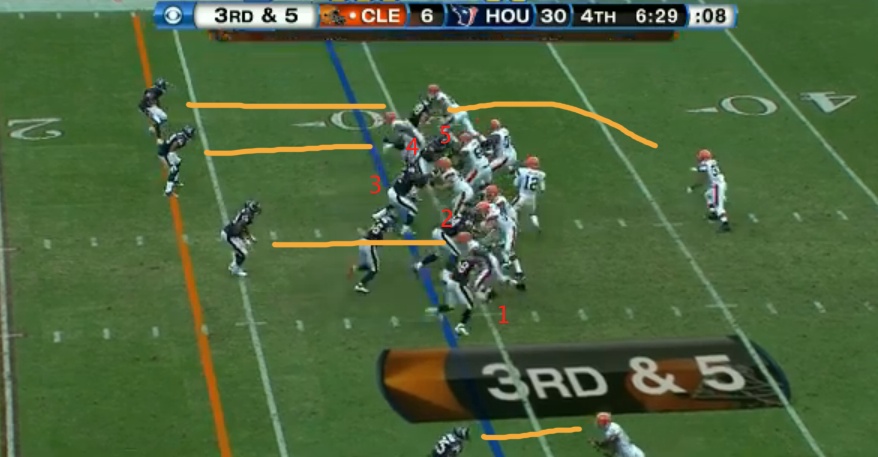 Here we see that the safety has dropped out into a single deep coverage and is reacting to the QB.  The yellow lines designate man-to-man coverage.  The coverage is pretty much what the presnap read suggested. We have five men rushing and five to block them. If Clayton stays in, his man will rush as well.
III.   Free Shot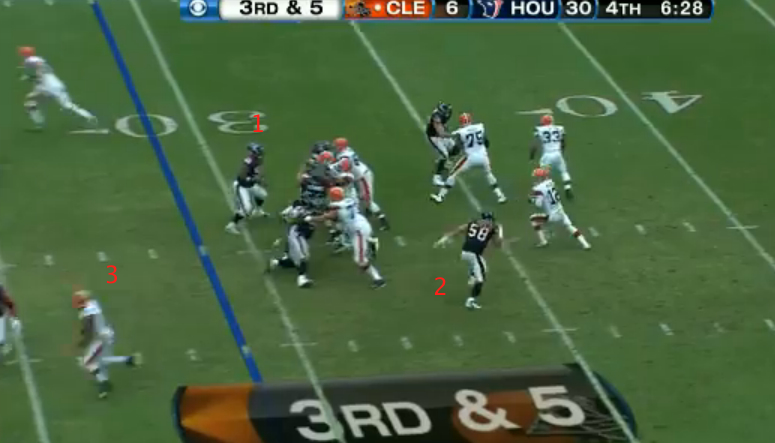 Here we see three things:
1.      Clayton's man sees him release and reverses field to go with him.
2.      Brooks Reed has yet another free shot on McCoy, which has to be put on a failed blocking scheme, or else a failure of the offensive linemen to execute the scheme. Note four Browns helmets blocking three Texans linemen to the right (the right guard, Lauvao, is effectively blocking no one here) while Reed takes his free run behind Thomas's back. (You can read more about how zone and man pass blocking schemes at an "Anatomy of a Play" post from this year's Miami game here).
3.      Greg Little has one on one coverage and he's not looking back for the ball.  I'm not suggesting that he has to but he seems unaware of what's going on back behind him which is a consistent finding with this young player.
IV.   Lights Out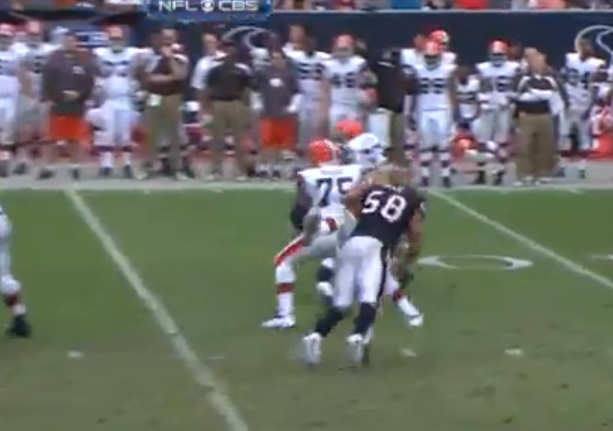 One hopes that his team's quarterback doesn't take this type of hit regularly, but I saw it happen at least three times on Sunday. To his credit, McCoy kept getting up, and kept stepping up to deliver the football.
Discussion:  What we have here is basically a mess, with a lot of issues illustrated by these stills. It's probably easiest to analyze by position.
Colt McCoy:  I was starting to come off of the Colt McCoy bandwagon after the Seattle game.  I fully expected to go to the Houston game and see that I was correct that Colt was the reason that this passing game could not get going.  It seemed like the easiest explanation.  Unfortunately for my sanity, it's just not that simple.  Colt is limited in several ways.  First off, he isn't as tall as you'd like. His arm isn't strong enough to overcome the breakdown in mechanics that occurs when he's under pressure.  He seems to be feeling the pressure sooner, possibly a result of being a punching bag for the better part of this season.  Sure, he will make a major league throw here and there but it's never when he's pressured.  On this play, he got the ball to Little but it was essentially a floating heave. Is he making the proper pre-snap reads? Is he not smart enough to diagnose what the defense is doing? The last four teams we've played have all brought edge pressure either by LB or DB with great results. I can't believe that Colt doesn't see this or that he's somehow unable to adjust. He made a living making those types of adjustments in college (see Fiesta Bowl winning TD vs Ohio State). What if he's not allowed to adjust? I didn't see a single audible on Sunday and I can't tell you that he's audibled five times all year  I also notice in many plays that he takes a quick three step drop and tries to get rid of the ball only to find that the receiver isn't looking for the quick throw.  I don't know if these are designated hot routes. There certainly doesn't seem to be a lot of pre-snap communication to suggest that there are.
With respect to pass protection, the QB has to determine one thing first and foremost: Does he have enough blockers to block the rush? If not then he has several options:
1) Call timeout
2) Change the play (audible)
3) Reassign the protection (this may fall to the center on some teams)
4) Throw a "hot route".  This is a quick hitting pass route usually done as an adjustment by a receiver so as to get the ball out of the QB's hands quickly.  Usually, you'll see it as a slant route, and if it can be completed, it sometimes goes for huge gains if the DB misses the tackle. Dan Fouts commented that we seemed to be lacking these in our passing game. I suppose that one can argue that they're built in with the nauseating number of short routes but it seems that the receivers simply aren't on the same page with Colt.
As we can see above, he generally does have enough blockers. What's disturbing is the Texans did not rush like a team like the Jets would.  They didn't use a lot of overload blitzes bringing more hats than we had to block. In such cases, this case, there are enough blockers to handle the pressure so the Browns should commit to their protection scheme and pass routes and execute it.
I noticed during several plays when Colt dropped back that he started to feel the rush seemingly too early, and would miss receivers coming open.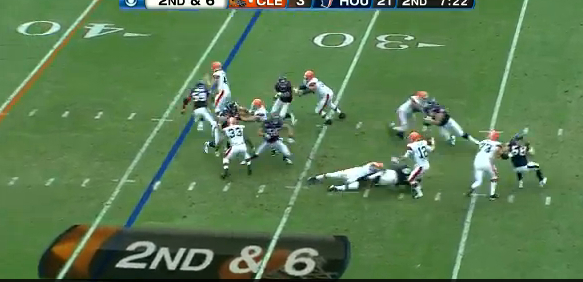 Offensive Line:  The main question here isn't whether they fail, because they surely collectively do.  The question is whether or not that failure is a result of the scheme that they're given or their lack of ability to execute a pass block.  That probably varies from man to man. As we saw in the old "Anatomy" post linked above, Artis Hicks frequently gets beaten badly. Pashos is not much better.  The right side of the line has trouble in pass protection and some of that could just be physical inability. What you see more often than you'd like is this, from Sunday's first half: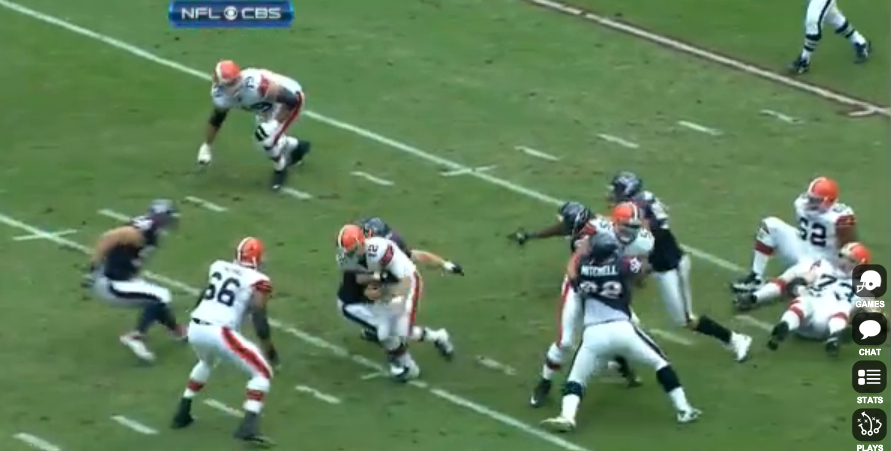 You simply can't have this many offensive linemen on their butts.  Mack is the only one who's looking like an NFL player here (with respect to the rest I really have no idea what's going on).
On the other hand, when you see Artis Hicks gives Reed a free hit on McCoy in the 3rd quarter and then the Texans flip the play in the 4th quarter and Joe Thomas allows the same free run, you have to ask if there's a schematic problem here.  If the offense is predictable to 95% certainty like Mike Lombardi says it is, it would naturally make things extremely difficult on the linemen, so as to compound the impact of any physical advantages held by the opponent (or negate any such advantages held by the Browns).
Receivers:  It's clear that the Browns lack top-end superstar talent at the position, but the criticism of the abilities of the unit as a whole strikes me as overblown. Greg Little has made some plays, as is evident here, and could one day be a star in the league. It's not hard to see Massaquoi or even Cribbs coming down with a 1,000 yard season in a different offense, but at this point the Shurmur attack simply isn't getting any vertical stretch. This allows the defense to squat on the short zones, rush the passer with little risk and really just allows them to come up and smack the offense in the face; the same problem the Jets used to face with Chad Pennington. I think Colt's arm is at least stronger than Chad's, but in any event, my impression is that the teams we are facing are playing this defense because they know we a) want to run and b) aren't going to send multiple vertical threats since our offense is predicated on these nauseating 5 yard passes.
On blitz plays, it seems like the receivers don't look back for a quick throw when they should, which suggests that perhaps the receivers are the ones who aren't understanding what they're seeing out there or how to adjust to it, but how much should be communicated by the quarterback? While we're not seeing miles of separation on the field (for many of the reasons discussed above), these guys are coming open in spots with relative frequency. One area where I'm sure this group could improve is with respect to fighting for the ball when it's in the air.
In sum, there are a number problems with the Browns passing game. On some plays the breakdown is because they simply can't block the guy in front of them. On other plays, the scheme isn't clear and doesn't account for all of the rushers. It may be a mental mistake on the part of the lineman or running back, a flaw in the blocking scheme, or simply McCoy's error because he should know that the last (free) man is his responsibility. He does hold the ball too long on occasion, and will hitch and hesitate,  suggesting that a receiver is not where McCoy is expecting him to be. And it seems the receivers don't always make the right route adjustment based on coverage (which is what led to the interception at the end of the second quarter).
Compounding these issues, it also appears that Colt lacks the ability or permission to audible. Falling to the same free rush a second time in two quarters calls the coach's ability to adjust into question.
In any event, it's hard to say more without knowing what the actual calls and schemes are, but Dan Fouts is surely right when he says that something simply doesn't look right with the Browns' approach. The passing game as it stands right now is a total disaster. One could argue that Brian Daboll didn't expect much from Colt last year in terms of passing, but Colt was much more accurate in Daboll's scheme, and I can't believe that he's all of a sudden lost that ability. Do I believe that Colt will be the Browns' QB in two years? No; but I can't jump to the conclusion that the QB is the only issue here because it seems like any of a number would struggle under the same circumstances.
For now we can just hope we'll get a better look against the Rams, who've had eight defensive backs on their injured reserve list, are missing both first-stringers at corner, and will start 37 year old Al Harris, and Josh Gordy, a rookie who was cut by the Packers in training camp. Anyway, for the Browns passing game there's really no place to go but up.