"Believe it or not, I was trying to kick it [out of bounds]. It's hard, easier said than done." — Browns punter Brad Maynard
"[The Cardinals] schemed it up really well. They really challenged the technique we were playing. … They made the right call at the most critical time." — Browns cornerback Dmitri Patterson
—————
Not exactly the "eruption" we were on the lookout for, but a close loss is better than getting run over. Progress? Or just the most natural thing in the world for the most marginal of playoff contenders to come in soft against the Browns after three straight wins and two enormous ones against the Cowboys and Niners.
Anyway, here we are with a 4-12 finish a virtual certainty for the nepotism hire who replaced the coach who was fired because he "didn't win enough." No need to dwell on this today with the post-mortem on this season having been written over a month ago, so more specifically about yesterday: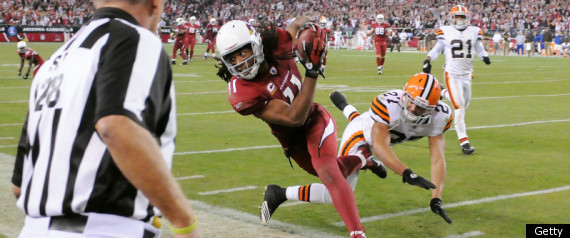 Another special teams breakdown, and the Browns were out-schemed again when it mattered the most. There wasn't anybody close to Larry Fitzgerald on his game-sealing 32-yard catch. Ho-hum. What else?
Somehow nobody's talking about dropped passes today. Whatever you want to make of that, the Browns passing game looked as good as it has all season. The Cards defense isn't great (22nd against the pass, 19th against the run), but it's not a thoroughly decimated Colts, Jags or Rams unit either, and Seneca managed 226 yards, one touchdown and a passer rating of 91.6. Notably, it was the first 90-plus-rated passing performance for the Browns this season that didn't come against a thoroughly decimated Colts, Jags or Rams unit.
A lot of that did come on a broken play where Seneca rolled out of the pocket to find a linebacker on Greg Little, but we won't complain about 76-yard touchdowns here. We will though wonder about the subtext when Josh Cribbs says that Seneca, "played awesome … great. He threw the ball down the field. Threw to a lot of different receivers. He made plays when plays were needed to be made from him."
But as much as it would be interesting to continue to see what the receivers look like with Seneca against the Ravens and Steelers, it's not really the receivers who are up for a ticket out of town next season. If Colt's healthy he's got to play.
We'd like to say that it's great to have a healthy Peyton Hillis back, but the seeming inability to maximize his talents within a game plan remains frustrating.
The third-quarter interception by rookie fifth-round pick Buster Skrine was a huge play, an excellent play, and highly encouraging.
And most importantly, the Browns now have the fifth pick in the 2012 draft on lock, while the Jaguars, currently ahead of the Browns in the fourth slot, have two winnable games left, against the Titans and Colts. Also note the extreme unlikelihood that the Vikings or Rams (now slotted second and third) will pick a signal-caller in this extremely quarterback rich draft, as well as whatever else you want at Kanicki's phenomenal draft-order-tracking spreadsheet. (Note: Strength of schedule there is measured as though the full 16 game season has already been played.)
In other news, we were 3-1 with the NFL picks yesterday (+15 units) to run the NFL season record to 41-24-2 against the spread (+91 units). We'll update this post below by 6PM with a pick for tonight's Steelers/Niners tilt.
UPDATE: We ended up writing a separate post for tonight's pick due to the emergence of a statistic suggesting that the Browns are a worse 4-10 team than surface indicators reveal so click here to check it out.
Hope everyone's week is off to a decent start.