Welcome to the latest edition of "Xs and Os with the Bros" by Xs and Os editor @rodofdisaster. This feature represents a basic attempt to dive deeper into the game of football, learn something about the X's and O's, and try to appreciate the games within the game by taking a close look at a play or aspect of the game. It's called "Xs and Os with the Bros" because you don't have to be a rocket surgeon or a former player or coach to get something out of taking a close look at a football play, so please enjoy the post and the discussion in the comments. Alright, here's Rod:
The position is like no other in sport; so important that it's name has become a synonym for "leader" and "director." First, a look at a play from last Sunday's Browns/Cardinals game.
Situation: 13:53 left overtime, Browns have received the kickoff;
Score: 17-17;
Down & Distance: 2nd & 7 on Browns 32.
I. Presnap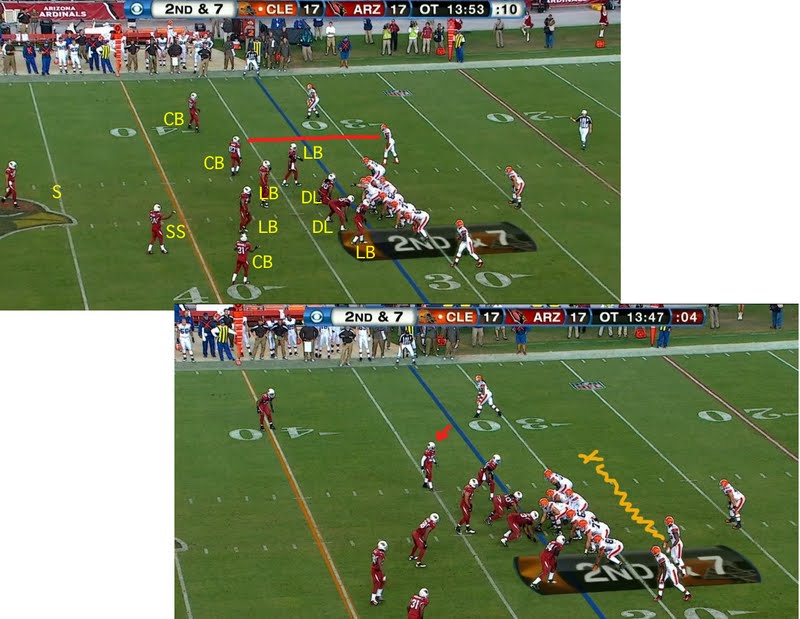 The Browns  come out in "11" personnel (1 RB, 1 TE). The strength of the formation is to the left with Smith (the "Y") lined up next to Thomas. We see Mohammed Massaquoi lined up as the "Z" (bottom of your screen). Josh Cribbs is the "X" at the top of the screen and Greg Little is in the slot.
The Cardinals counter with 2 linemen, 4 LBs and 5 DBs, in a nickel package. There is one safety deep directly in the middle of the field. The other safety, Wilson, #24, is lined up 10 yards off of the line over the TE, which tips off that the Cardinals aren't playing press man coverage. From here the two most likely coverages are Cover-3 zone and Man Free (1 safety deep and man under). While the DBs are a little far off the line for the latter, this could be a disguise of man coverage (in which case they'd run closer to the line just before the snap to play man. Each receiver seems to have a man lined up over him (I have highlighted Little's relationship with the defender here). Though Wilson's position strongly indicates cover-3 zone. In cover-3, the SS covers "curl to flat" on the strongside (i.e., defined by an area where a hook or curl would end up to the sideline ). In this photo, he's already lined up over there.
In the second pane, we see Little has gone into motion (jagged orange line). Notice that his defender has stayed put, which tips off the zone, confirming the read.
II. Dropback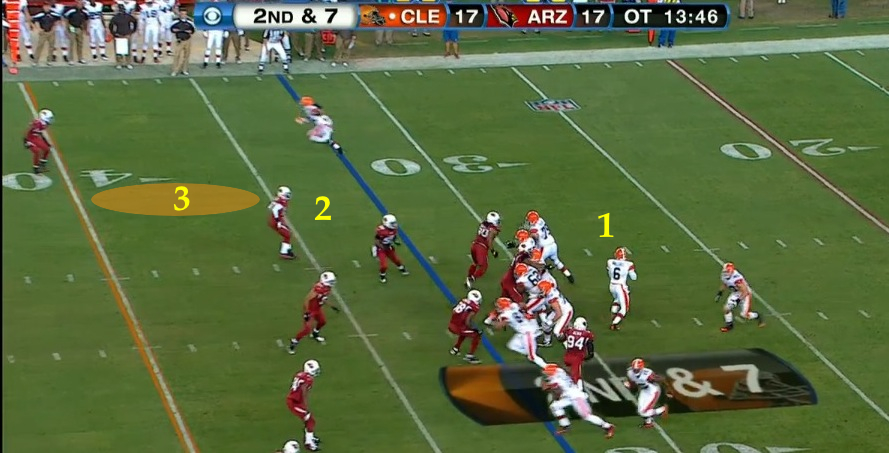 Here we see Seneca Wallace drop back to throw. It's a 3-step drop which means he's probably trying to throw a slant to Cribbs. He's making this read as he drops. The protection appears good as the Cardinals rush four. Hillis comes up to block Sam Acho on the edge.
Notice the defender here moving out to cover the curl to flat on the weak side. He will be in the way of the throw,
This is where Cribbs is trying to go. He won't be open.
III. Alternate Receiver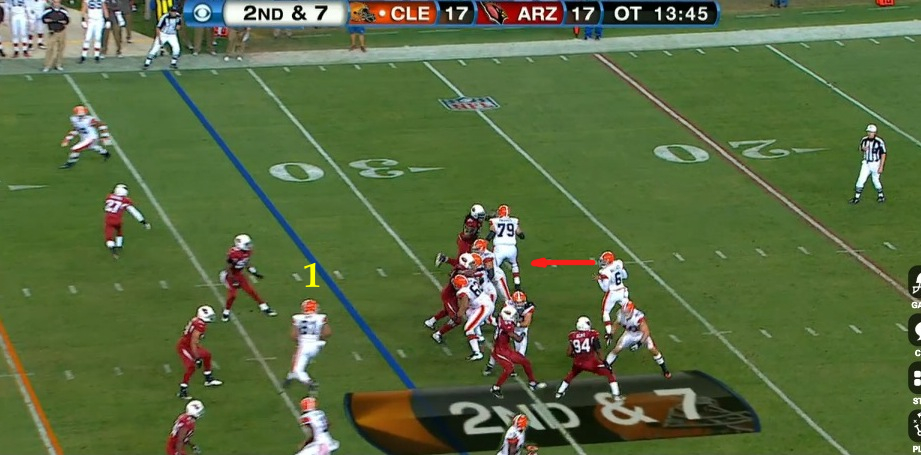 Here we see Wallace look to his alternate receiver. In the West Coast Offense this tends to be a tight end. Alex Smith is running into the coverage (#1). Since the defenders are somewhat close together, there isn't much space for Wallace to put the ball.
IV. Throw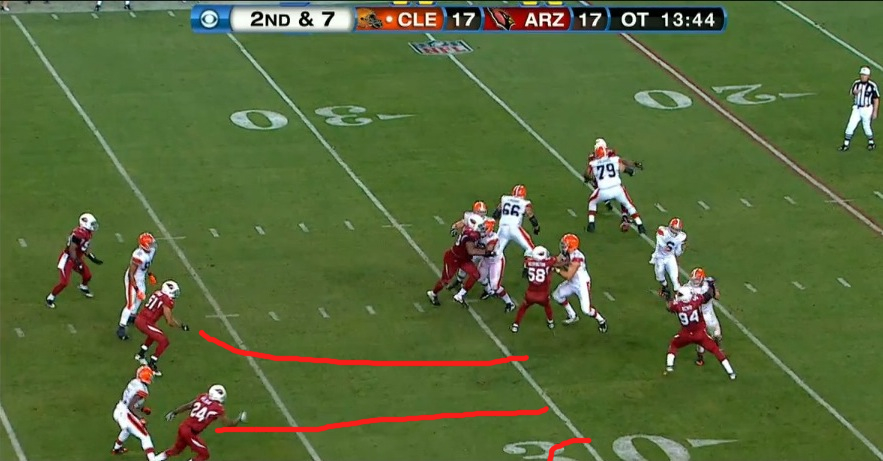 Here we see that Wallace has read across the field, passing up Cribbs, Smith, and MoMass (who ran a Hitch or "2" route).  Instead, Wallace has opted for Little in the left flat who ran an out. He completes the throw for a two yard gain.
PLAY ANALYSIS:
There are several reasons why I chose this play for a close look. First, it represents a second-down play where the Browns chose to pass against a front that they could have blocked well enough for another 3-5 yard run to bring up a third and short (if not a first down). It's a good illustration of the way the West Coast Offense relies on the short passing game to replace the running game. As it turns out, 3-yards and a cloud of dust would have been a better result here.
Secondly, and more importantly, it showed me something from Seneca Wallace that I have not seen from Colt McCoy: The ability to read across the whole field.  He started weakside, it wasn't there; He went to the alternate, not there; Finally, he comes all the way across to Little for a completion, albeit a short one. I went back and looked at the last three games' worth of pass attempts from Colt and only once did I see him read the whole field in this way. Instead, the furthest he gets is to sometimes come off of the primary to the alternate in the middle of the field. I suppose it's not uncommon for a young QB to fail to see the whole field, but to see it just once in three games raises serious questions. Are the Browns giving this kid one and two-option plays? We can't know the answer to that but whether by design or ability the use of two receivers on any play leaves three eligible receivers running essentially wasted routes. If you look at the interception that McCoy threw to Troy Polamalu in Pittsburgh, he looked right and threw right. The receiver running the backside post was open deep (or so it looked on the replay as Polamalu cheated over). In the Baltimore game, he threw the interception before the half where he's looking right and throwing right.  He's not exactly locking on to one receiver but if he or his coach are limiting his play to half of the field, that's shrinking the area the defense has to really cover.
DISCUSSION:
Heading into last off-season and again into this one, it appears that the most important question facing the Cleveland Browns is whether the signal caller of the future is currently on the roster. One of the worst mistakes an NFL front office can make is to misclassify its starting quarterback. A wrong assessment can cost you years (as it did the Lions with Joey Harrington or the Dolphins passing on Drew Brees), though incorrect evaluations can go both ways. For as many rules as we are given for what constitutes a great QB prospect there are always exceptions to those rules, but to break down some of the basics:
Mechanics – How the Parts Move
In short, the QB's feet and arms should exhibit an "economy of motion" (i.e., the less wasted movement the better). Poor lower body mechanics leads to poor upper body mechanics. What to look for here:

Lower Body— The QB accepts the snap and has basically four movements immediately off of the snap. He has a 3, 5 or 7 step drop. He also has different mechanics to hand off. When he accepts the exchange from center he'll then drop step with his throwing foot (i.e., the same side foot that corresponds to his throwing arm. Right for righties, left for lefties). He then has to cross with the contralateral foot for step two. The next step is with the first foot and so on and so forth. The reason the drops are numbered as "odd steps" is that the same-side foot has to be the last one because they have to drive off of that foot to initiate the throw. For instance, a three-step drop is quick and is a throw to short routes, so the rhythm is 1-2-3-throw. The crossing of the feet is key. Some guys are very smooth with this and others are uncoordinated and shuffle/stumble their way back. Other guys are frequently caught in between steps. At the appropriate depth of the drop, that last step has to plant firmly and the player's stance should be athletic with a good base for balance. They push off of the back foot and drive their weight forward with the the front foot rotating their hips (Tom Brady is particularly good at the drive and hip turn). You don't have to have watched much football to know that throwing off of the back foot should generally always be avoided.
On handoffs, the QB has to open his hips right off of the snap. On the stretch they have to have some mobility to get to the handoff point. There is some agility required here as well.
Upper Body— On dropping out from center the QB's head and eyes are ideally downfield. Some guys do keep their head centered so it's harder to see where they're looking (Brett Favre did this well) but they should still be going through their reads as they drop. The shoulders should be perpendicular with the line of scrimmage when possible and the ball should be held high (with two hands) near the upper shoulder/ear hole area (see Peyton Manning). The positioning of the ball helps avoid fumbles from carelessness but more importantly it gets rid of a hitch because the ball is already in a good starting position for the throw (Steve Young). The throwing motion should be compact (see Tim Tebow or Byron Leftwich for counterexamples here). The arm angle is important in the sense that a QB makes himself shorter with a sidearm throw, and for some guys that's an issue. The follow through should end up with the throwing hand almost in the opposite pants pocket (Tom Brady). The release point should ideally be in the middle of the throw and the wrist snap offers a tighter spiral (important for bad weather) (Marino, Warren Moon; Michael Vick has a great wrist release).
These are just the physical mechanics. Obviously there's much more to this than just the physical. Some QBs are able to overcome mechanical shortcomings by reading the field, while others trust their arms too much.
Characteristics of an NFL QB
Professional analysts all have their list of what makes up a great quarterback. While they tend to look for the same types of traits, it's rarely that simple in the analysis. Some analysts may favor the important traits in some order. The main traits that one should look for in an NFL QB are:
1) Intelligence- The history of the NFL keeps marching on and the broken dreams of many strong-armed college QBs litter the landscape because they weren't able to grasp the complexities of the NFL at the speed required. Guys with major league fastballs who can't read defenses are essentially useless. When an NFL quarterback has a breakthrough year, comb the transcripts and I can guarantee you'll find him telling at least one reporter that "the game has slowed down for [him]." Of course it's not the game that's slowed down, it's his brain that's sped up. Relativity.
2) Accuracy/Arm Strength- Accuracy and arm strength are hard to separate because there are different ways that an arm can be strong. I.e., it requires certain physical ability to be able to put the proper spin on the ball to deliver consistently accurate throws. (For instance, while Drew Brees isn't a big man, but throws an excellent ball due to his ability to "spin it.") In any event, there's no question that a successful NFL QB needs to be able to fit the ball into tight spaces. Give me an accurate QB who can read the field and I'll pick you apart. Wildly inaccurate passers tend to spend a lot of time overcoming their poor plays, and tend to put their teammates in vulnerable positions. The NFL QB should aspire to the accuracy of a Tom Brady or Joe Montana (note that Montana was not at all known for having a cannon). Though the "big arm" of course helps as well. The quintessential benchmark for arm strength is the deep out (20+ yards). Obviously, the college hash marks make the distances different so look for the throw to the field ("bigger side") out to gauge arm strength. You also want to see how they throw off balance because NFL QBs have to make off balance throws routinely. The guys with the biggest arms out there right now are Matthew Stafford, Jay Cutler, and Aaron Rodgers.
3) Quick Release- A quick release is a commonality shared by all top QBs. A slow release can throw off timing between QB and receivers. It can also result in sacks and/or fumbles under pressure. Dan Marino, Warren Moon and Joe Namath all had ideal releases. Again, arm strength is a factor here.
4) Footwork/Pocket Presence- While this is somewhat difficult to separate from intelligence, proper footwork is a cornerstone for successful play at every position in football and the QB position is no different. Not only does good footwork set the QB up for accurate and strong throws but it also plays a big role in the timing of the running game and any play action. Of course, this also requires the quarterback to know where the rush is coming from and where their escape lanes are. Think Joe Montana here.
5) Leadership- There's a personality element here as well. The quarterback's ability to communicate with his teammates and make them see what he sees is as important as anyone else's on the field. Again, a lot of overlap with intelligence here, but see the difference between say Peyton Manning and Jeff George.
6) Size- The prototypical NFL QB is 6'3"- 6'6." Too much shorter and they can't see over the line reliably. There have been plenty of successful 6'2" QBs.  There seems to be some magic drop-off at 6'7" as these players tend to have trouble avoiding the pass rush. The trajectory on their passes is different in the short passing game. Drew Brees is the major exception here at 6'0."
Bill Walsh and "the West Coast QB"
Bill Walsh is the father of the West Coast Offense run by the Browns. Whether you're a fan of the premise of running all five eligible receivers into the pattern and using the "short pass as run" concept or not, you can't deny this man's ability to evaluate and coach quarterbacks.
This post at Smart Football titled "Bill Walsh's 49ers Notes on Dropback Passing" will give you a better idea of what the WCO requires of a quarterback. An hour of your time is well spent watching the seven part series on YouTube titled "Quarterbacking by Bill Walsh" as well.
You'll see that Walsh was looking for at least the first four traits mentioned above and you can get a better appreciation for how those traits make this offense work. He is a stickler for footwork and releasing the ball on time. He expected different footwork depending on the throw being to the inside or the outside, and understood how the timing between QB and receiver was a key to success. His offense was almost unstoppable.
It's hard to think that Walsh would be crazy about either of the Browns quarterbacks. Colt's interception against Baltimore (not to mention the preceding passes that were almost intercepted) probably made him spin in his grave, having broken one of his cardinal rules of quarterbacking. When you take three or five step drops, you never look right when throwing right until you are ready to actually throw. If Walsh wanted to say something good about either guy he'd say they both have generally good footwork, but given their relative lack of arm strength, it's hard to think they'd have come close to the league if they didn't.
Another Bill, Parcells, has come up with a list of  "11 Quarterback Commandments," also instructive:
1. Press or t.v., agents or advisors, family or wives, friends or relatives, fans or hangers on, ignore them on matters of football, they don't know what's happening here.

2. Don't forget to have fun, but don't be the class clown. Clowns and leaders don't mix. Clowns can't run a huddle.

3. A quarterback throws with his legs more than his arms. Squat and run. Fat quarterbacks can't avoid the rush.

4. Know your job cold. This is not a game without errors. Keep yours to a minimum. Study.

5. Know your own players. Who's fast? Who can catch? Who needs encouragement? Be precise. Know your opponent.

6. Be the same guy everyday. In condition, preparing to lead, studying your plan. A coach can't prepare you for every eventuality. Prepare yourself and remember, impulse decisions usually equal mistakes.

7. Throwing the ball away is a good play. Sacks, interceptions, and fumbles are bad plays..Protect against those.

8. You must learn to manage the game. Personnel, play call, motions, ball handling, proper reads, accurate throws, play fakes. Clock, clock, clock, don't you ever lose track of the clock.

9. Passing stats and td passes are not how you're gonna be judged. Your job is to get your team in the endzone and that's how you're gonna be judged.

10. When all around you is in chaos, you must be the hand that steers the ship. If you have a panic button, so will everyone else. Our ship can't have panic buttons.

11. Don't be a celebrity quarterback. We don't need any of those. We need battlefield commanders that are willing to fight it out everyday, every week, and every season, and lead their team to win after win after win.
The Browns' "Quarterback of the Future"
While Colt McCoy embodies some of the required characteristics at times, he quite clearly is not the prototypical NFL quarterback by the standard measures. The main questions surrounding Colt relate to whether he can overcome his physical shortcomings with an ability to read the field, and an emphasis on mechanics. The complete inability to make his way through his progressions noted above is highly discouraging here, and is at least partially explained by the fact that Colt never had to read a defense in college, where his read was dictated to him in the huddle in Texas's spread scheme. Contrast this with the advantage that pro-style college quarterbacks have coming into the league (remember Andrew Luck's coach at Stanford explaining how his quarterback "controls the game at the line of scrimmage," and that they "call three/four plays in the huddle").
Can the Browns really afford to invest in any more "on the job training" for Colt here? Josh Cribbs' public commentary on the Browns offense this season ("what we're doing ain't working," etc.) reads like nothing if not the frustrations of a receiver whose been forced to play with a quarterback who only uses half of the field (notably, Cribbs was effusive in his praise of Wallace after Sunday's game). The dropped passes that have scandalized the Browns press all season weren't an issue at all last Sunday with Wallace at QB, and it's hard to see that as a coincidence. How many more years can you spend waiting to see if Colt eventually picks it up, knowing that he'll still never have the arm to make "all the throws"? I'm a University of Texas alum and would love to be wrong about McCoy, but the Browns don't owe him a lot of money, and investing any more time on him requires assuming he'll be able to develop a high proficiency at something that he's never shown an ability to do, at the very highest level. NFL teams develop in cycles, and you've got to synch your quarterback's with the rest of the group.
—————
It's taken seven years and over $50 million, but Alex Smith showed us on Monday night what a WCO quarterback should look like.. Note the footwork, timing throws, and decision-making. The TD to Vernon Davis is a classic WCO play called a sweep pass — the QB takes a straight drop and then sprints to the outside – just like the famous Montana to Dwight Clark TD. And there really is no better benchmark for the WCO than Montana
—————
The "Xs and Os with the Bros" archive is available here.