In the wake of a 4-12 season in which the Cleveland Browns regressed in every way under the leadership of a rookie head coach "who will be here a very long time" whether anybody likes it or not, Browns fan's hopes are pinned more than ever to intangible notions of "philosophical unity" and the competence of the men upstairs. So our MVP for 2011 has to go to the man pulling all the strings (and cashing in on all the paychecks) in Berea, Bob LaMonte, the NFL superagent who represents Browns President Mike Holmgren, Browns GM Tom Heckert, Browns Executive Vice President Bryan Wiedmeier, Browns head coach Pat Shurmur, and Browns quarterbacks coach Mark Whipple.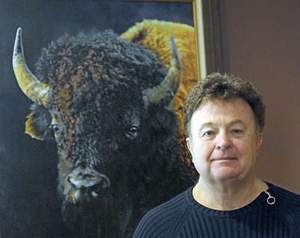 When Randy Lerner overreacted to the self-interested publicity stunt of an illiterate but incredibly successful media whore/"superfan" by throwing $50 million and the keys to the kingdom at Mike Holmgren at the end of 2009, Mike Lombardi could hardly have been more prescient in noting that "no one will gain or maintain employment with the Browns unless they come with the blessing and representation of LaMonte." The Browns might as well be called "the Cleveland LaMontes" now, Lombardi said.
So what is it that entitles LaMonte to such influence?
For one, there are unimaginable piles of cash flying around in professional sports, and more by the day, especially in American football, where, according to Lombardi, LaMonte is especially skilled at "creating illusions" on behalf of his clients; Like Charlie Weis, for whom LaMonte negotiated what Lombardi calls "the single worst deal in the history of contracts" when Weis was hired as head football coach at Notre Dame.
But more importantly, LaMonte is close personal friends with Mike Holmgren, with whom he came up in the football business just as these unimaginable piles of cash started flying around. In the 70s, Holmgren and LaMonte were members of the same coaching staff at San Jose's Oak Grove high school, where LaMonte was a history teacher. From there, LaMonte was able to leverage two Oak Grove connections, Toronto Blue Jays pitching great Dave Stieb and former Packers quarterback Scott Campbell (the sixth overall pick in the 1981 NFL draft), along with his relationship with Holmgren (LaMonte's first client), to build the career that he has today, where his client list includes the following in addition to the Browns junta discussed above:
Dominik, Mark – General Manager, Tampa Bay Buccaneers
*Polian, Chris – Former General Manager and Vice President, Indianapolis Colts
Roseman, Howie – General Manager, Philadelphia Eagles
Smith, Rick – General Manager, Houston Texans
Spielman, Rick – General Manager, Minnesota Vikings
Dawson, Lake – Vice President of Football Operations, Tennessee Titans
Keim, Steve – Director of Player Personnel, Arizona Cardinals
*Mueller, Randy – Senior Executive, San Diego Chargers
Telesco, Tom – Director of Player Personnel, Indianapolis Colts
*Childress, Brad – Former Head Coach, Minnesota Vikings
DeRuyter, Tim – Head Coach, Fresno State Bulldogs
Fox, John – Head Coach, Denver Broncos
*Frazier, Leslie – Head Coach, Minnesota Vikings
Reid, Andy – Head Coach, Philadelphia Eagles
*Sherman, Mike – Former Head Coach, Texas A&M Aggies
*Spagnuolo, Steve – Former Head Coach, St. Louis Rams
*Weis, Charlie – Head Coach, Kansas Jayhawks
Christensen, Clyde – Offensive Coordinator, Indianapolis Colts
Cunningham, Gunther – DC/Assistant Head Coach, Detroit Lions
Gray, Jerry – Defensive Coordinator, Tennessee Titans
*Gruden, Jay – Offensive Coordinator, Cincinnati Bengals
*Martz, Mike – Former Offensive Coordinator, Chicago Bears
McCoy, Mike – Offensive Coordinator, Denver Broncos
McDermott, Sean – Defensive Coordinator, Carolina Panthers
Mornhinweg, Marty – Offensive Coordinator, Philadelphia Eagles
*Nolan, Mike – Defensive Coordinator, Miami Dolphins
Saunders, Al – Offensive Coordinator, Oakland Raiders
*Schottenheimer, Brian – Offensive Coordinator, New York Jets
Houck, Hudson – Offensive Line Coach, Dallas Cowboys
McAdoo, Ben – Tight Ends Coach, Green Bay Packers
McNulty, John – Wide Receivers Coach, Arizona Cardinals
Morris, Pat – Former Offensive Line Coach, Tampa Bay Buccaneers
Roberts, Daron – Wide Receivers Coach, West Virginia Mountaineers
*Singletary, Mike – Assistant Head Coach, LB Coach, Minnesota Vikings
What Lombardi says about "illusions" should resonate *especially well after a look at this list, and reports that LaMonte client Mark Dominik is about to hire LaMonte client Mike Sherman as the head coach in Tampa Bay after the meltdown that took place on Sherman's watch at Texas A&M this season are especially impressive. But there's no more American story of relentless aggregation and consolidation of power than the LaMontization of the Cleveland Browns.
While LaMonte wields considerable influence with other NFL organizations, including the Colts (acting GM and offensive coordinator), Vikings (GM, head coach, assistant head coach) and Eagles (GM, head coach, OC) there is no organization as dominated by LaMonte clients as the Browns. And of course, none of these other organizations has an owner as uninterested and passive as Randy Lerner is with respect to his NFL franchise.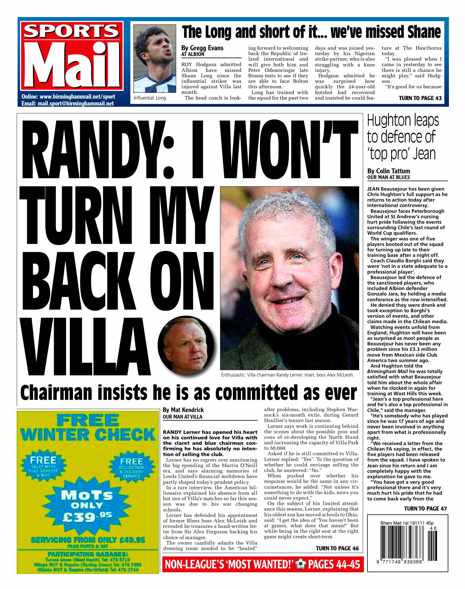 When the Plain Dealer's Bill Lubinger wrote a piece about LaMonte sitting at every side of the negotiating table when the Browns were hammering out a deal last winter with Pat Shurmur — a man who was on literally nobody else's list as an NFL head coaching candidate — the PD scribe pointed out that "a lawyer can't represent both sides in a divorce," and he ended with a quote from a Vermont Law Professor Michael McCann: "The fix is easy, at least in theory … Get a new agent."
Not surprisingly, Lerner, LaMonte, and Browns general counsel Fred Nance each declined to talk to Lubinger about "how an agent can represent both sides of the coach's hiring." The reporter explained that "the NFL treats such situations more like a real estate deal than a divorce," and "in Ohio and many states, a real estate agent can work on behalf of the buyer and seller if both agree to the arrangement."
Which is perfect, really, especially for Cleveland. As much as you might want to believe that your beloved NFL franchise is a public trust and that every town is entitled to accountable management of a professional football team that's at least competent every once in awhile, Cleveland should know better than anyone that this just isn't the case. Of course what we're talking about here is just private chattel from which the Lerners and LaMontes of the world draw their annuities as they see fit, with winning football purely incidental if it happens at all. "There's always a powerbroker lurking in the halls of the Browns' complex," LaMonte's "basement wine cellar is sufficiently stocked," and the rest of us should be plenty used to this by now.
Still, much easier to understand thanks to the work of Bob LaMonte, our 2011 Cleveland Browns MVP.
—————
*ESPN's Chris Mortensen reported last week that LaMonte client Brad Childress is among the candidates to become the new Browns offensive coordinator, but others believe that Childress is unlikely to land here because he's going to be paid another $9 million over the next two years by the Vikings, who fired him during the 2010 season just after giving him a lucrative three-year extension at the end of '09 when there were no other conceivable bidders for his services.
**Thanks to @SeaninColumbus for helping to put this post together.
RELATED:
"The tapes that Bob Lamonte and Mike Holmgren (and Vic Carucci) don't want you to see" (NFL, 'Powerbrokers' and Video);
"On Peter King's Insane Assessment of Colt McCoy" (NFL, 'Powerbrokers' and Print Media).