Could there be anything more petty and dumb than the idea that a major professional sports franchise shouldn't retire the jersey of by far the greatest player in its history just because that player exercised his lawful free agency rights as a 25-year-old? Technically, probably just the owner of that franchise and the legions of insanely entitled fanboys that cheer him on.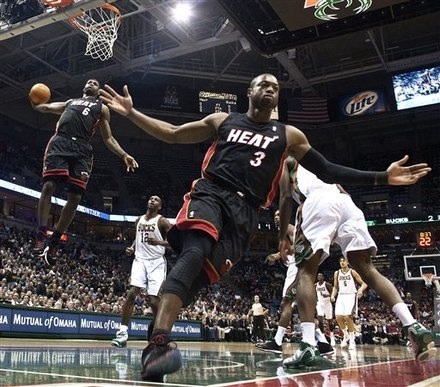 Anyway, it's what we have to hear about again on Cleveland talk radio today with the Cavs set to play the Heat tonight in Miami, so it's as good a time as any to remember: Even if you hadn't rocketed to impossible fame and fortune from the back seat of your homeless crack-addicted single-mother's car by the age of 18 to find yourself in the employ of a gilded loan shark who, along with everyone else around you, could do nothing but bend over for you at every turn for seven-plus years out of fear of running a gravy train off the tracks … even if that wasn't you, and as much as you might have or should have understood how much you were going to hurt the people of Northeast Ohio if you left … you might still have had really good reasons to decide you didn't want to work for a guy like Dan Gilbert anymore.
A number of which might have nothing to do with his organization's inability over seven years to give you a teammate who was any better than Mo Williams D Block! Anderson Varejao, that are strongly suggested by certain especially useful pages on the internet.
Like this Crain's Detroit report on a lawsuit brought by loan officers who worked for Gilbert's Quicken Loans who alleged that Quicken unlawfully withheld overtime pay despite having created "a [work] environment where they are forced to sell at all times and are chastised for working less than 60- to 70-hour weeks":
[An attorney for plaintiffs] pointed to a Gilbert e-mail telling employees to have a nice Thanksgiving, but adding: "How many mortgages will you sell at your Thanksgiving dinner?"

Gilbert said friends and family of employees are given a discount on loans and are encouraged to promote the products.

"That was kind of tongue-in-cheek," Gilbert said. "The rates had come down, and we had some great products, so there was some truth to it."

Gilbert also responded to an e-mail Lukas displayed in which Gilbert equated the time people spend at Quicken as being a time in their life that "passes in a moment but leaves a memory that lasts forever," similar to the birth of a child or hitting a home run in the bottom of the ninth inning in a big game.

"I send e-mails like this from time to time," Gilbert said. "I've had fun with them. They're meant to motivate people."
And this, from the Center for Public Integrity, on Quicken's "high-pressure salesmanship to target elderly and vulnerable homeowners, as well as misleading borrowers about their loans, and falsifying property appraisals and other information to push through bad deals":
Last February, a state court judge in West Virginia found that Detroit-based Quicken had committed fraud against a homeowner by misleading her about the details of her loan, charging excessive fees, and using an appraisal that exaggerated the value of her home by nearly 300 percent. The judge called the lender's conduct "unconscionable."

. . .

In court papers, some former employees say Quicken targeted vulnerable borrowers for deals that they didn't want or need.

Nicole Abate, a loan consultant for Quicken in 2004 and 2005, said managers told her to push adjustable rate mortgages, known as ARMs in industry parlance. She recalled selling a loan to a customer who had cancer and needed cash to pay medical bills: "I could have offered him a home equity line of credit to pay these bills but, instead, I sold him an interest-only ARM that re-financed his entire mortgage. This was not the best Quicken loan product for him, but this was the one that made the company the most money."

One way that Quicken hustled borrowers, several former employees said, was a sales stratagem known as "bruising." As one former employee described the technique, the goal was to "find some bad piece of information on their credit report and use it against them, even things as insignificant as a late credit card payment from several years ago. Quicken's theory behind this was that if the customers can be scared into thinking that they cannot get a loan, then they will be more likely to do business with Quicken."

Several former workers said the company also trained them to hide many details of the company's loan packages from borrowers.

According to papers filed by the ex-employees' attorneys, the stream of emails and memos that management sent to salespeople included this admonition:

We must use Controlled Release of Information. This consists of giving only small nuggets of information if the client is PUSHING for answers.. . . The controlled release of information should be used when the client asks specific questions.

The company did not answer questions about the ex-employees' accounts of questionable sales tactics.

. . .

The company distances itself from many of its counterparts by insisting that it never peddled the brand of risky loans that helped create the mortgage meltdown. "We never did these kinds of loans that really started this mess, the subprime loans," Gilbert told The Cleveland Plain Dealer. "We just never got into that business."

Borrower lawsuits and statements from ex-employees, however, indicate that Quicken sold some classes of risky loans during the mortgage boom.

These included "interest-only" loans and "negative amortization" loans, which have been criticized by consumer advocates because they provided the illusion of low initial payments but were dangerous in the long run because they didn't pay down borrowers' mortgage debt. In the case of negative amortization loans, borrowers' debt grows even as they make on-time payments.

In the West Virginia fraud case decided last year, the judge found that Quicken had landed 45-year-old Lourie Jefferson, a licensed practical nurse, into a complex mortgage product that would have required her to come up with a $107,000 "balloon payment" at the end of 30 years to finish paying off a loan of just under $145,000.

The Ohio County, W.Va., judge also found that Quicken used a "misleading and distorted" appraisal that puffed up the value of Jefferson's home, which was worth less than $50,000, to $181,700. Quicken "ignored obvious flaws" in the appraisal report, the judge said.
And don't forget about the casinos, per Dave Zirin writing in the Nation:
As foreclosures reached record highs in Cleveland, Quicken Loans reported that 2009-2010 has been their most profitable period in the company's history. Now as people throughout the state of Ohio have lost their homes and livelihoods at the altar of Quicken Loans, Gilbert has announced that he will be opening four casinos throughout the state. He also funded the state referendums that secured his right to legalize gambling in the state. Anyone who has been to a casino in Detroit can predict what their Ohio variant will look like: working class families—black, brown, and white—dragging their kids to the bingo parlor and the penny slots hoping against hope they can raise enough to keep the bank from taking their home—perhaps even thanks to a subprime mortgage courtesy of Quicken Loans.
As much as one might like to like to think that LeBron could have overcome this force of darkness had he stayed in town, or at least have helped the city overcome it, it's really a lot for one 25-year-old to bite off, especially after having lived a full seven-plus years of nothing but undiluted obsequiousness on the part of everyone around him.
Yet still LeBron has apologized for the Decision about seven times now. He's also said that he'd be open to returning to Cleveland, and it's actually extremely easy to see him wanting to make things right back home in a few years. But the consensus is that this would never be allowed to happen as long as Dan Gilbert owns the Cavaliers, and Gilbert has never said a word to suggest anything to the contrary.
"A shocking stance of regressive short-sighted self-interestedness from our carpetbagging sloganeering loan shark/slot machine profiteer that sends the exact opposite lesson of what we want fathers of our prodigal children to learn."
Cleveland's favorite owner; the only place where retiring the jersey of an NBA franchise's all time greatest player would ever be a question absent a felony conviction; just a complete embarrassment.
The Heat should win by 60 tonight.