Leave it to Tony Grossi to promptly delete the most honest words he's ever published within minutes of having published them.
In case you missed it, notoriously reclusive Browns owner Randy Lerner went on the radio yesterday to talk about the Browns with WTAM 1100 AM's Mike Trivosonno (partial transcript available here). Lerner predictably didn't say much of anything* other than to confirm truisms (like that it's "sickening" that there are so many Terrible Towels in Browns Stadium for Steelers games; that the owner bears ultimate responsibility for an NFL franchise's success; and that "[front office] continuity is without question the ultimate sign of strength within this business" [LOL!]). But it's so rare that Lerner descends to communicate with Cleveland's unwashed, that its easy to understand why folks might expect the credentialed Browns media to pay some attention when he does.
On the other hand, of course, given what Grossi gets away with on a regular basis with respect to basic principles of honesty, integrity, journalistic rigor, and common decency while still keeping his job as Cleveland's top man on the Browns beat, it's probably much easier to understand why, when some of Grossi's Twitter followers asked him, "Hey, Tony, Lerner was on the radio today, did you listen? Why not?" that Grossi responded with a "Not my job! Did you listen? What'd he say, anyway?," before getting up from his laptop with an Antoine Walker shimmy to get back to his True Blood season 3 DVDs (probably).
Which of course is something we can all be extremely thankful for. Not because Lerner is "irrelevant," ("ineffectual," a different story), but because the fact that Lerner still gets to draw a wholly subsidized eight-figure lifetime annuity that comes with ownership of the franchise after the full decade-plus of unprecedented futility that's gone down since his father (who made his billions on interest from making loans to poor people) helped Art Modell steal the real Browns away to Baltimore is one of the most pathetic states of affairs imaginable not just in American sport but with respect to what's supposed to be civilization, period. It's not at all just that Lerner takes his marching orders from illiterate media whore/circus clowns, but much much more that we're talking about enough bad karma here to keep the Browns mired in the depths for millenia before The Curse of Chief Wahoo even comes into the picture.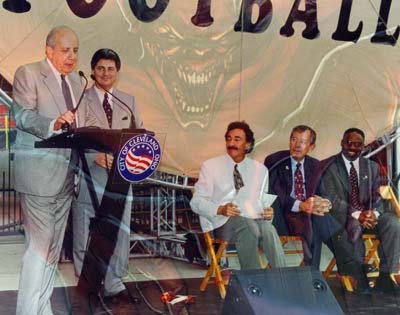 Thankfully, after years and years of feeding from the trough and empowering illiterate media whore/circus clowns and all manner of idiots, it looks like Grossi might finally be seeing the light. This thing really isn't going anywhere until Lerner sells the team, or the Browns are otherwise restored to the hands of The People.
Deleting the tweet was a step in the wrong direction, of course, but Rome wasn't built in a day, and again, at least it got out in the first place. Break these chains, Tony. Lerner *IS* pathetic. The whole thing is. Let that light shine. Cleveland needs you.
—————
UPDATE: Grossi apologizes at Cleveland.com this morning, both in print:
"Last night, Plain Dealer Browns beat reporter Tony Grossi made an inadvertent, inappropriate post to Twitter concerning Browns owner Randy Lerner. Grossi has reached out to Lerner to apologize. The Plain Dealer also apologizes."
And on video:
"Last night there was a comment attributed to me on my Twitter account. It was inadvertant, it was inappropriate, and I do appologize for it. I've reached out to Randy Lerner to apologize to him for it and we'll just leave it at that. It was inappropriate and not meant to be tweeted, but it was inappropriate nonetheless."
Was not, Tony, and you know it. Stay strong.
—————
UPDATE (2): Per Vince Grzegorek at Scene:
Whispers from the friendly confines of the Plain Dealer newscomplex tell Scene that Grossi's errant, insulting tweet might have the Browns beat writer in trouble today. Newsroom rumors, which are all they are at the moment, have Grossi actually in the office today, which as one person pointed out, never happens. Also, the editors and bosses have been talking to everyone's favorite "most irrelevant writer in Cleveland," and folks are assuming it's a dressing down.