As we slowly but surely say good-bye to another football season here with as much uncertainty as ever with respect to the prospects of the Browns, it's good to know that at least one thing will be good about next season: A fresh round of "Xs and Os with the Bros" posts by our new Xs and Os Editor, @rodofdisaster.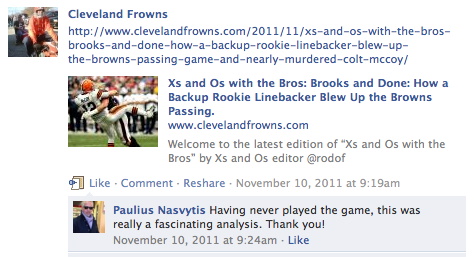 Given that, and the fact that John Doe happens to have the upper hand today at the salt mine (NOT FOR LONG), its as good a day as any to uncover the treasure trove of "Xs and Os" posts that rod made before he started posting them at this website.
So here they are in all their glory:
Pass Protection
Run Blocking
How we almost Lost
Jacksonville 2010
Horizontal Stretch in the Passing Game
Beating Revis
Confusing Brady
Beating Belichick
Colt and DPI
While rod used to title these posts, "Anatomy of a Play," whatever you call them, they just represent a basic attempt to dive deeper into the game of football, learn something about the X's and O's that make it go, and better appreciate the games within the game. We call it "Xs and Os with the Bros" here at least in part because you don't have to be a former player/coach or a rocket surgeon to get something out of taking a close look at a football play.
Anyway, it seems like every day that somebody tells us, "damn, Frowns, I could read those 'Xs and Os' posts all day long." So have at it. And remember, the rest of the "Xs and Os" archive can be found in our "Categories" section in the right sidebar under "Xs and Os" (or just by clicking here).
Of course, after making your way through these old posts, or even just this one, which has reminded you of how much you love your Xs and Os, you'll be even more outraged at the fact that Mike Holmgren, Bob LaMonte and Vic Carucci don't want you to enjoy these posts. It's a healthy outrage. Nurture it. Cherish it. Use it.
ALRIGHT, we'll be back tomorrow to talk about the NFL playoffs and whatever else for real. It's days like these that we really count on you to keep the internet going here so thanks and have a decent one.