Just because I'm a few months late posting this article that raises an issue that's been an issue forever doesn't mean we're not talking about one of the most offensively regressive states of affairs imaginable in American sport. Which is the NFL's refusal to release its readily available "All-22" game footage to the public for no reason at all other than that the NFL wants us to be stupid.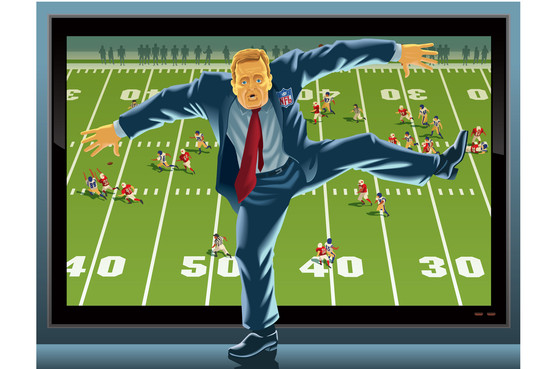 In this excellent Wall Street Journal piece by Reed Albergotti from last November, it's explained that: "[e]very play during an NFL game is filmed from multiple angles in high definition." But while "NFL TV broadcasts have relied most heavily on one view: the shot from a sideline camera that follows the progress of the ball," of course, "[a]nyone who wants to analyze the game, prefers to see the pulled-back camera angle known as the 'All 22,' which "allows students of the game to see things that are invisible to TV watchers: like what routes the receivers ran, how the defense aligned itself and who made blocks past the line of scrimmage."
Of course, what's the point of having a game if you can't have students of it? Regular readers of this website know that our new "Xs and Os with the Bros" series is one of the best things going on the internet, and also know that the analysis contained within is often significantly limited by the inability to see the whole field. All the thought and measurable strategy that goes into the coordinated action of 11 against 11 constrained by time and physical boundaries at some 120 different intervals per game is what makes football the best game there is by far. Yet, "by distributing [the All-22] footage only to NFL teams, and rationing it out carefully to its TV partners and on its web site, the NFL has created a paradox," in that "[t]he most-watched sport in the U.S. is also arguably the least understood."
Which should bother anyone, of course, but of course should bother Clevelanders more than anybody, as anything that serves to minimize the accountability of the folks who run NFL franchises should. And like most things that should bother Clevelanders more than anybody, the league's justification for its refusal to release the All-22 is predictably depressing. Per Albergotti:
If you ask the league to see the footage that was taken from on high to show the entire field and what all 22 players did on every play, the response will be emphatic. "NO ONE gets that," NFL spokesman Brian McCarthy wrote in an email. This footage, added fellow league spokesman Greg Aiello, "is regarded at this point as proprietary NFL coaching information."
We also hear from former NFL exec Frank Hawkins, who "remembers the NFL considering releasing the All 22," and that "the biggest objection … came from the football people."
But it's former NFL GM Charley Casserly who really gets to the point:
[Casserly] says he voted against releasing All-22 footage because he worried that if fans had access, it would open players and teams up to a level of criticism far beyond the current hum of talk radio. Casserly believed fans would jump to conclusions after watching one or two games in the All 22, without knowing the full story.

"I was concerned about misinformation being spread about players and coaches and their ability to do their job," he said. "It becomes a distraction that you have to deal with."
So as it turns out, there's Orwellian pigs, and there's the folks who run the National Football League. Heaven forbid, of course, that professional football people have to deal with the "distraction" of other people knowing more about football. As if talk radio could get any dumber, or would, if folks knew more instead of less.
If you're one who wonders why pro football has to be some kind of wizard's game where only former history teachers who happened to go to the same high school as Mike Holmgren and Dave Stieb are fit to participate, you should have a much better idea after reading Albergotti's piece. You'll also note that Albergotti recounts some anecdotes that illustrate how the corporate media that covers the league has an interest in keeping this film away from the public eye as well, namely just that their "talent" comes off better when you're kept in the dark.
Which makes this as good a time as any to note something that should have been included in Tuesday's piece on NFL "superagent" Bob LaMonte.
Remember how ClevelandBrowns.com in-house "reporter" Vic Carucci was handpicked by the Holmgren regime to give Browns fans "insights on a regular basis"? And how some of these "insights" have turned out to include the insight that Pat Shurmur has "a remarkable knack .. for simply keeping his focus on doing everything possible to help [his regressing 4-12 team] get better;" and the insight that even though the Browns lost to the worst team in football at home this season, it wasn't because Shurmur didn't "clearly [take] advantage of the fact he knew th[e] Rams team well having been St. Louis' offensive coordinator the past two seasons;" as well as the one about how clear it was that "there was nothing the Browns would have been able to do from a schematic or play-calling standpoint to change things" when they were methodically cannibalized by the Houston Texans in November?
It shouldn't surprise you to note, then, that Carucci is bought and paid for by LaMonte Industries himself. Carucci's profile at HarperCollins' website shows that he's written three books, two of them biographies of high profile LaMonte clients John Gruden and Charlie Weis ("No Excuses" by Charlie Weis). And here's a LaMonte Industries commercial that Carucci ran as a news piece at the NFL's website. "Super agent!"
See, why would we need the All-22 when everything we really need is in Carucci's "reports"?