As many of you have probably seen by now, Vince Grzegorek had a chance to speak with Browns owner Randy Lerner on several occasions over the course of the last few months, and yesterday published an account of these chats in a profile of Lerner at Cleveland Scene.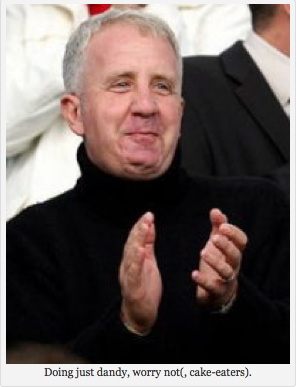 Of course, the billionaire rarely speaks with Cleveland reporters at all, let alone at such length and on such a wide range of subjects as he did with Grzegorek. Lerner explains himself that this Scene piece is part of a deliberate attempt to rehabilitate his image with Browns fans, which, thanks to the franchise's historically embarrassing performance over the last decade-plus, as well as his father's role in helping Art Modell steal the real Browns away to Baltimore, is rightly in tatters.
At first glance, Lerner's rehab strategy looks to have been implemented successfully here, because Grzegorek includes the following paragraph in his profile:
The portrait of Lerner that emerged from those meetings was a compelling one, at times diametrically opposed to public perception; at others, refreshingly informative, like seeing a puzzle when it's just started and then again when it's half-finished. He's a thoughtful and deeply intelligent man, contemplative, starkly candid and honest, readily aware of his mistakes, hopeful about the future, cognizant of the past, keenly aware of tradition, passionate about his family, his teams, and his hobbies.

And, as it turns out, not at all like Mr. Burns.
But when you stop and think about it for a few seconds, you realize how rude it might have been for Grzegorek to point out that there really isn't any such thing as an honest billionaire (Jesus said so!). Or that a guy could potentially be thoughtful, deeply intelligent, contemplative, hopeful about the future, passionate about his offspring and his toys, readily aware of some of his mistakes, keenly aware of certain aspects of tradition, and starkly candid and honest about some things, while still being completely deluded as to other things, an objective failure of a human being, and, more to the point, a complete and total failure as Browns owner.
What Grzegorek does an excellent job in exposing is that billionaires are inherently interesting in a way that other people aren't. They have the freedom to be thoughtful and contemplative about all kinds of things, like Tolstoy and the Peloponnesian War; and they have the freedom to do all kinds of things that nobody else can, like make seven figure donations to museums and charities without blinking, or pop over to Afghanistan to bro around with the troops.
But as much as it might be perfectly fair to say that Lerner is nothing like the evil cartoon billionaire from The Simpson's, it's also completely beside the point. Nobody really thinks that Lerner is evil. The problem with him has always been that he's completely ineffectual or worse, at least in his role as owner of the Browns.
As for why Lerner's ownership of the Browns has been such a disaster, there's a few especially compelling theories relating to the idea that it starts at the top: One being that Lerner's reality is so completely alien to that of the best of what Cleveland and the Browns should represent that the franchise could never harness an intrinsic excellence under his leadership. Related, and probably more compelling is the idea of a universal law that will forever keep the heirs of Al Lerner — the man who made billions making bad loans to poor people and then used this fortune to help Modell steal the real Browns away to Baltimore so he could cash in on version 2.0 — from ever winning anything in Cleveland absent some kind of full blown public exorcism or renunciation ceremony, including, at a minimum, full redistribution of the Lerner family fortune to the City of Cleveland as apportioned by public referendum. There's also just the basic idea that Lerner simply doesn't have the experience or aptitude to recommend him to be in charge of such an important public trust.
To Grzegorek's credit, he does touch on these issues with Lerner. But unfortunately, pretty much everything Lerner had to say to him only bolstered the strength of each of the above hypotheses, leaving the reader as sure as ever that there will be nothing but embarrassment for the Browns on his watch.
If you didn't read it that way, it's probably because Lerner is so thoughtful, deeply intelligent, and contemplative that he sang you right to sleep. Or it's because you just don't understand billionaire-speak. Which is why I'm here to translate (you'll want to read the whole Scene piece first if you haven't). Alright:
———-
LERNER:
"Randy Lerner stops me the first time I use the word "owner."

"I don't like that word," he says. "Owner means you bought something. What I am … I like to think of it more of a custodial relationship, a stewardship."

Lerner doesn't just mean that he inherited the team — that he's taking care of his father's legacy, though that's certainly part of the equation. He means the team is owned by the Lerner family trust, and he has a responsibility and obligation to its members, both current and future. He means he's the shepherd of a tradition, something he cares deeply about. He means the team is a larger civic concept and possession. He means that in a large way, it's the fans' team, not his.
TRANSLATION:
"Owner? I don't like that word. It's too responsibility-y. I mean, technically "owner" does mean that you bought something, or that your dad bought it and gave it to you, but "custodian" has a much better ring to it and should pass off fine. I might take in a wholly subsidized eight-figure lifetime annuity from the franchise and it might be worth $500 million more than when dad bought it, but call me a shepherd, because, frankly, sheep are fascinating. Especially the ones in Afghanistan. Oh, you've never been? Shame about those troops. I told them to hang in there.
———-
LERNER:
Green Bay … is an organization Lerner greatly admires. He recently passed among his front-office staff an article from Business Week called "The Green Bay Packers Have the Best Owners in Football." The piece chronicles the wild and sustained success of the only team in the NFL owned by the city in which it plays. It's an arrangement now forbidden by league rules.

But that idea of public ownership — the team as city property, a civic institution never to be taken away — sticks with Lerner. "I think it should belong to the city," he says in a hypothetical reverie.
TRANSLATION:
Bummer about that rule. I'm in such a reverie right now.
———-
LERNER:
Lerner's role now that Mike Holmgren is in the building has settled mainly on league and business matters. That means sticking up for the average Cleveland fan more than you would think, especially if you assume it's all sponsorships and corporate partnerships and big cardboard checks.

For starters, he's proud that the Browns have the third- or fourth-cheapest average ticket prices in the league. "That is important. When I look out in the seats, I want to see a real cross section of what Cleveland really looks like," Lerner says. "But it's not easy. That's shared revenue, and I have to defend those ticket prices to other owners who ask, 'Why don't you charge more?'"
TRANSLATION:
It really is incredible that I get away with charging only the third or fourth cheapest average ticket prices in the league when my team has been by far its worst embarrassment over the last decade. My fellow owners are of course greatly impressed with this, and would like to know how far I can push it. We'll see. Anyway, dad would be proud no matter what.
———-
LERNER:
Two years into the Mike Holmgren era, Lerner is relieved, emboldened — ecstatic over the atmosphere they've built.
TRANSLATION:
Two years, 5-11 and 4-12, and not a single nationally-televised Browns fan walk-out has been planned. In Holmgren We Trust, brother. I am ecstatic.
———-
LERNER:
"At some point, if things never change, you have to look at yourself and decide if you're the man for the job," he says about his track record. "But I'm definitely not there yet. I believe what we have now is going to work.

"Mike is a pro. He runs every inch of this building. Tom and Pat are both young, smart, passionate guys. Tom is a bona-fide GM. You talk to the guy and you know this is what he's meant to do. They'll be here for a long time building this thing together.

"I know now why the other guys didn't work," he adds. "I can see that now. And I can see elemental reasons why this is different."
TRANSLATION:
Before Mike signed up to get $50 million from me, he already had $40 million from Seattle and another $10 mill from Green Bay. This is a guy I can start to relate to. I can't really explain it. It's more of an elemental thing. Guy's got swag.
———-
LERNER:
"I don't have a political bone in my body … I've never given a cent to a political party."
TRANSLATION:
Politics is such a drag. But you know who makes the laws anyway, right? I'll be fine. Shucks about those troops, though.

———-
LERNER:
Lerner say all of their internal metrics say they need at least 30 or so highly-graded players to make the playoffs. "You look at any playoff team, and sure, there are going to be exceptions, but you look at any playoff team and that's what you're going to find. Now, in any given year, between free agency and the draft, the best you can typically hope for is to add seven of that type of player that can help your team. More often, it's more like five. So you take seven players times five years, and that's where you get those numbers."
TRANSLATION:
Now that Mike's here we've finally figured this thing out. The trick is to get as many good players on the team as we can.
———-
LERNER:
"We have to win more games next year," he says. "We will win more games next year. I truly believe that. And there's a small part of me that hopes that as we've been going like this [miming one step at a time], that this offseason, if things go right, that we'll make a big jump."
TRANSLATION:
This is a league where it's nearly impossible for a team not to make the playoffs by accident every four years. Now that we've got this "get good players" thing figured out, the sky is the limit. I truly believe that.
———-
HOLMGREN:
In 2009, Holmgren's agent told him Lerner wondered if he'd be available to chat.

"Randy flew down to Arizona, where I have a house, and we had a long talk one night. Me, my wife, and him," Holmgren says. "He was passionate and very personally honest in a lot of ways. . . . Actually, you know, his father Al had told me, back when Butch Davis was here, he told me at the 50-yard line before one game that 'I really wanted to hire you.'

"When I came back, I called him, and I went to Cleveland. I'm here because of him. That man.
TRANSLATION:
$50 million! LOL!
———-
HOLMGREN:
"I don't get why everyone's so worried about the owner," Holmgren continues. "I worked for a guy in Seattle, Paul Allen, one of the richest guys in the world, he co-founded Microsoft, and he said nothing."
TRANSLATION:
Paul Allen, now there was a guy who knew how to shut the f*ck up. People need to take a clue. You're with us our your not.
———-
HECKERT:
Heckert joins the conversation briefly, offering additional emphasis on Lerner as a participating, committed, and passionate owner. "Randy cares," he says. "He wears losses as much as the rest of us, if not more so."
TRANSLATION:
Mike's right, people need to just shut the f*ck up. Randy's great.
———-
LERNER:
The topic of tattoos finally comes up. Yes, there's the Aston Villa crest on his ankle, but Lerner also has three other tats: a Celtic knot on his back (four knots, four children), a quote from Odysseus to Calypso in The Odyssey about the idea of home, and one that is a "Browns reference."

"It's not a helmet or anything," Lerner says. "But it's a Browns reference."
TRANSLATION:
———-
LERNER:
"Things like going to the gas station and just being around [in the last year, the first full year Lerner has lived in Cleveland in a long time], I think I have a more intimate perspective. I understand the anger," he says. "I understand the bitterness."

***

Asked about those who still blame his father for being an accomplice to Art Modell, he says: "I don't have a great answer for that. My dad spoke for himself in an interview with The Plain Dealer. He said he was helping a friend. Does it change anything that he donated X millions of dollars to the Cleveland Clinic? No. It's in the past, and we're trying to build a winning team. There's no wiggle room there."

He says he's taking the "AL" uniform tribute to his dad off the jerseys after next season. "It will have been ten years."
—————
Baby steps, or a band aid on a black hole? See ya' Sunday!