Browns receiver tackled on a three-yard out on 3rd-and-5 … DRINK! Mike Holmgren talking retirement plans on Seattle radio again … DRINK! Randy Lerner's plane touches down in Hamptons airport … DRINK! Pat Shurmur post-game presser … GLUG, GLUG, GLUG, GLUG, GLUG. BATTLED.
And in how much more style than with this beauty? A limited edition Tim Couch commemorative bottle from Maker's Mark, proceeds from which will go to the Gill Heart Institute at University of Kentucky's hospital.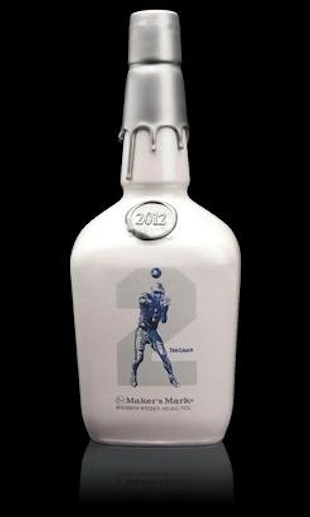 If Lerner had any sense of humanity at all, he'd buy the whole run and distribute to season ticket holders. What better conduit to re-deliver some of the innocent hope of the days before Couch traded the blue and white for orange and brown? Just like it's not your fault, it really wasn't Tim's, either. And you won't want to toss this gem at your TV. That the proceeds will go to help fix broken hearts makes it too perfect.
If someone really wants to class up this year's draft party … 
… In other news, a good friend posted this phenomenal must-watch Lawrence Vickers video on YouTube … DRINK!
One writer says agents for three top-ten NFL draft picks have told him they don't want to end up in Cleveland … DRINK!
And just in time to help you through the final push of your Lenten austerity programme, the Lake County Captains have introduced the Moby Dick, a three pound fried fish sandwich.
Which is all for today. Will have an extra fun springtime Friday special tomorrow unless something crazy happens.