There are few conversations that are more potentially productive than conversations about the idea of the Cleveland Indians finally ditching the profoundly disgusting and embarrassing red sambo, Chief Wahoo. As it turns out, just such a conversation is taking place at one of the finest sites (with one of the finest commenting communities) on the web, Uni Watch.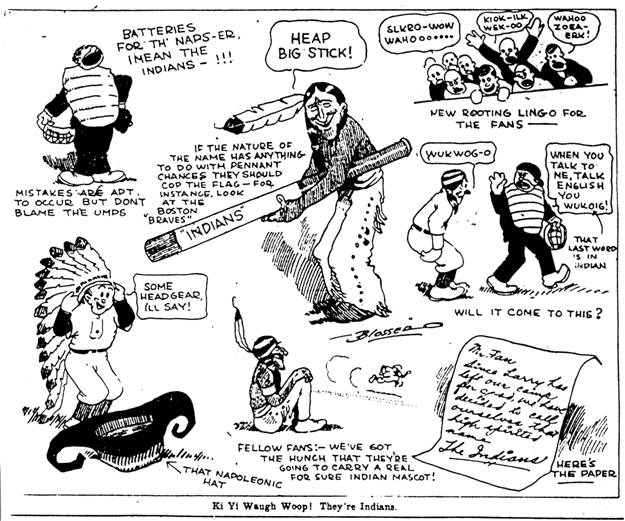 More specifically, it's a conversation (and contest) about re-naming the Cleveland Indians and the Washington Redskins in which Wahoo naturally plays a big part. When it comes to Cleveland, I prefer to focus on Wahoo, because the team name can at least be conceived (or re-conceived) to honor Northeast Ohio's rich native tradition in a way that Wahoo never could. Plus, Wahoo is much more likely to be changed than the team name, anyway.
Anyway, before you head to Uni Watch, a few essential points on the conversation:
1) There's at least an argument that Wahoo is significantly more offensive than the name Redskins, which can at least be conceived as an inoffensively descriptive term (like the way white people are called white people, black people, black people), and is a term that natives once commonly used to describe themselves. Of course, natives would never use an image like Wahoo to depict themselves, and this distinction might well explain why the Redskins haven't been cursed as badly as Cleveland has by Wahoo (though there's certainly something going on in Washington, too).
2) Natives would never use an image like Wahoo to depict themselves because Wahoo is the equivalent of a sambo caricature, created in 1947, when such demeaning imagery was common in all major American animation houses and served largely to reinforce Jim Crow laws and Jim Crow etiquette.
More specifically, the images serve to dehumanize so as to legitimize patterns of prejudice, discrimination, and segregation by their exaggeration of certain features of the "other" race, that reinforces the idea that the "other" is something less than human.
I'm surprised that the Jim Crow connection hasn't come up yet in the conversation at Uni Watch. Whether or not one is prepared to agree that Chief Wahoo is racist, it's impossible to argue that it's not a caricature of a minority race. It's also inarguable that this caricature of a minority race was created in 1947, at a time when caricatures of minority races were popularly used to inflame prejudice and justify discriminatory laws and behavior.
3) Finally, the story of itinerant native warrior Logan is especially accessible and compelling. Logan lived in Pennsylvania and Ohio. His Indian name was Tachnedorus, but was called Logan because of his friendship with a Quaker named James Logan.
Logan remained friendly with the whites until a group of settlers murdered his wife and family in 1774. Logan then sought revenge in a series of raids throughout the frontier. He also joined the Shawnee chief Cornstalk against the British in Lord Dunmore's War. When the Indian forces were defeated at the Battle of Point Pleasant, Cornstalk knew that the Indians must make peace. A meeting was held at Chillicothe, which Logan refused to attend. Instead he sent a message that was read and later reprinted in newspapers throughout the colonies. Logan's statement, which follows, has since been cited as one of the finest examples of Native American literature.

"I appeal to any white man to say if he ever entered Logan's cabin hungry and he gave him not meat; if he ever came cold and naked he clothed him not. During the course of the last long and bloody war, Logan remained idle in his cabin, an advocate for peace. Such was my love for the whites that my countrymen pointed as I passed and said, 'Logan is a friend of the white man.' I had even thought to have lived with you but for the injuries of one man. Colonel Cresap, the last spring, in cold blood and unprovoked, murdered all the relatives of Logan, not even sparing his wives and children. There runs not a drop of my blood in the veins of any living creature.

"This calls on me for revenge, I have sought it; I have killed many; I have grown glutted by my vengeance. For my country I rejoice at the beams of peace; but do not harbor any thought that mine is the joy of fear. Logan never felt fear. He will not turn his heel to save his life. Who is there to mourn for Logan? Not one."

Cresap was later found innocent of the murders and Logan continued his raids on the frontier throughout the American Revolution. In 1780, Logan was murdered by another Indian (possibly his nephew) near Detroit. The once mighty Mingo leader died a bitter man due to his tragic personal losses and because he was unable to stop the whites from taking Indian lands.
Ki-Yi-Waugh-Woop! Wahoo baseball!
Alright, make sure to check out the conversation at Uni Watch. I'll post some highlights here later. Hope everyone has a decent Tuesday.
UPDATE:
Tribe Town: Hitler's favorite baseball team is back, and as potentially slightly above average as ever
Cleveland Indians President Mark Shapiro: "Chief Wahoo isn't going anywhere."