@rodofdisaster is the author of our in-season "Xs and Os with the Bros" feature. Here he is with a pick-by-pick review of the 2012 Browns draft. Enjoy.
Trent Richardson, RB Alabama (#3 overall):
When you're drafting #4 overall, you need impact players. This is an impact player. I like him better than a receiver here as he'll touch the ball more often and help both the running and passing games. Having seen him in person at the BCS championship game vs. Texas, he was the most impressive Alabama player on the field. Has tremendous agility and good top end speed for a man of his size. Extremely underrated as a blocker and receiver out of the backfield. He is a true 3-down back unlike Adrian Peterson. He fumbled only once in 614 touches. He's built like Ricky Williams but doesn't have Ricky's acceleration.
One can argue if there was really a market for the #3 overall pick and whether the Browns were duped into trading up; but in a draft where they held 13 picks, it's hard to have a problem with using some of the later ones to move up to get a guy they really wanted. Especially at the top of the draft, as opposed to later on. Anyway, the fourth rounder given up to select Richardson was Atlanta's and the Browns essentially reacquired the equivalent (a 4th) by trading down with Denver in the third round. A+ in my book.
Brandon Weeden, QB Oklahoma State (#22 overall):
Brandon possesses the prototypical QB size at 6'4" and 220 lbs. His arm strength is elite. He is accurate over the middle but does float the pass to the sidelines at times. He throws with great balance and his throwing mechanics are extremely sound, with a delivery that reminds me of Tom Brady's. He drives the ball to the deep and intermediate routes with authority and he tends to fit the ball into tight windows. Brandon is good about resetting his feet under pressure but he doesn't reliably recognize where the pressure is coming from. He understands coverages and progressions but goes through periods of staring down his primary receiver and can get sloppy with his footwork. There are also questions raised by the fact that Weeden ran a simplified half-field offense in college, and his receivers were required to make incredibly acrobatic catches at times. He can move well enough to buy an extra second and keeps his eyes downfield. He steps into the pocket under pressure but is not going to be as elusive as a Wallace or McCoy. He's a heavy-footed runner and has declining accuracy when asked to throw on the run. He's a tough player who's played through injuries. For those of us who've analyzed and over-analyzed Derek Anderson, Brady Quinn, Seneca Wallace and Colt McCoy, he has better overall QB skills than any of them. Was coached by Mike Gundy who's always impressed me in terms of getting the best out of his QBs.
The controversy over the Weeden pick needs to separate out the player analysis from the draft value analysis. I have no problem with Brandon Weeden. In my mind, he was the third best QB in this draft. The draft value analysis breaks down into two questions:
a) Do you have a problem with a 28 year old rookie QB?
b) Did you really need to use the #22 overall pick to select him?
I think that the answer to the first question is obviously "no" for the Browns front office because if Weeden doesn't pan out they will all be gone. The time horizon used to be 10-15 years for a great QB. Nowadays, teams are more focused on a good 5-8 years (if not less).
The second question is tougher because of the value that was present at that position as the draft unfolded. When Bruce Irvin went to the Seahawks at #15, someone had to drop and that someone ended up being Stanford guard David DeCastro, whom I absolutely loved. One could argue that DeCastro, T Riley Reiff , LB Dont'a Hightower or DE Nick Perry were much better values here, and the Browns still had left the WR position unaddressed at this point. I don't believe there was a legitimate threat of Weeden being taken before #37.
Yet QB is such an important position that it's understandable that the Browns would want to make sure they got their man here and not risk another team trading up for Weeden. While I'm slightly concerned with a "panic in the war room" here (especially in light of reports that Randy Lerner had an influence on the selection of Weeden), I grade this pick an "A" for the player chosen.
Mitchell Schwartz, OT California (#37 overall, 2nd round):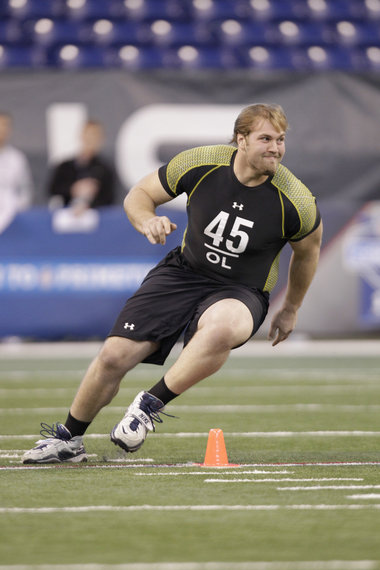 Right tackles don't usually go very high in the draft and the late first/early second is where they start to come off the board. I can't tell you if Schwartz is better than guys who went later on in this draft but he is versatile having played both right and left tackle in college. He takes exceptional angles to his blocks and "wins ugly". His technique isn't the best and his arms are a bit short for a tackle but he's smart and gets the job done. He should start from day one. Some predraft analysis had Schwartz as a third rounder or even later. The only question here is whether or not he was a better value than Georgia Tech's Stephen Hill. I can't answer that definitively but I would offer to you that for the last five years the Browns fans have been crying in their beers over the lack of a legitimate threat at wide receiver. I would love to bash Heckert for not taking Hill but I think when we look back five years from now, Schwartz will be a steady and versatile contributor to this offensive line. It's tempting to call this a "reach for need" pick but I don't think it is. If he starts from day one that's a good pick. If not this guy or Stephen Hill, the best remaining value was someone like a Cordy Glenn or Jonathan Martin who are also tackles.
John Hughes, DT Cincinnati (#87 overall, 3rd round):
It should be noted that the trade down garnered the Browns a fourth round pick from Denver so there was some value recouped as stated above for the Trent Richardson trade up. That said, once we accepted a RT at #37 we really needed to address the receiver need. If we want to hang the passing game woes on Colt McCoy that's fine but these guys dropped so many balls last year and none of them could likely start for most NFL teams. Trading down saw the Browns watch three more receivers (Devier Posey, TJ Graham and Mohammed Sanu) come off the board.
I would love to see a predraft analysis that lists Hughes as anything but a third day pick or UFA in this draft. "Unproductive" and "lazy at times" are not descriptors that merit the 87th overall pick. I understand that rotational defensive tackles are important for 4-3 teams but I am still more concerned about the quality of the starting 22 than the reserve 23 at this point. Receivers TY Hilton and the underrated Chris Givens are drafted between this pick and the next Browns pick. This was a huge reach at #87 and I can't even call it a glaring need. I think the better DT in this round went to Cincinnati (Clemson's Brandon Thompson) later on and if we were fixated on a defensive player in this spot, CB Jayron Hosley was a legitimate third round talent.
Travis Benjamin, WR University of Miami (FL) (#100 overall, 4th round):
When this pick first came across, I wasn't sure how a 5'10", 175 lb receiver was going to have a huge impact on the passing game. Was this guy going to play the flanker or "Z" spot opposite Little? The initial analyst reaction was that this guy was a reach at #100 but I am not so sure. There were certainly bigger receivers available but this guy brings something to the table that the Browns don't have. First off, he's exceptionally fast running a 4.3 forty. On game tape, he looks that fast and I doubt Weeden can overthrow him. He can run past just about anyone and can take the top off of the defense. He adjusts very well to the ball.
On the negative side, he doesn't fight well in traffic. He does seem like his speed is more straight line with stiff hips. While not overly agile, he does tend to get open on the intermediate cuts. A receiver of this size can be successful but he may have trouble getting off the line against NFL caliber DBs. That would limit him playing in the slot. If the Browns are a two-wideout offense, is he going to be effective blocking in the running game? He might be a very good #3 wide receiver but we really needed a starting wide receiver. He should contribute immediately in the return game. The more I think about it, it's probably a riskier pick than some of the guys in the second and third rounds but success on this player could be huge. We may be screaming WR again next year. Keshawn Martin (Texans) and Nick Toon (Saints) could end up being more successful but I keep wanting to like this pick more than I do.
James-Michael Johnson, LB Nevada (#120 overall, 4th round):
At 6'1", 241 lbs, Johnson is solidly built. He's a little on the short side and a bit slow for the 4-3 Mike but he is a solid tackler and looks like he's great at shedding blocks. He's instinctive and active on the field. He may struggle in pass coverage due to his speed issues. I would have liked to see the Browns improve the overall defensive team speed with this pick but this guy brings great leadership and fundamentals to the team. I can't say I've seen a lot of this kid but it seems like an "A" is merited for this selection. He is great in traffic and that alone may push D'Qwell Jackson as odd as that may sound. It should be noted that the two WR's mentioned above (Martin and Toon) were still available so I think this tells us that after adding Benjamin's speed, Heckert and Holmgren were happy to stand pat with the receivers they have. With each round this draft becomes an ever-growing indictment of Colt McCoy's abilities or lack thereof.
Ryan Miller, G Colorado (#160, 5th round):
At this point, the philosophy may vary from team to team with some trying to fill depth at areas of need or special teams. Some will simply take the best available player. Miller is somewhat of a question mark in the sense that at 6'7", 321 lbs his body is really that of a tackle. It may be that his arms are too short or that he lacks the footwork to play outside. At guard, he played with great strength and tenacity against the likes of Ndamukong Suh. He will be a project but considering the offensive line woes, this pick for depth makes a good deal of sense.
Emmanuel Acho, LB Texas (#204, 6th round):
Acho is a bit undersized by NFL standards but is very instinctive. He takes good angles to the ball and while not especially fast he always seems to be around the football. He is disciplined and will fill his gaps and play strong at the point of attack. He has long arms but struggles to disengage from blockers at times. He is probably a little too small to play the 4-3 Mike but could still be growing and develop into a decent weak side backer. Older brother, Sam, was drafted last year by Arizona. Will be a tremendous person in the locker room and community. Very good kid. Like Johnson, was a team captain. If you could have combined Acho with his teammate Keenan Robinson (Redskins), you'd have had a top 15 pick at LB. Some draft scouting reports had him as high as a fourth round pick. A very sound pick at this point.
Billy Winn, DT Boise St. (#205, 6th round):
A productive collegiate defensive tackle at Boise State. Knocked for a lack of work ethic. Struggles to get off blocks but shows a lot of interior quickness. I don't know what separates this guy from our third round pick, Hughes, but at this point it's probably a great value as Winn originally was slated as a 2nd-3rd round talent with 7th round attitude. If he can play to his ability, he will be better than Hughes.
Trevin Wade, CB Arizona (#245, round 7):
If the Browns get the guy who blanketed future NFL players as a sophomore, this will be a tremendous steal. If they get the junior who took plays off and dogged it, it was a seventh rounder who played like it. He's a very fluid DB who has great lateral movement and turns his hips well.
Brad Smelley, TE Alabama (#247, round 7):
At 6'2", 229 lbs, Smelley figures to be more of an H-back/FB type player. He was a very productive special teamer at Alabama and a fundamentally sound blocker. He has tremendous hands as a receiver and I have the feeling this guy could really stick with the team. I've always been a fan of late round draft picks from traditional powerhouse programs because the limelight and pressure don't generally get to them. A solid pick to end the draft.
Overall, I think you have to be pleased with the players picked but there are some concerns about reaches and the failure to legitimately address the wide receiver position. Time will tell, but hopefully this has the Browns on track to compete in an increasingly difficult division. Cincinnati had an outstanding draft and Pittsburgh seemed to get great value at every pick. At this point, I never question Baltimore's draft because Ozzie knows what he's doing. This draft will ultimately determine the fate of this front office and coaching staff.