UPDATE: Booms backs out on Wahoo debate (for now).
—————
If you missed it this afternoon, a Chief Wahoo debate broke out on Andy Baskin and Jeff Phelps' show on 92.3 The Fan this afternoon and these gentlemen let me on the air by phone when I called to make a few points on the issue. It was going well for about eleven minutes before 92.3 morning show host Chuck Booms called in to express his disagreement by shouting me down with insults ("idiot," "moron," "racist" propagator of "inflammatory liberal make-believe garbage," etc.), and by misquoting a nebulous 2004 SI "study" that hardly speaks to Wahoo if at all other than to conclude that Wahoo-like imagery is worse than the team names.
You can listen to this afternoon's segment live here (again, the Booms "debate" starts right after the 11-minute mark).
Anyway, Baskin and Phelps naturally weren't interested in leaving us on the air for Booms to carry on like he did, so as they politely shushed us out, I told Booms (in so many words) that if he was interested in proving that he's anything more than a homeless man's Rush Limbaugh or doing anything but pander to the very worst tendencies of his listeners, that he'd have me on his show to debate the issue. It looks like we're on for tomorrow morning: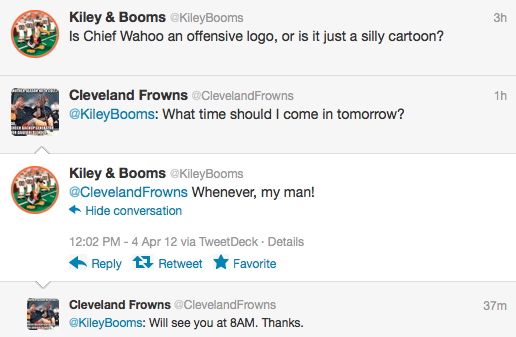 More insults from Booms? Bet your life on it. Procedural fairness? Don't hold your breath for a bit of it. But still, better the right side be represented even a little bit here than not at all. So, tomorrow at 8AM, can't-miss radio, you can stream live here. Which means we won't get to the Comprehensive and Authoritative 2012 Tribe Season Preview before the game, but you already pretty much know what it's going to say anyway, so in the meantime, just a couple more things:
Some Wittenberg Football jersey popping caught on CBS's Final Four preview on Saturday. (Thanks to @pcbbrownsfan for the screencap).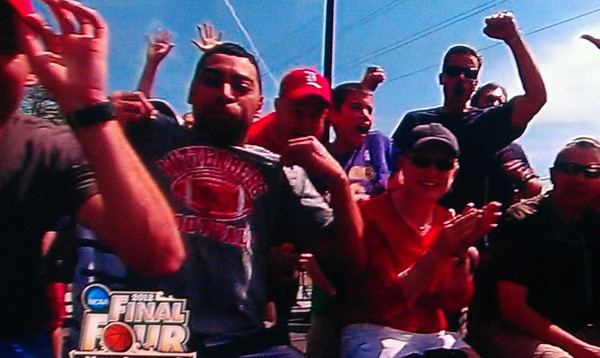 Bring back the Fighting Lutherans.
And some Pulitzer-worthy work from James McCarty in Sunday's PD re: "[p]otentially shocking dietary restrictions for a man accustomed to steak as an appetizer and Crown Royal for a drink."