92.3 The Fan's Bull and Fox did a good job with their interview of Mike Holmgren yesterday afternoon and most of the headlines today are similar to the one here, because Holmgren said that he, "expect[s the Browns] to take a pretty good jump this next season." No word yet on whether the folks at NFL.com have adjusted their prognosis for 2012 in the wake of this statement, but everybody saw how last season's "No Excuses" mantra worked out, so.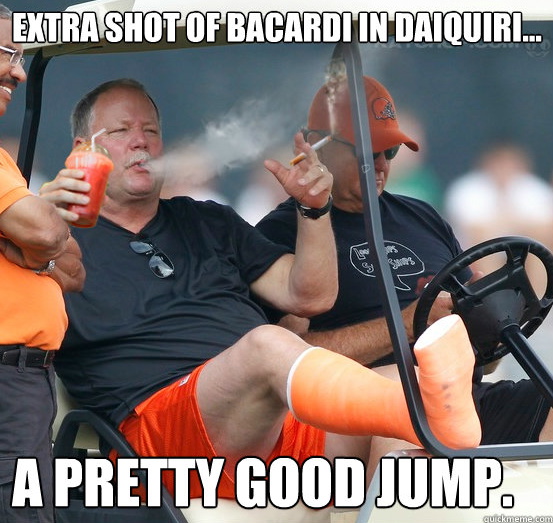 But it does raise an important question about what happens if the Browns notch only one or two more wins in 2012 but manage to stay competitive in every game but one or two against one of the league's toughest schedules, and even turn in a pair of dominating wins over two of the best teams in the league. And say this happens even despite a brutal run of injuries, including some that might force the team to do something like use a three-headed rotation of quarterbacks, including a third round rookie, none of whom would start for any other team in the league. Would Holmgren consider it a "pretty good jump" if the 2012 Browns could pull off something like that? We have to assume no.*
Anyway, more troubling, Holmgren's statements about mentoring in response to a question about the Seneca Wallace thing:
"I look at that a little different than some people. You mention Jake Delhomme, Jake played in the league a long time and when he couldn't play anymore because of the injury he wanted to do something. He wanted to. That coaching staff allowed him to take an active role, almost to the point of being an assistant coach. If I was still coaching I wouldn't do that. The mentor thing is overblown to me. I'm going to coach the player. I'm not going to have another player coach the player. They can be friends but when it comes to what I want him to do on the football field, that's my call not another player's call. …  I don't expect any of those guys to be mentors to anybody. I'm the mentor or the coach is the mentor."
It's too bad that Bull or Fox didn't point out that when Colt McCoy had a head coach who encouraged mentoring, he played twice as well, as a rookie, against a slate of opponents that was twice as tough, than he did as a second-year quarterback under Pat Shurmur. But noted: To Holmgren, "people helping people" is overblown, and something that he discourages.** Heath Evans nods knowingly.
Alrighty, Browns. How can you not love these guys?
Thanks to everyone who came to the Happy Dog last night. We can blame most of what happened on the guy who kept sending shots up to the panel, so special thanks to that guy. Hope everyone is having a decent week. We'll be back tomorrow or Friday with who knows what.
————–
*Even if you buy the idea that Holmgren had to bring in "his own guy" as a head coach once he was brought in as team president, or a guy who subscribed to the same narrow view as to how to win NFL football games, or from the same "tree" or whatever, it remains unforgivable that he peddled the line that he fired Mangini because the head coach "didn't win enough." Also unforgivable that Holmgren never publicly acknowledged that Mangini was fired despite the fact that he had done a very good if not excellent job with what he had to work with in Cleveland. Holmgren will always be the worst until he remedies this.
**From a 2011 piece on Holmgren's quarterback in Seattle, Matt Hasselbeck, by Doug Farrar at Sportspress Northwest:
As he grew into his role with the Seahawks under a demanding taskmaster in Mike Holmgren, Hasselbeck enjoyed the benefits of mentorship from teammate Trent Dilfer, so he understands the need to pay it forward.

"I was fortunate in my career to be around some great veteran quarterbacks and just learned so much from them,'' Hasselbeck said. "I'm kind of excited for that kind of an opportunity to maybe be on a team with a really talented young guy and just get the opportunity to pay that forward just a little bit, things that I've learned along the way. If I can share that with a really talented guy that's willing to work and listen, that could be a really fun thing.''