Dan Gilbert's Cleveland casino opened last night to incredibly fawning reviews in the local press and from some people with Twitter accounts.
"Not even two hours after it opened, the Horseshoe Casino paid out its first $50,000 jackpot," NewsChannel5's Jen Steer reports.
A casino that will spend millions annually to market itself and will take in tens of millions in annual revenue paid out a $50,000 jackpot within two hours of opening, on the busiest night it will ever have? What are the odds?
"A line outside the casino [that formed at around 4 p.m.] wrapped around the block until 2:45 a.m.," writes Steer, who also reports that "most people NewsChannel5 spoke with loved the new casino."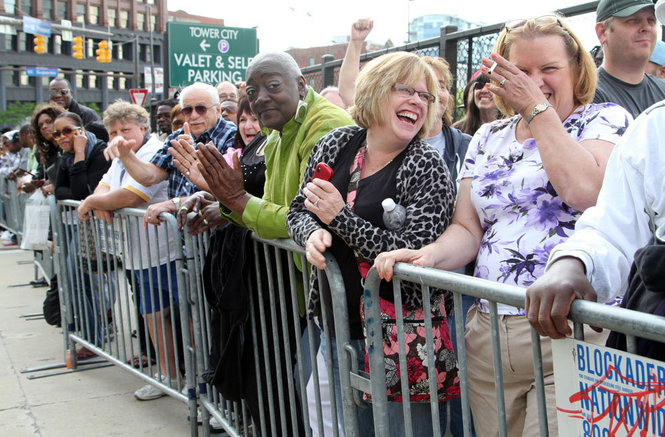 Most people who were willing to wait in line for hours to get drunk and gamble loved the new casino on opening night, and Steer has some quotes to prove it.
"It's a beautiful casino and we kind of like came out even and we had a good time," said Chris Butler, a Cleveland resident. "Everybody that worked in there was very nice."

"Ah man, it's beautiful they got everything, every kind of machine," said Barbara Dolman. "It's like a ballroom. They've got all kinds of restaurants."

"It was overwhelming," said Shannon Tarnaski. "It was just very big, bigger than a lot of other casinos close by."

"I can't wait to get back," one man told NewsChannel5. "I'm going home to cash this check and I'll be back in the morning."
And if you aren't one of those people who'd wait in line that long to buy drinks and lose money, well, you should have been, because according to Cleveland.com, "the wait was worth it." Because some people with Twitter accounts said so.
"Even if u not into gambling, casino worth a visit to chill." — James Kopniske

"The Grand Opening of the HORSESHOE CASINO gave me chills!! Cleveland is on the rise!!" — ashley mijangos

"On my way home from the Casino….good times." — Tino Claudio

"big ups to @HorseshoeCLE for an awesome time tonight!!" –Tommy

"Casino opened up today… Downtown looks like a whole different world. That's about to be my spot this summer." — Lone Wolf London
For his part, Gilbert told "the cheering crowd" to expect, "more than a casino, but a classy and intimate entertainment center that really has the soul of Cleveland involved here."
"It's here. There's been a lot of attempts and people said it would never happen," added Cleveland Mayor Frank Jackson. "Those investments in this casino will help us be a 24-hour city."
Not sure how the wet blanket got into the paper this morning, but here's the Plain Dealer's Thomas Ott, reporting that, "Horseshoe Casino Cleveland visitors should know the odds favor the house."
No system, no superstitious ritual, no level of skill can overcome the "house advantage," a proven mathematical edge that eventually tilts to the casino on table games and slot machines.

"In virtually all games and for virtually all bets you make in a casino, there's a built-in house advantage," said University of Denver Professor Robert Hannum, who teaches a course in gambling mathematics.

"You might win in the short term, but in the long run you'll lose."

"The advantage, or take, is the percentage of your money that the casino will win over time based on statistical calculations. The number, often small enough to keep you chasing the big score, varies by the game, casino rules and — in those few cases where it matters — skill."
So, people rich enough to organize and pass referendums to change laws spend their money to do just that so that they're then allowed to organize games that are precisely calculated to create an advantage just big enough to keep society's weakest* "chasing the big score" that they'll never catch. Which is how we get "a classy and intimate entertainment center" and a "24-hour city" that will restore "the soul of Cleveland." And is why we expect Cleveland.com to publish Twitter updates about how awesome the casino is at least weekly if not daily from now until the sun burns out. And also why it feels like we can hardly move an inch without somebody telling us about how great casinos have been for Detroit.
Hey! 3-D light show! Incredible!
World peace must be right around the corner.
—————
*People, some of whom through no fault of their own, of course, don't have it together enough to organize their own games on which to wager with friends that are more fun than the ones at the casino, don't require stacked odds, and go down at places that aren't so full of depressed addicts, and where drinks cost much less than $7.50 per.