If you thought it was hard enough to believe Mike Homgren last week when he said he expected the 2012 Browns to make "a pretty good jump," here comes the people who risk real money on these promises to say that if Pat Shurmur's charges are going to make any kind of significant jump next season, it'll be backward.
As reported last week, Cantor Gaming, which operates the sports books at seven of Las Vegas's largest and most popular casino resorts, including Hard Rock, Tropicana, Venetian, Palazzo, and the Palms, has released point spreads for the first 16 weeks of the 2012  NFL season, now open for public wagering; and the Cleveland Browns aren't favored to win a football game in a single one of these 16 weeks.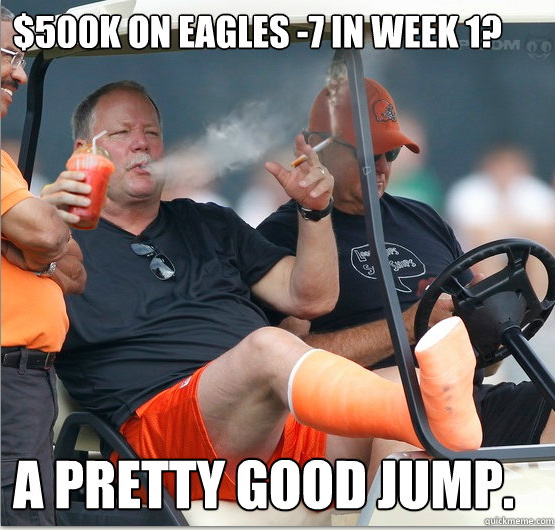 Here's the breakdown:
Week 1. Eagles (-7) at Browns
Week 2. Browns (+7) at Bengals
Week 3. Bills (-1) at Browns
Week 4. Browns (+10) at Ravens
Week 5. Browns (+9.5) at Giants
Week 6. Bengals (-2) at Browns
Week 7. Browns (+3) at Colts
Week 8. Chargers (-3.5) at Browns
Week 9. Ravens (-5.5) at Browns
Week 10. BYE [Presumably also favored over Browns LOLOL be here all week.]
Week 11. Browns (+7.5) at Cowboys
Week 12. Steelers (-6) at Browns
Week 13. Browns (+4.5) at Raiders
Week 14. Chiefs (-1.5) at Browns
Week 15. Redskins (-1) at Browns
Week 16. Browns (+8.5) at Broncos
Week 17. Browns at Steelers [No line for this one, but let's guess Steelers rest starters for playoffs, still favored by 7.]
Notably, these numbers were released after the Browns added at least three presumable starters, including a star running back, in last month's draft. And while it's fair to point out that pre-season predictions are just pre-season predictions, and often wrong, again, this is different in that these guys are taking real wagers on the ones here. (Covers.com reports that "[t]his is by far the earliest Cantor has ever done this.")
The point spreads reflect bettors' perceptions of the Browns chances in 2012, and while these perceptions too can be grossly inaccurate (and will be adjusted in real time as the season progresses), there's always an element of extremely intelligent and well-informed bettors, those who make a living at it, who influence these numbers. And though the Browns did end last season on a four game win streak against the spread, they lost every one of those games to opponents who well understood by that point that they wouldn't have to open the playbook or show up any more than semi-conscious to beat the Browns.
So it's Fifty Million Dollar Mike on one side, and Vegas (and the folks at NFL.com) on the other. Who's feeling lucky?
—————
About that NFL.com column that was edited to delete references to the probability that the 2012 Browns finish 0-16, a Berea insider told us that the column was edited in response to Holmgren having called the league office to complain. The folks at Cantor Gaming might want to screen calls this week.