A lot of folks like to say the post-LeBron Cavs are "building the right way," which, according to Dan Gilbert, means building "with, not around superstars." Others, including Byron Scott, describe "building the right way" as following the model of the Oklahoma City Thunder, a team that was completely destroyed by LeBron and the Heat in the Finals.
But even if you're crazy enough to believe that an eventual Thunder title is inevitable or otherwise think that tanking for high draft picks for half a decade is the way to go, the Cavs still have really long way to get there: Surround a player who's the second-best scorer in the league (a second-overall draft pick himself) with two more hits on top-five draft picks; trade another top-five draft pick for a legit center-type, and add an All-World shot blocker/paint presence by hitting big on a late first-round pick. And then you get to be destroyed by LeBron and the Heat in the Finals. Hooray for building the right way. Hooray for the NBA draft.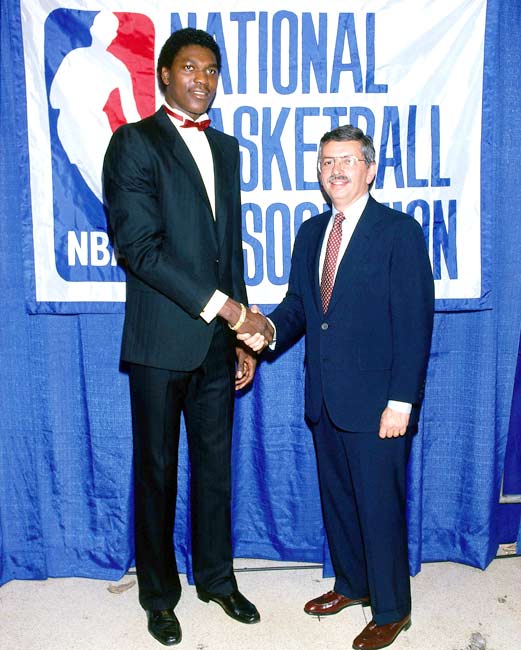 As for teams that have actually won something, going back to Michael Jordan's first title in 1991, 19 of the the leagues 22 champions have been led by legit top-3-at-worst players, if not the undisputed best player in the league. Of these 19 champs, one had LeBron, six had Jordan and Scottie Pippen playing together, ten had one of the most dominant seven-footers to ever play the game (Hakeem, Shaq, Duncan), and the other two paired Kobe Bryant with another really really good seven-footer (Gasol). The three exceptions here are: 1) The 2008 Celtics who combined four future Hall of Famers close enough to their primes with a Hall of Fame head coach; 2) The Rasheed/Billups/Hamilton/Wallace Pistons who had Ben Wallace in his prime to deal with Shaq (back before Kobe got that really bad taste in his mouth), and; 3) The Mavericks team that got to win because LeBron couldn't take any shortcuts (none!).
Unfortunately for the Cavs, they won't be landing any most-dominant seven-footers-to-ever-play-the-game-types in this draft, nor any Jordan/LeBron/Kobe-types, nor even a Gasol-type seven-footer. The best folks think the Cavs can do is land Florida's Bradley Beal, who might be as good as Ray Allen if he's really really good. Anyway, the NBA draft is still always fun.
Here's a good read on the Cavs' options by Brendan Bowers at Stepien Rules (if we wanted the Cavs to win, we'd pick MKG, FWIW). And in other draft news, Bowers is having a draft party tonight at Mullarkey's Irish Pub in Willoughby. Dangerous territory, we know, but Bowers is great, so if you're looking for an NBA draft party.
Alright, NBA, fantastic, and a great day for America. Salute.