Dion Waiters, a sophomore 2-guard from Syracuse, to the Cavs at #4 in what's being called the most surprising pick of the draft. Cleveland later added 7-footer Tyler Zeller from North Carolina, the ACC Player of the Year, with the 17th pick by way of a trade with Dallas. Folks seem to agree that there's no reason why Zeller shouldn't be a productive player in the league for a decade. As for Waiters, optimistic folks compare him to Dwyane Wade. Others point out that Waiters doesn't have a consistent jumper, and averaged 12.6 points coming off the bench for an underachieving Syracuse team, having capped his college career by fouling out in 20 minutes (2-8, 9 points) in the Orange's NCAA tournament loss to Ohio State last March. (Wade, on the other hand, was a first-team All American who did things like get triple doubles (29-11-11) against a top-ranked Kentucky unit to lead his (overachieving) team (Marquette) to its first Final Four appearance and highest national ranking in decades.) But Syracuse head coach Jim Boeheim says that Waiters made big strides from his freshman to sophomore year, was his team's best player, and is growing up fast. He's from a tough area in Philly and told an ESPN scout at a pre-draft summer camp in Las Vegas (where he reportedly dominated the competition ("all wows")) that he lost three cousins and a best friend to the streets during his senior year in high school.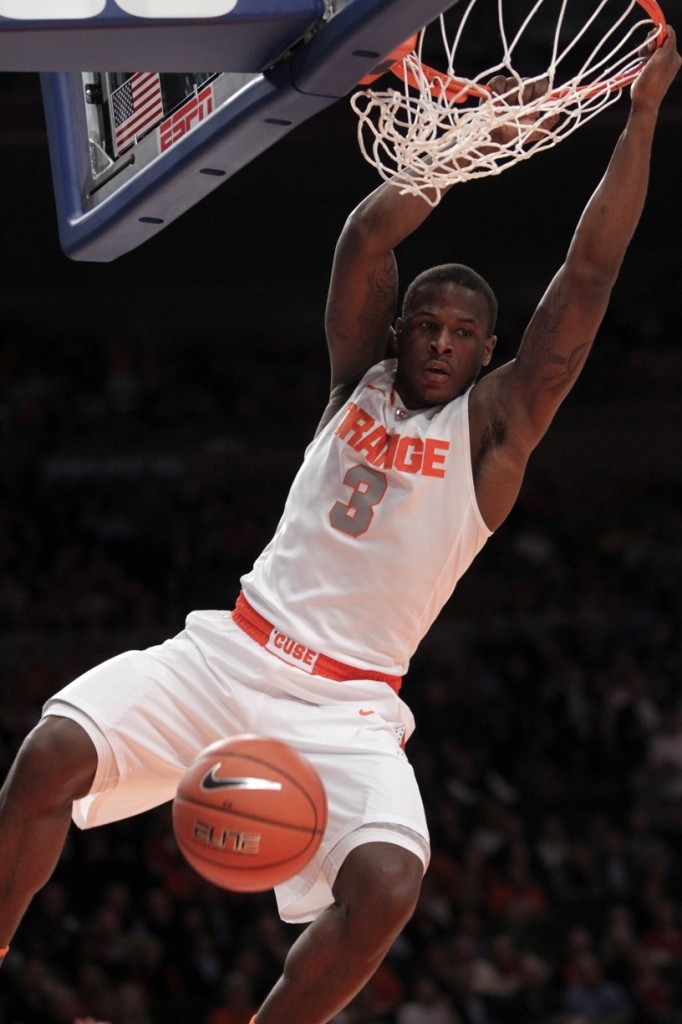 "I came to Syracuse as a boy," Waiters said. "And left as a man."
Byron Scott calls the pick "a steal." Terry Pluto isn't wild about it. Either way, it's good that the Cavs left the #3 spot open for LeBron's return.
Which should be pretty much all the NBA talk we'll need here for the next ten months or so, so that's a wrap. The quietest month on the Cleveland sports calendar begins today (always an especially fun time here, of course). Hope everyone has a decent weekend.
—————
UPDATE: SB Nation's Mike Prada on the Waiters pick and what Prada sees as a "revisionist history pitch" by Cavs GM Chris Grant. ("I didn't even talked to Cleveland," Waiters said. "I didn't even work out for Cleveland.")
And ESPN's Brian Windhorst behind the scenes with the Cavs draft team.