One of the best things that happens anywhere happened in Hartford, Connecticut again last weekend when over 700 high school football players, many from Hartford's poverty ridden city schools, gathered at Eric Mangini's alma mater, Bulkley High School, for the 11th annual football fundamentals camp hosted by the former Cleveland Browns head coach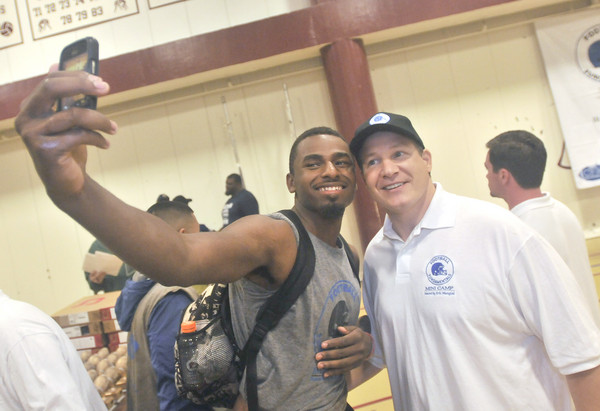 "I want kids to see that the other kids from Hartford are just like them and break down some some stereotypes," Mangini told NBC Connecticut's Diana Russini (video here).
"This is my 10th year here and I love every minute of it," said former Browns and current Dallas Cowboys defensive coordinator Rob Ryan to the Hartford Courant's Desmond Conner (story here, photos here).
Ryan worked the camp along with his brother Rex, the New York Jets head coach, and added:
"Eric's got a great camp. We love this camp. It's all about the kids and the fundamentals. Regardless of the weather, it's always a great day. Rex and I always have fun here. You know, some of these campers, they keep coming back each year and you see them and go on, so it's fun."
I was at the camp this weekend as well to volunteer and maybe get a story, which I did (spoke with Rex and Coach and tons of the campers and others), so look forward to that here soon. In the meantime here's an excellent read on the 2009 camp (and bus ride) from Fox Sports Ohio's (and Cheddar Bay's) Zac Jackson; and check out this piece by Branson Wright that was in yesterday's PD, if you missed it, on Muhammed Ali's social justice summit held in Cleveland in 1967, "the epicenter of black political and social progress," which is all for today. Hope everyone's week gets off to a decent start.
UPDATE: Aaron Schatz of Football Outsiders was at the camp as well and posted a bit on his experience here.