Or, I ran into Shane Battier at the worst bar in downtown Cleveland back in February and we had a nice chat.
It was February 16, a Thursday. The Heat were in town to play (crush) the Cavs the next day, and were staying in a downtown hotel. So Battier walks in and sits at the bar to get a bite to eat.
When I saw him I was of course like, "Hey! Shane Battier!," and closed in for a photo opp/pep talk attempt. Battier was graciously receptive.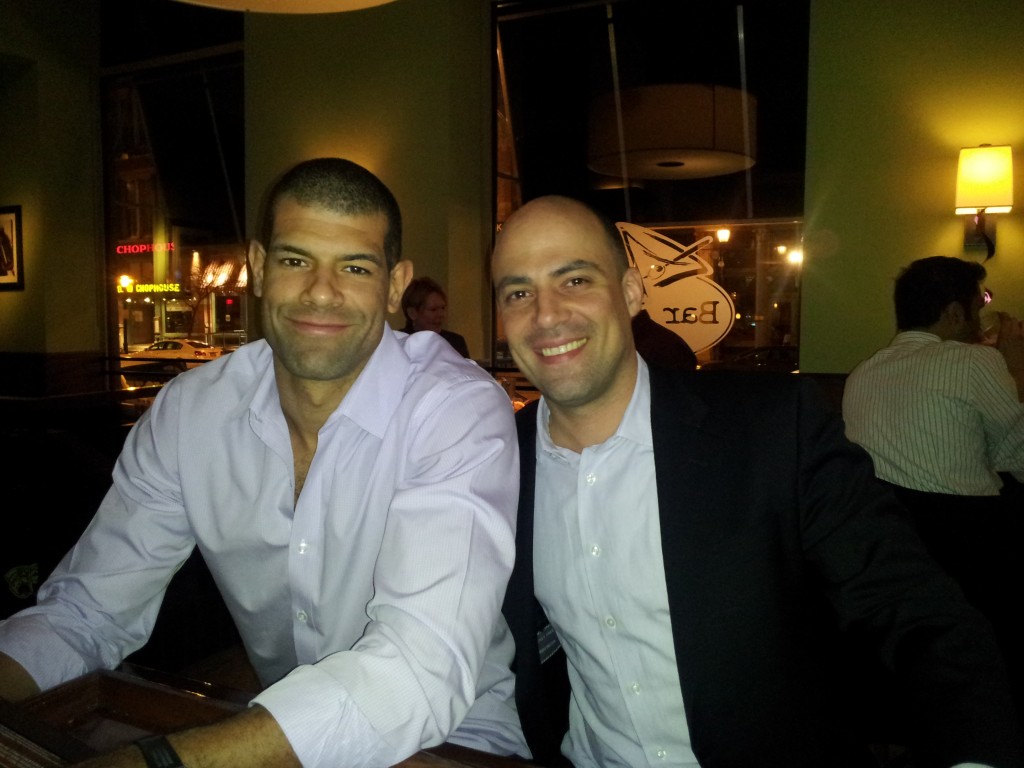 I started in with a few Wojo floor slaps, which gave way to my intro on how, as a person who himself specializes in suffocating defense and dagger 3-balls when on the basketball court, I had a lot of respect for Battier's game.
With that foundation established, I went on to explain to Battier that there are a lot of folks in the Cleveland area who recognize an astonishingly reductive and regressive demonization campaign for what it is, who have forgiven LeBron for his mistakes in leaving, and still support him and want to see him succeed (aka me, Biki, most black people in Akron, about 60% of the black people in Cleveland, and some others (I didn't get into these specifics with Battier, though)). During this part of the conversation, I said to Battier, "you've got to help LeBron get that ring, man."
"Hey, I've got to get a ring for me, too," he replied, at which point I remembered that he didn't have one yet himself.
And I was like, "Yeah. You'll get it, man. You'll get it."
At this point he referred to the fact that at the age of 33, he might only have a few good years of playing left. I then asked him if he's ever tried yoga, pointed out how much it helped LeBron, and did some general proselytizing on the subject and how it would help Battier extend his career.
He replied by noting that he realized it would be a good thing to take up, and said that he and his wife might do just that when he retires, but that he couldn't picture finding the time until then. Which was interesting, and also understandable enough given the regimen he must keep up with to play basketball at the world's highest level.
As for the rest, I asked him if he liked Cleveland ("Yeah, great place. I'm from the Detroit area, you know."), and that was pretty much it. "Alright, hey, great to meet you, hey, get that ring, Shane."
"Alright, bud. Thanks."
Alright! So given this pep talk and also of course all the priceless advice I gave LeBron back when he was in high school, the Heat will probably send me a ring, too, if/when they win, which we'll keep on display in a glass case at Map Room so everyone can enjoy it.
—————–
In other news, here's an excellent read by Cleveland native, writer, etc. Scott Henkle at The Classical on "Harvey Pekar's Cleveland, and ours." Really excellent, and had he not completely missed the impact of the Curse of Wahoo on the extremely complex subject it would have been pretty much perfect.