After missing badly on quarterback Robert Griffin III and less embarrassingly on wide receiver Kendall Wright in last April's draft, today the Browns used a supplemental second round pick on Griffin and Wright's former Baylor University teammate, Josh Gordon, a 6'3, 224 pound receiver. Gordon transferred to Utah before the 2011 season after Baylor suspended him indefinitely for having tested positive for marijuana use. He would have had to sit out last season pursuant to NCAA rules governing transfers regardless, but SI reports that Gordon "changed his mind" about Utah, "and entered the Supplemental Draft — but too late for the 2011 version." And now he's a Cleveland Brown.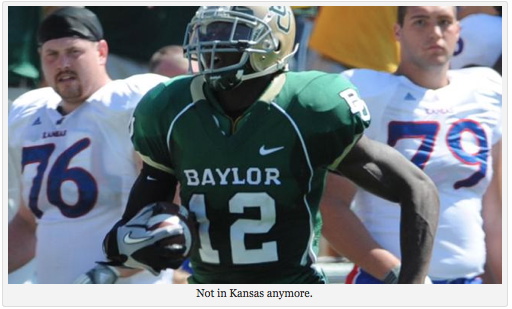 Mary Kay Cabot has more details at the Plain Dealer, including that Gordon was arrested in October 2010 "with teammate Willie Jefferson after they fell asleep in the drive-[thru] line of a fast food restaurant [Taco Bell]," which is amazing (they both fell asleep in the drive-thru line, guys). Marijuana was found in the car when it was searched but the failed 2011 marijuana test was a separate incident.
Between this, RG3′s socks, and some other things, Baylor seems like a place where a kid can really spread his wings, so it's hard to hate on the front office for staying focused on these guys.
Anyway, during this 2010 season in which he was falling asleep in Taco Bell drive-thrus, Gordon still managed to catch 42 passes for 714 yards and seven touchdowns, which was as many as Wright had in the same RG3-run shotgun spread; though Wright went for almost twice as many catches (78, for 952 yards).
For the privilege of selecting Gordon today, the Browns forfeited next year's second round pick which could well be a high one (of course). They had the second overall pick in this Supplemental Draft, right behind the Bills, thanks to the results of a lottery. By electing to use a second-round pick on the receiver they virtually guaranteed they would land him. Had they elected to use only a third rounder, any other team could have used a second-round pick to take Gordon. Cabot writes that the Browns, "had to use the second-rounder if they wanted to land him," but as far as anyone can tell this is just ingratiating speculation, supported only by Cabot's note that "plenty of other teams were high on Gordon, including Miami at No. 4 and Washington at No. 7." OK. How high?
SI notes that "The second-round pick is the highest coughed up in the supplemental draft since Houston took running back Tony Hollings in the same round in 2003."
According to SI's Tony Pauline (per the SI report linked above), Gordon's Wonderlic score "was comparable to what NFL teams want from quarterback prospects." And there's no question the receiver has been through things (Taco Bell drive-thru; See also Cabot piece quoting Gordon at length on his regrets at missing out on Baylor's magical 2011 season, etc.). So, we'll see.
Worst case scenario is that this move has anything to do with a "No. 32 power ranking spurring the Browns to action," or "a Browns public relations staff that makes calls on the wording in local blog posts."