Yesterday's Tribe loss to the Tampa Bay Rays was bad, but Friday night's was much worse. It's not just that the Indians failed to rise to the occasion of the 65th Anniversary of Larry Doby having broken the American League's color barrier (and the related pre-game ceremonies at Progressive Field, including the renaming of Eagle Avenue to Larry Doby Way), an occasion as meaningful as any a ballclub could have to celebrate. It's also that they played like they were going out of their way to torture Doby's ghost, and the ghost of anyone who ever did anything good on a baseball field. They played like they were coming off a ten-day meth binge.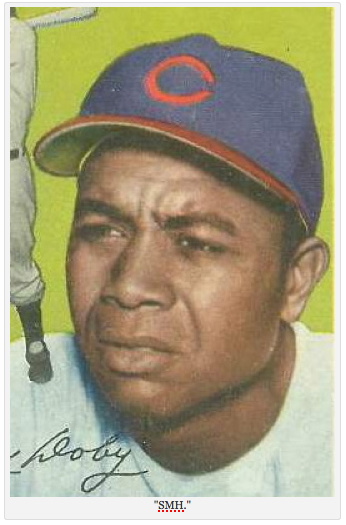 It happened in front of a home crowd of 28,734, about as big as home crowds get in Cleveland these days (fireworks night). It happened with one of the Indians' best starters on the hill, Justin Masterson, against a Tampa club riddled with injuries to its best players, that had hit .209 (73 for 349) and scored 2.9 runs per game in losing 8 of its last 11.
On Friday, batting fifth for the Rays was Luke Scott, who came into the game carrying a .190-something batting average and a team record 41 at bats without a hit. That streak ended with a two-run home run off of Masterson in the fifth inning that extended Tampa's lead to 6-2. And joining Scott in Tampa's murderers' row was LF Desmond Jennings (.651 OPS), 3B Brooks Conrad (.502); C Jose Lobaton (.626), and 2B Will Rhymes (.598). It was as weak a lineup as any big league club could hope to face, and it touched Masterson for eight earned runs, thanks in part to Nick Hagadone entering in the fifth inning to turn the 6-2 deficit into a 10-2 hole by the end of the frame.
Interestingly, Friday's appearance will be Hagadone's last for the Indians or "any other team for a while," thanks to what the organization is calling "a self inflicted injury to his pitching hand." According to wire reports, the Indians "would not reveal details, except to say the injury came after [his] … outing against Tampa Bay on Friday night," so it's probably safe to assume that Doby's ghost went Swayze on Hagadone in the tunnel after the Tribe reliever had gotten the hook.
For their part, Indians batters managed just three runs, all off Tampa starter Alex Cobb who came into the game with a 5-plus ERA. Travis Hafner twice grounded into double plays batting with two runners on base, and the club's tribute to Doby reached full bloom in the bottom of the fifth when Shin Soo Choo was picked off napping at first base with two outs, a 3-0 count on the batter, and his team down by seven runs. Final score, 10-3 Tampa.
As hard as it is to think that every Major League club will play a game this badly this season, maybe these games do happen to everyone. But to let it happen on a night like Larry Doby Night is as bad as it gets. There couldn't have been a better excuse for these guys to have taken a deep healthy breath of historical perspective, as well as notice of how lucky they are to make so much money playing baseball in a world that's so much better than the one that Larry Doby came up in. Instead they took a dump all over all that and anybody who thought they'd get to see something really nice and meaningful at the ballpark on Friday. To think that anybody would have thought that the baseball team that wears Chief Wahoo on its sleeve could possibly ride a healthy breath of historical perspective.
Alright, Go Tribe, Go superstar relief pitchers, Go MLB, Go $100 million-plus salary gaps, What If? What If? What If?
—————
Here's a good read from Terry Pluto on "Larry Doby's challenging route to the Cleveland Indians and MLB history."