On Tuesday the Plain Dealer and Cleveland.com published a short and short-lived piece by Michael Heaton on rumors that LeBron James fathered a baby with former 19 Action News (WOIO) anchor Sharon Reed.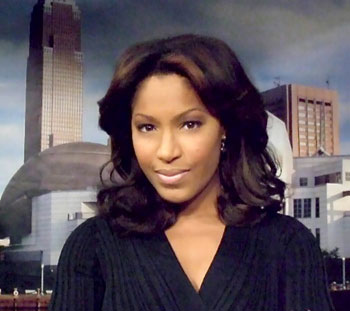 The column carried the headline, "Is LeBron James Sharon Reed's baby daddy?," and relied entirely on reports from "internet websites" to support the editorial decision that this question is one that the PD and Cleveland.com should be putting in headlines. Heaton cites three websites, Tattle Tailzz, Sandra Rose, and Madame Noire, but none of the three "reports," nor anything that's been published anywhere on the LeBron/Reed rumor to date, comes from a source that's any different from the anonymous one used here by Sandra Rose.
According to Cleveland.com's time-stamp, its piece was posted at 5:15 PM on Tuesday, and was updated with who-knows-what at 6:25. About a half-hour later, it was pulled from the site, though a dead link to the post still came up as the top result on a Google search for "LeBron Sharon Reed" this morning.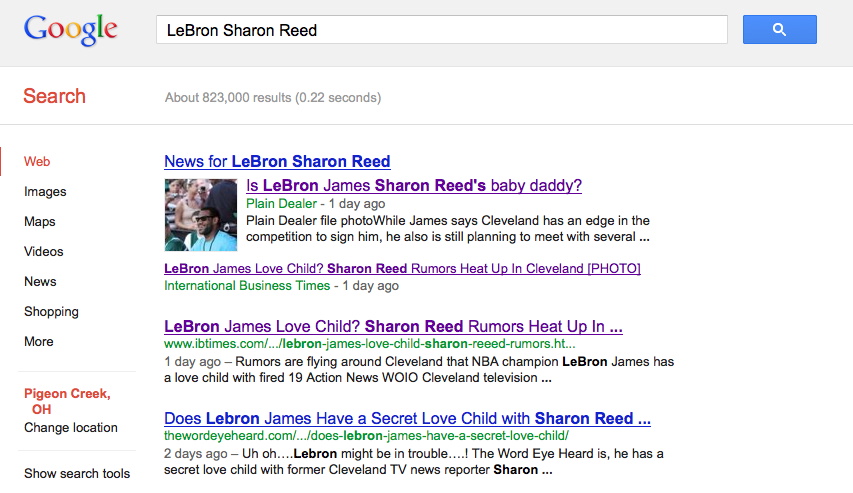 As noted, the now-dead post is mainly interesting for what it didn't contain — namely, a single bit of information that makes the reports at the cited gossip sites any more likely to be true. But here's a screengrab for posterity (click images to enlarge).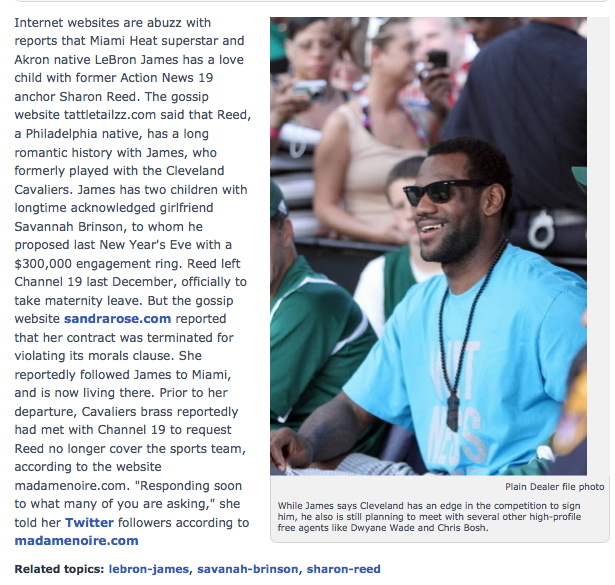 See, internet websites are abuzz, and now they're even more abuzz thanks to this column that did nothing but tell you that the internet websites were abuzz in the first place.
As for why the PD/Cleveland.com pulled the piece, a cease-and-desist letter might have done the trick given that "the republication of someone else's defamatory statement can itself be defamatory" under certain circumstances. A local industry source told me that Cleveland R&B radio station 93.1 FM (WZAK) received such a letter in connection with a similar piece that ran at its website that's also been pulled, and local hip-hop station Z 107.9 published then pulled a post on the subject from its website as well.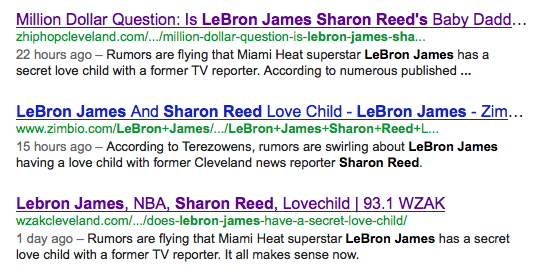 Or maybe someone at the PD came independently to the idea that publishing a piece based entirely on an anonymously-sourced report by Sandra Rose, etc., wasn't the best idea.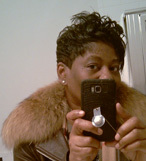 Rose (pictured directly above) advertises her location on her Twitter page as "behind you." She's best known for reporting that Jermaine Dupri threatened to kill her, and also for trolling the living daylights out of Rihanna and Beyonce ("Notice her hips are nonexistent? In fact she's not even shapely. just thick in the thighs with no definition between her hips and her waist. … hip pads?").
In the report at issue, Rose cites "sources close to Reed," who tell her "it was an open secret at work that [Reed] has been seeing LeBron for years," and that, "[w]hen Reed turned up pregnant last year there was no doubt in anyone's minds who the baby's father was." Rose also notes that, "when things started getting out of hand, Cavaliers brass reportedly met with WOIO management to request that Reed not cover the Cavs home games."
No word from Rose or anyone, though, on how such an "open secret" could possibly have remained so for so long in Cleveland, where the population could hardly be more disposed to pile dirt on LeBron. Nor any word as to why Rose's source wouldn't have been able to find a more credible outlet, or even a more popular gossip site, to get the word out. The Plain Dealer's own itchy trigger-finger is some powerful evidence of the improbability that such a story, if true, would have been kept under wraps for so long.
UPDATE (7/6): Reed's Cleveland-based attorney sent a cease-and-desist letter to the Cleveland Leader yesterday, a copy of which has been posted here.
UPDATE (7/9): More details on the genesis of the rumor at The Big Lead here.