Which isn't very surprising given the Vegas sportsbooks' market-based expectations for the 2012 Browns. But it does give us another excuse to entertain the idea, frequently floated in the comments sections of pre-season rankings posts like the one at Pro Football Talk, that the Browns won't be as bad as the experts think.
To this end, we've prepared a pair of graphs in an attempt to illustrate a factor that should be especially significant in the formation of these expert opinions, especially since it's a quarterback's league: The quality of quarterbacks faced by the Browns in 2011, and the quality of the quarterbacks expected to be faced in 2012.
Here's 2011: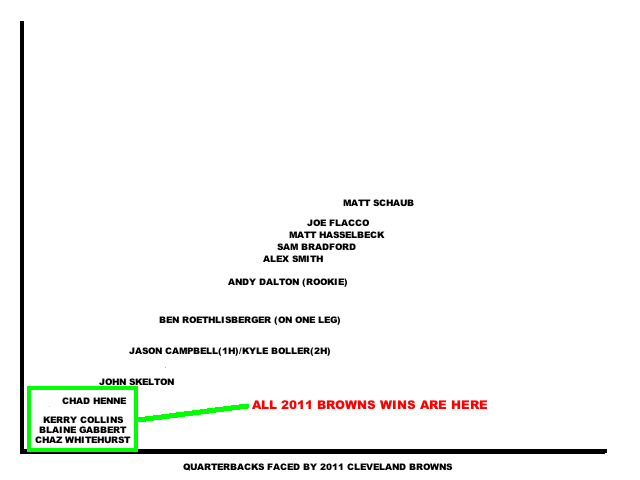 And here's 2012: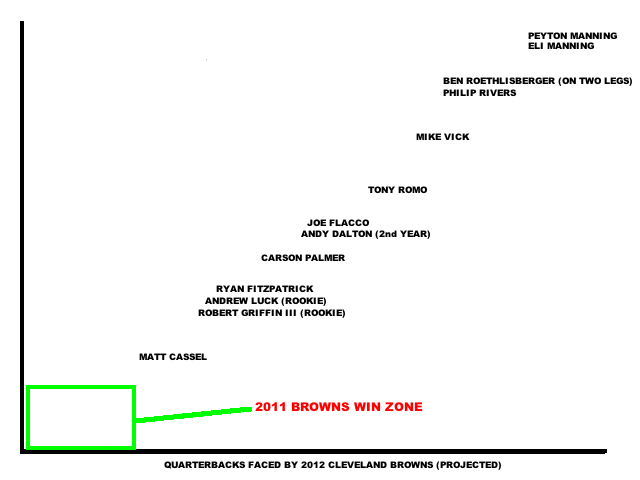 You might fairly argue with some specifics in the rankings here, but it's beyond dispute that the Browns didn't beat a team with a quarterback any better than Chad Henne in 2011. How much will Trent Richardson, Mitchell Schwartz, and a rookie quarterback move the green box with Phil Taylor out for a good chunk of the season, and with no meaningful upgrades in the secondary nor in an aging linebacker corps?
—————
In other news, Dwight Howard's agent Dan Fegan could probably use a few pointers from Bob LaMonte. Terry Pluto notes that Fegan is also the agent for Kris Humphries, subject of trade rumors involving Howard and the Cavaliers. "The agent has said Humphries doesn't want a one-year deal," Pluto says. "But just think if a one-year deal is what it takes to move Howard to the Nets. Suddenly, the agent has two players who want two different things."
Also via Pluto, Eddie Sefko in the Dallas Morning News on why the Mavericks were glad to take three draft picks in exchange for the one the Cavs used to pick Tyler Zeller:
They turned one middle-of-the-first-round pick into three selections, all of them in the top 35, in a year when numerous collegians that could have declared for the draft last year didn't because of the NBA lockout.

That made this draft more fertile. As owner Mark Cuban said: "We felt like there were a lot of second-rounders who have first-round talent this year."
Finally, mo_by_dick posted this in the comments here yesterday, a good look via SB Nation at how Kyrie Irving didn't make the USA basketball team.
We'll be back tomorrow or Thursday with an important announcement. Hope everyone has a decent go of it in the meantime.