As the news of Randy Lerner's upcoming sale of the Cleveland Browns to Tennessee gas station scion Jimmy Haslam set in, we'd started to warm up about the idea that the franchise's karma would finally be severed from those who assisted Art Modell in carrying out one of modern civilization's greatest unpunished crimes. So much for that, with WKYC's Jim Donovan reporting that Lerner will maintain a 30% interest in the Browns at least until Haslam exercises an option "to increase his share in the team [to some unspecified proportion] at some point."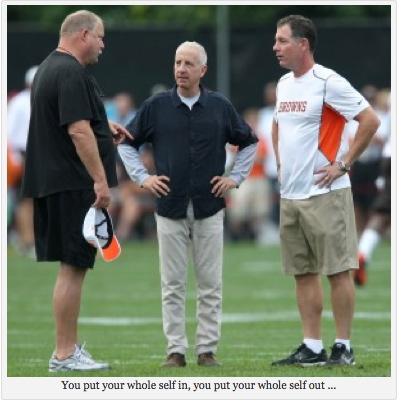 In better news, it looks like at least one profound Lerner mistake might shortly be erased, with reports that former Philadelphia Eagles President Joe Banner is part of the new ownership group giving way to the conclusion that Mike Holmgren will soon be on the outs. If true, Holmgren's legacy as Browns President will include:
On the plus side of the ledger, folks will put Holmgren's hiring of Tom Heckert, a GM who's assembled a roster that was good enough to become a league laughingstock in 2011 while regressing in every phase, that's now a consensus pick to finish as the worst team in the league in 2012.
If the Big Show is on his way out, it's at least an indication of some of the positives we might enjoy with new custodians of the Browns, as much as these new custodians will still be hampered not only by the Curse of Wahoo but also, still, the Curse of Lerner.
—————
In related news, here's Mary Kay Cabot with the "cannon-armed risktaking gunslinger who's offering no apologies" thing.
And finally the quote of the day is from Shurmur, on rookie defensive tackles John Hughes and Billy Winn practicing together against the starting offensive line:
"We did that on purpose. They battled in there pretty well."
Hope everyone's week gets off to a decent start.