Last week, Browns head coach Pat Shurmur made the local media rounds, giving rise to an explosion of commentary about how the second-year Browns head coach is a different man this season, a new guy with a new attitude. This was all clear by last Friday, the day before veterans reported to training camp.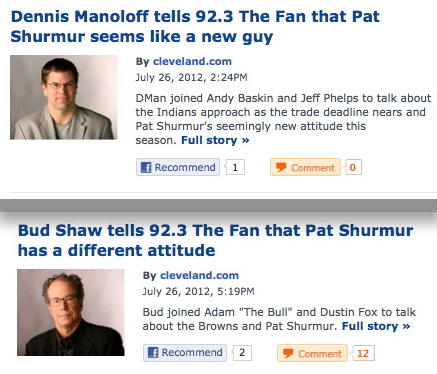 Which, of course, is a huge bummer, because if Shurmur really is a different man this season, it means we'll have lost the old "calm and professional, unruffled" Pat Shurmur of last pre-season; the one "[without a] glimpse of anxiety or doubt on his face," the "born leader" who's "self-deprecating and authoritative at the same time," and who "has that 'it,'" that "swag to him, just like a really good coach."
And with that Shurmur gone, there's no telling what might happen to the Browns offense from last pre-season; The offense that was "in a word, coordinated," with "a sense of purpose in what they tried to do and a tempo that was faster than we've seen here for a while," with "the timing and rhythm" all "com[ing] together."
No football practice for the Browns today which leaves us twisting in the wind on all of this for now, but thank heavens football practice will be starting up again tomorrow.
—————
In other news, Barack Obama points out that you didn't make Planet Earth, and Mitt Romney is mad as hell. Also, god likes Jews better than Palestinians.
And the quote of the day is of course from Pat Shurmur, on rookie WR Josh Gordon:
"Joe came back and said, 'Wow, this is a big sucker,'"
Which is all for today. Hope everyone is having a decent one.