Thanks to Bill Livingston for raising an excellent question. For all the glory that's rightfully bestowed on Jackie Robinson, baseball's color barrier wasn't something that was broken in an instant. Doby entered the Major Leagues just six weeks after Robinson, and by all accounts had a much tougher road. Robinson is recognized in every Major League ballpark, with his number 42 permanently retired throughout the league. But the Indians are putting Jim Thome ahead of Doby in the statue line in Cleveland, because Thome hit a bunch of home runs here before caving to union pressure to take a few more bucks to go play the rest of his prime years in Philly and Chicago. (NOTE: Doby hit a bunch of home runs, too, in an era when it was much harder to hit them, and he also helped the Tribe win a World Series in 1948.)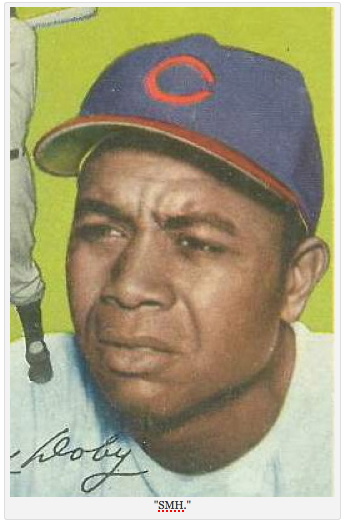 Maybe this is something that could be reconsidered.
Give them all statues. Thome shouldn't get one before Lou Boudreau, either. They seem to manage this just fine in Detroit.
(image via @byRiverBurns)
In other news, the quote of the day is a tie, between Peter B. Lewis about the $150 million Uptown development in University Circle:
"It's the first time in a long time I've been impressed by Cleveland. I'm impressed by the achievement and accomplishment, I'm impressed all around."
#EastSide
And Marla Ridenour, writing earlier this week in the Akron Beacon Journal:
"I imagine the No. 32 ranking [by NBC's Pro Football Talk] did not go unnoticed by a Browns public relations staff that makes calls on the wording in local blog posts."
And here's Satchel Paige's Six Rules for Staying Young at Buzzfeed (via Vince G on twitter), which is good timing with the Taste of Tremont happening this Sunday. Here's a look at what you missed at the annual food fest last year if you missed it.
If you're there on Sunday, hit us up on the twitter and maybe we can meet up for lemonades or a rap sesh with the leader of the Tenable Staff or whatever. Otherwise, have a decent weekend and treat your weekend open thread lovingly and wisely as always.