CBS Cleveland 92.3 The Fan's morning show host Chuck Booms is best known in these parts for his vigorous defenses of Obama/Hitler comparisons and demeaning caricatures of minority races created by white men, as well as a general propensity to blame every problem in the world on people who aren't upper-class white men. So you probably won't be surprised to learn that Chuck comes hard after the gays, too.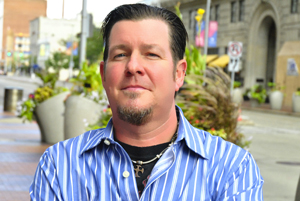 Yesterday morning I tuned in to 92.3 on on my way to the dentist because nothing could be better preparation for needles and drills to the face than a few minutes of listening to the Kiley & Booms show. I don't remember whom or what Booms was discussing specifically, but it was just before 10AM right as the show was ending, and he was talking about a person being flustered (Pat Shurmur at a post-game press conference, I think?). To make his point, he used the following simile:
"He was sweating like Ellen [DeGeneres] in a room full of girl scouts."
Which is great, of course, because Ellen DeGeneres is a famous gay person, and what Chuck wants his listeners to believe (and what far too many of his listeners are already all too happy to believe) is that all gay people aren't just perverted deviants but also dangerous pedophiles who struggle to control themselves around children.
Maybe we could consider Booms less of a lowlife for this if Ellen had any kind of checkered past at all, but she's actually about as spotless a celebrity as there is. So it's not just a cheap joke, but one that comes with a thoroughly baseless character attack, not just on Ellen but on all homosexuals, that panders to the worst prejudices of the worst of WFAN's listeners.
WFAN sponsors and especially Kiley & Booms show sponsors should take note (everyone else should of course will take note of them), and CBS and WFAN should be embarrassed for allowing Booms to continue to use their platform to make the world a safer place for bigotry.
—————
In other news, former Browns legend Jayme Mitchell was released by Tampa Bay this weekend which of course is completely and thoroughly incomprehensible.
Browns/Packers tomorrow. Hope everyone has a decent go of it today.