Who are we playing? Like it matters. You know it was a big weekend when a front page story in the Plain Dealer about how lucky we are to have Jimmy Haslam as the new Browns owner that uses a lobbyist employed by Haslam himself as its primary source gets relegated to the second page here. But first things first, per Mary Kay Cabot:
Haslam, 58, spent much of the 2 1/2-hour practice standing with Holmgren, who's brought this team to the verge of winning, but might not get a chance to see it through.
Deliverance. Mike Holmgren has brought the Browns to the the verge of winning, I am on the verge of becoming the Bath Salts King of the Midwest (business is booming), and Cleveland.com-menter Face Ripper Monkey points out that "the nation of Zimbabwe is on the verge of a high-tech 21st century economy and per-capita GDP on par with the G8 nations."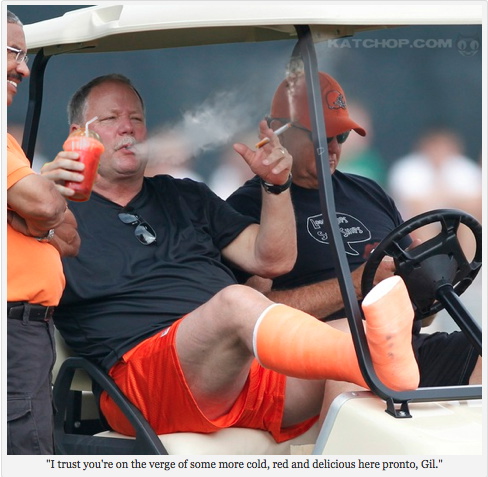 More from Cabot in the same piece:
Suddenly, a man walked out of the building in a Browns T-shirt and shorts.

"I'd wear what that guy's wearing," said one observer.

"That guy" turned out to be Haslam, who fit right in on the sidelines in his Browns garb and looked as if he'd been watching his team practice all his life. Many of the 3,175 fans in attendance were thrilled to see the new owner looking like a regular guy — just out watching some football.

. . . Haslam, a 6-3, physically fit man who never played college ball but looks like a former linebacker, chatted on the sidelines during breaks with several players, including quarterbacks Brandon Weeden and Colt McCoy, linebacker D'Qwell Jackson and running back Trent Richardson.

. . . Weeden had an exceptional practice in front of his new boss, zinging touchdown pass after touchdown pass in 7-on-7 red zone drills.

. . . After practice, Haslam had lunch with coach Pat Shurmur.

"I saw the passion in their faces," said Shurmur of the Haslams. "I felt passion in their handshakes. . . . I told the players, don't let anything stop the train, the train is moving."

After the sweltering practice, Haslam and his dad hit the showers.

. . . By 1 p.m., Haslam had changed into a smart business suit with an orange Browns tie and a helmet pin on his lapel. He pointed to a Browns watch on his left wrist that he promised to put on.

He stood throughout the 25 minute[ press conference]. The standing made him look bigger and more authoritative. He spoke with passion and enthusiasm.

. . . "To me, culture is not about the uniforms or the naming rights," he said. "Culture's about how you come to work every day and conduct yourselves. Will we change the uniforms? I don't know. In our business world, we changed the logo and our design or our stores multiple times over the years, but the basic culture and core beliefs — what we call our Pilot Flying J values – stay the same."

T-shirt or business suit, helmet logo or no, the new Browns owner won't rest until his team can stand as tall and proud as his old one.
No word at all on what the Pilot Flying J values are, or whether the showers were hit before or after lunch with Coach Shurmur, but the Pain Dealer has brought us all the way through the verge of needing to hit the (long hot) showers ourselves so maybe we'll catch up on this tomorrow or Weds.