Randy Lerner's sale of the Browns to Jimmy Haslam has reportedly been finalized, with the billionaire gas station scion from Tennessee set to pay $700 million for 70% of the franchise now, then some $300 million for the rest in four years. But that was before anyone knew that we had these: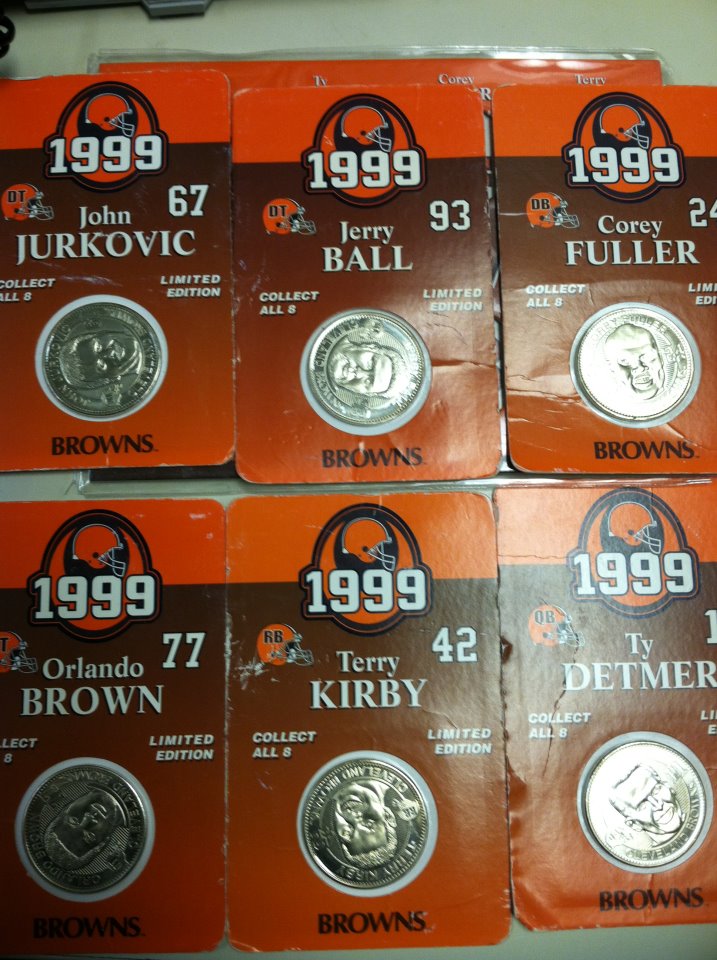 Read 'em and weep, Jim. The Cleveland Browns are ours.*
Of course we're real busy now dotting the i's and crossing the t's on all this so we won't get to announcements re: staff until next week. Suffice to say for now that it's the end of an era.
*(The complete set of eight includes Tim Couch and Chris Spielman but we shouldn't need to come up off of those to get this deal done.) 
—————
In other news, Tony Grossi's been thinking the hell out of some TD's and has it all figured out. Browns rookies Brandon Weeden and Josh Gordon will follow in the footsteps of precisely zero quarterback/receiver combos in modern NFL history by dominating the league with the fade route.
"Weeden. Gordon. Touchdown," Grossi says. "I see this fade pass being unstoppable some day."
Grossi goes on to explain that the Weeden to Gordon fade will be unstoppable in the NFL because Weeden and his teammate at Oklahoma State, 2012 fifth overall pick Justin Blackmon, had success with it against Big Twelve defenses in college, and adds: "Three points instead of seven invariably means another loss is in the offing."
Which technically means that no team that's ever kicked a field goal in a football game has won that game. But we digress, because if you ever wonder if Grossi or his sources sometimes just make things up, note that he also reports that the Browns, who, by every published opinion made at least a bold (if not desperate) move in using a supplemental second round pick on the Baylor wideout, actually "evaluated Gordon as a better NFL receiver prospect than Blackmon."
No telling where the Browns confirmed preference for another receiver, Kendall Wright, over Weeden with the 22nd overall pick last April fits in here, but get Gordon's and Weeden's measurements to Canton right away.
And finally, here's Steve Doerschuk at the Canton Repository on how there really isn't a competition between Weeden and Colt McCoy for the starting quarterback position. The rest is your weekend open thread. Use it lovingly and wisely as always and we'll be back with more on the Browns sale and who knows what else next week.