Nine passing attempts isn't a lot. It only seems that way when one is picked off, another bounces off the pads of an opposing cornerback who's streaking for your end zone, and a tenth is ruled a fumble.
Eight penalties and allowing your opponent 6.4 yards per carry all in the first half, though? That's just Shurmurball.
Like Brandon Weeden in 2012, Joe Flacco and Ben Roethlisberger were inserted as starters, presumed career starters, in their respective rookie seasons as well. What kind of quarterback would either one be today if he would have had to come up playing with a defense that couldn't stop the run — with more pressure on every drive, the impact of every mistake compounded? It's something to think about as the season progresses. And if you want more proof of the connection between run defense and the ability to develop a young quarterback, well, how could you possibly want more proof of that?
DRINK!
D'Qwell and Rubin weren't out there on Friday, so maybe that 6.4 ypc gets shaved down by a couple so that we're only giving up a first down on every third play instead of every two. Jordan Cameron and Travis Benjamin looked good as well. Tomorrow we'll have an Xs and Os post from Rod to break down Benjamin's long first quarter catch, so look forward to that (and here's Rod's writeup on Friday night's game if you missed it).
—————
In other news, Mary Kay Sunshine writes about all the discoveries the Browns made on Friday night, including Weeden's realization that turnovers are bad, and:
"The biggest thing Weeden learned during his debut is that a field goal can be a beautiful thing."
What's up is down, what's left is right …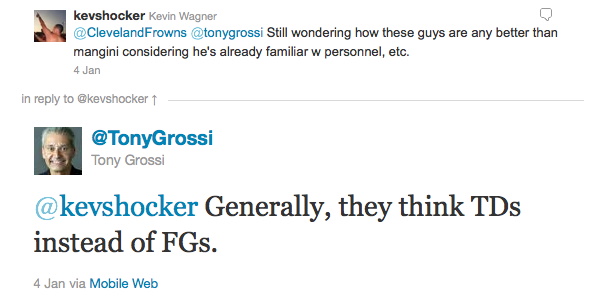 Browns head to Green Bay Thursday night for the next preseason tuneup. Hope everyone's week gets off to a decent start.