"We battled, we came up short and we fought our [tails] off." — Brandon Weeden
"He battled." — Pat Shurmur on Weeden
"Browns quarterback Brandon Weeden and his young, inexperienced receivers grew up a lot in Baltimore Thursday night, making the Ravens sweat it out until the last play of the game when they had a chance to tie it." — Mary Kay Cabot
"Nobody gets more excited about a seven point loss than Browns fans." — @TheKardiacKid
—————
As happy as folks were to see the NFL referees back on the field last night, Ravens tackle Michael Oher had to be forcibly restrained from dismembering one of them for making a phantom holding call on a 23-yard Ray Rice run with four minutes left that would have iced the game for Baltimore. Until about three minutes after that, with some 30 seconds left in the game, the Ravens did anything but "sweat it out" last night against the Browns.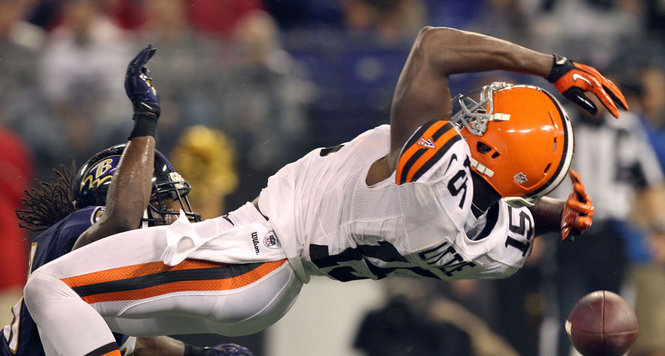 At least the Plain Dealer got it half right with the headline to Terry Pluto's game wrap: "Night of low expectations instead brings some real optimism." The fans had low expectations for the Browns, the press had low expectations for the Browns, Las Vegas had low expectations for the Browns, and so did the Ravens. Of course the veteran team, coming off an emotional comeback win over the Patriots on the heels of the tragic accidental death of receiver Torrey Smith's younger brother that same day, playing its fourth game in seventeen days, had every reason to overlook a desperate winless team that it had beaten in eight consecutive match-ups going into last night.
If the Ravens list into a game like that against any other team in the league, they get blasted out of the stadium. But against the Browns, who, according to Trent Richardson, looked past the Bills last week because "[they] were trying to get more prepared for [Baltimore] more than anything," they hold the lead for the entire game despite a litany of drive-breaking penalties, special teams breakdowns, and a lazy Joe Flacco interception in the Browns' end zone.
So let's do backflips, just like we did when the Browns could have sort of almost tied the Bengals only to come back home the next week to get their faces smashed by the Bills. Pluto said the Browns "did some things very right, and that kept [him] watching intently all night." Everybody keep watching intently, then read all about it in the PD. These future stars are growing up fast.
But we knew Brandon Weeden had a strong arm. We knew the Browns had some really nice young players. How could they not after using so many high draft picks? "Anybody can gut a roster and replace it with rookies and first-year players." When do we get to see these pieces used to make winning game plans against legitimate NFL opponents? 14 touches for Trent Richardson. 50 passes in a downpour. So the Browns avoid complete embarrassment when the expectations for them couldn't be lower. When do we get to see if they can handle expectations of any other kind?
Ten losses in a row and counting. After three weeks, and still after four, one of two winless teams left in the NFL.
—————
Here's a must read on NFL and Browns fandom by Pete Beatty at The Classical; and here's The Baltimore Sun's Mike Preston calling it "basically a foregone conclusion" that "[o]nce this season is over, the Browns will fire Coach Pat Shurmur." Preston adds that "President Mike Holmgren will probably be dismissed as well," and that "[t[he Browns are a minor-league operation with minor-league talent."
The rest of this weekend's action, including our NCAA and NFL picks will be in the Cheddar Bay open thread. Hope everyone has a decent go of it until Monday.