We should have seen it coming when these jerks started kicking people out of the Dawg Pound for standing, but still. Why is there even a conversation about putting a roof on Browns Stadium? Why would City Council bring it up? Why is Jimmy Haslam even entertaining the idea?
As terrible as the Browns have been for the last decade, it's understandably funny to think about fanciful visions of the Science Center's wind turbine whipping forebodingly in the bitter wind behind a Browns home game in January. But why have a football team in Cleveland at all if we're going to give up on the idea entirely?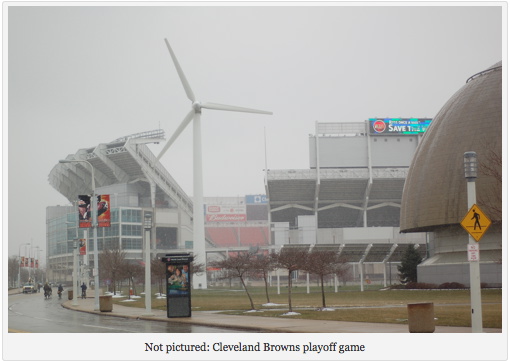 It's still not that hard to understand what a home field advantage is, and there are still plenty of folks around who remember what such a thing was like here. Still plenty of folks who understand what it's like when the elements become part of a football game, and what it's like to have a football team that by conditioning and (even better) by disposition is better than the other team at coping and (even better) thriving in these elements. And even more folks who at least otherwise know that winter is a big part of what makes Cleveland what it is and what makes Browns games what they are. As sad as it is that the longest winning streak of the modern era is only four games long, it's no coincidence that it happened in December and January, which was also the last time we beat the Steelers (it was five degrees out and the last place they wanted to be was Browns Stadium). It's embarrassing (for all of us) that any of this needs to be pointed out.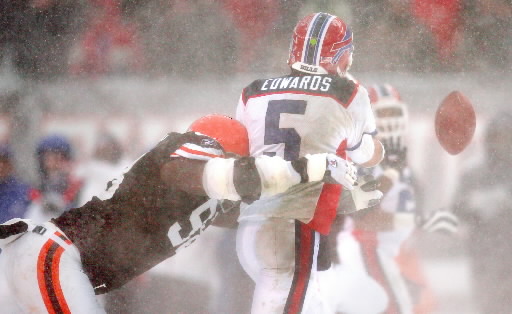 We know you're from the south, Jimmy, and that you must spend your fair share of time in tropical climates as well, but that's what you get an owners box for. Whatever some rogue sociopath councilman tells you, these are Browns games, not Build-a-Bear workshops, and the rest of us know that anybody who doesn't know how to layer up or otherwise keep warm is an idiot (or a Chargers fan or something) who shouldn't be at the game anyway, or else someone who will learn a really important lesson fast.
This idea about getting more use out of the Stadium might sound nice in theory, but if the Browns could only start winning it would become the most useful building in Ohio no matter what else happened in it. And of course, the idea of attracting a Super Bowl to Cleveland is outrageous, not because we probably wouldn't get a Super Bowl even with a roof, but because nothing could be more embarrassing and stupid than hosting a Super Bowl before the Browns even get to play in one (let alone win one). Any Clevelander with a shred of dignity would go to whatever place in China Australia that's the farthest away from Cleveland as there is on earth if you tried to have a Super Bowl here before the Browns played in it. It would be a complete disaster. And either way, never hosting a Super Bowl is a small price to pay for real Cleveland football in a real Cleveland stadium. Please don't ever make us talk about this roof thing again.
—————
Alright, the Cheddar Bay open thread will have to wait until tomorrow so post Thursday action here, don't forget tailgate party this Sunday in the Muni Lot (details at bottom of post here), and otherwise have a decent go of it in the meantime.