Back in June I mentioned that I was in Hartford, Connecticut for Eric Mangini's eleventh annual football fundamentals camp for high schoolers and that I'd write something up on the experience. As time passed before I had a proper chance to get to writing, I figured it was just well to wait until football season came back around so, here we are: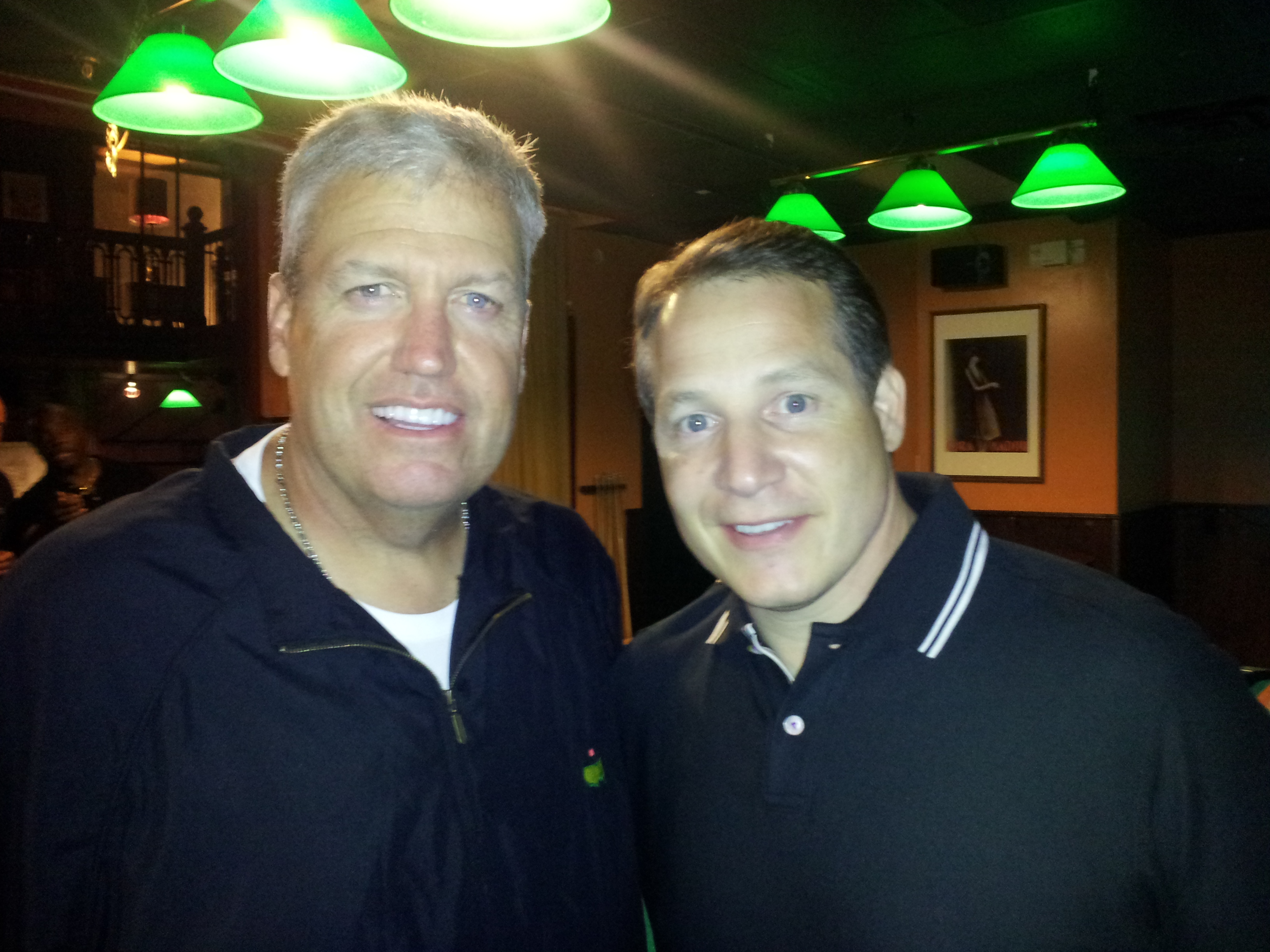 For starters, read Zac Jackson's column on his trip to Camp Mangini in 2009. Jackson's experience at the Camp is entirely consistent with mine, and his description of the scene is dead on: 
Camp Mangini takes place over a sprawling area of park land and school property; picture one of those huge sports complexes you see in Strongsville or Kent or Jackson, and picture it in an urban setting. But picture every inch of it being used by kids having the time of their lives, and picture enough volunteers who coordinate every detail (just the way Mangini likes it) and keep it running like clockwork. It's an impressive operation.

About the only person who didn't have a specific job last year was me. And if you know me you know this is rare, but I was so impressed by how hard everyone was working and how well put together the event was that before long I was running errands, checking on the back fields and driving a golf cart all over Hartford.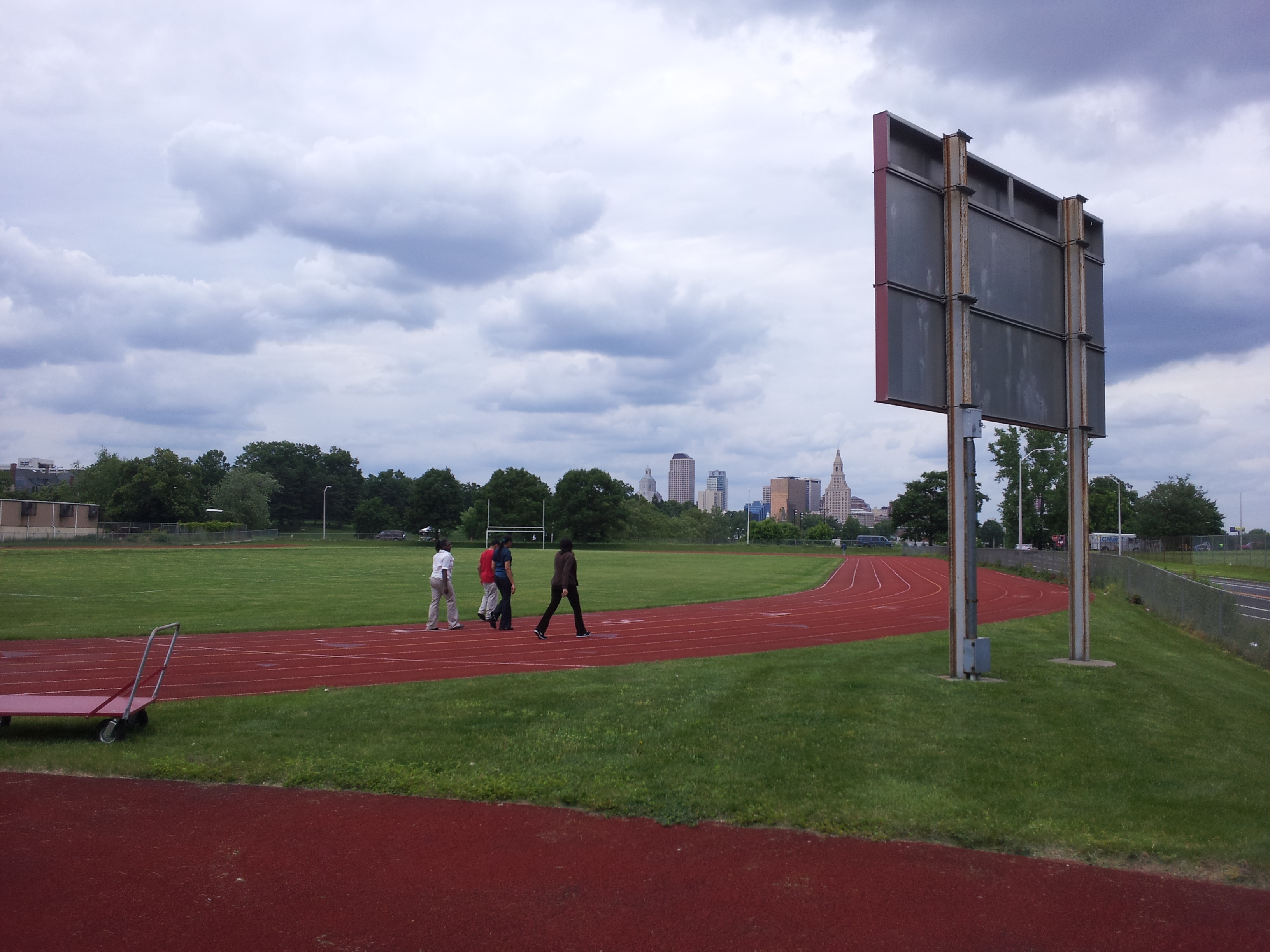 It doesn't take long on arriving at the camp to get an idea about why everyone is working so hard, and it's not just what it is about the kind of attention teenage football players will pay when they're in a room and on the field with a bunch of NFL players and coaches. Hartford is one of the most poverty ridden cities in America. Also one of its oldest, and formerly the insurance capital of the world, the city is a hothouse for the wealth inequality that's leveled the country's middle class and driven an unprecedented gap between its haves and have-nots. There's gated mansions and bucolic suburban developments nestled into the rolling wooded landscape, and there's housing projects, with not so much in between. Mangini's alma mater Bulkeley High School (pronounced  "buckley"), which serves as the camp's headquarters, is bordered by projects itself.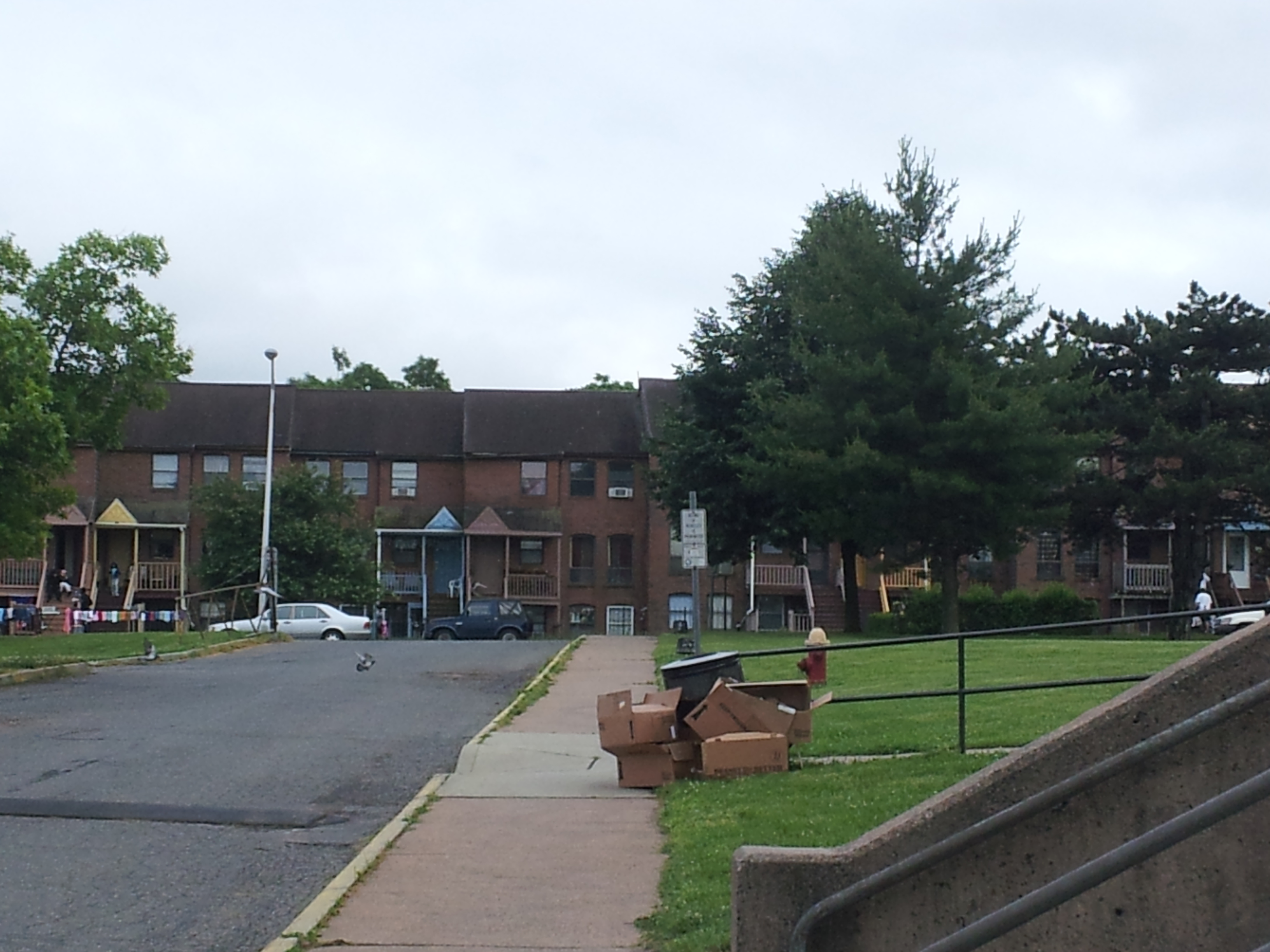 When Mangini attended Bulkeley, 11% of its students were white. "All different colors and tribes of kids" would show up at Mangini's house to swim on hot days, according to Mangini's brother-in-law Harry Bellucci in a 2010 profile by Terry Pluto.
Retired Bulkeley coach Graham Martin describes the school in those days as "gang infested."
And one of Mangini's best friends and teammates at Bulkeley, Pepe Santana, "the toughest guy in Hartford as a high school junior" according to Mangini, was shot through the back of the head in a gang ordered execution shortly after graduation.
Mangini's view of an important difference between himself and the least fortunate of his old classmates was apparent in the introductory speech he gave to the volunteer coaches — about 200 in all, including Rex* and Rob Ryan, Brian Cox, Brian Daboll, Mike Devlin, Jerome Henderson, Rick Lyle, Brian Sanford, Nick Sorensen, and Luke Steckel — many of whom had heard it before.
"I'm from Hartford myself," Mangini said. "And the campers here today are just like me and the kids I went to school with. They're good kids, but a lot of them don't have the best opportunities, and that includes good opportunities to hear from positive role models."
"These kids are here today to play football," Mangini continued. "But that's also an excuse for you to talk to them as much as you can; To give them a positive message, to be a positive role model for them even for a day."
Later that day, Mangini explained another purpose of the camp to NBC Connecticut's Diana Russini. "I want kids to see that the other kids from Hartford are just like them," he said. "And break down some stereotypes."
And per the Camp's website:
"Our camp is a one-day, non-contact camp that will stress fundamentals, form and technique with our primary objective focusing on quality instruction for each and every player in a fun atmosphere. We not only hope to teach skills to make better football players, but just as importantly, we hope to stimulate the general interest in the game of football and promote the concept of teamwork. This will include emphasis on a good work ethic, motivation, self-discipline, and self-confidence. Only so much football can be taught in one day, so we take advantage of every minute we spend with the kids during our practice time. Our day will be intense and upbeat in tempo."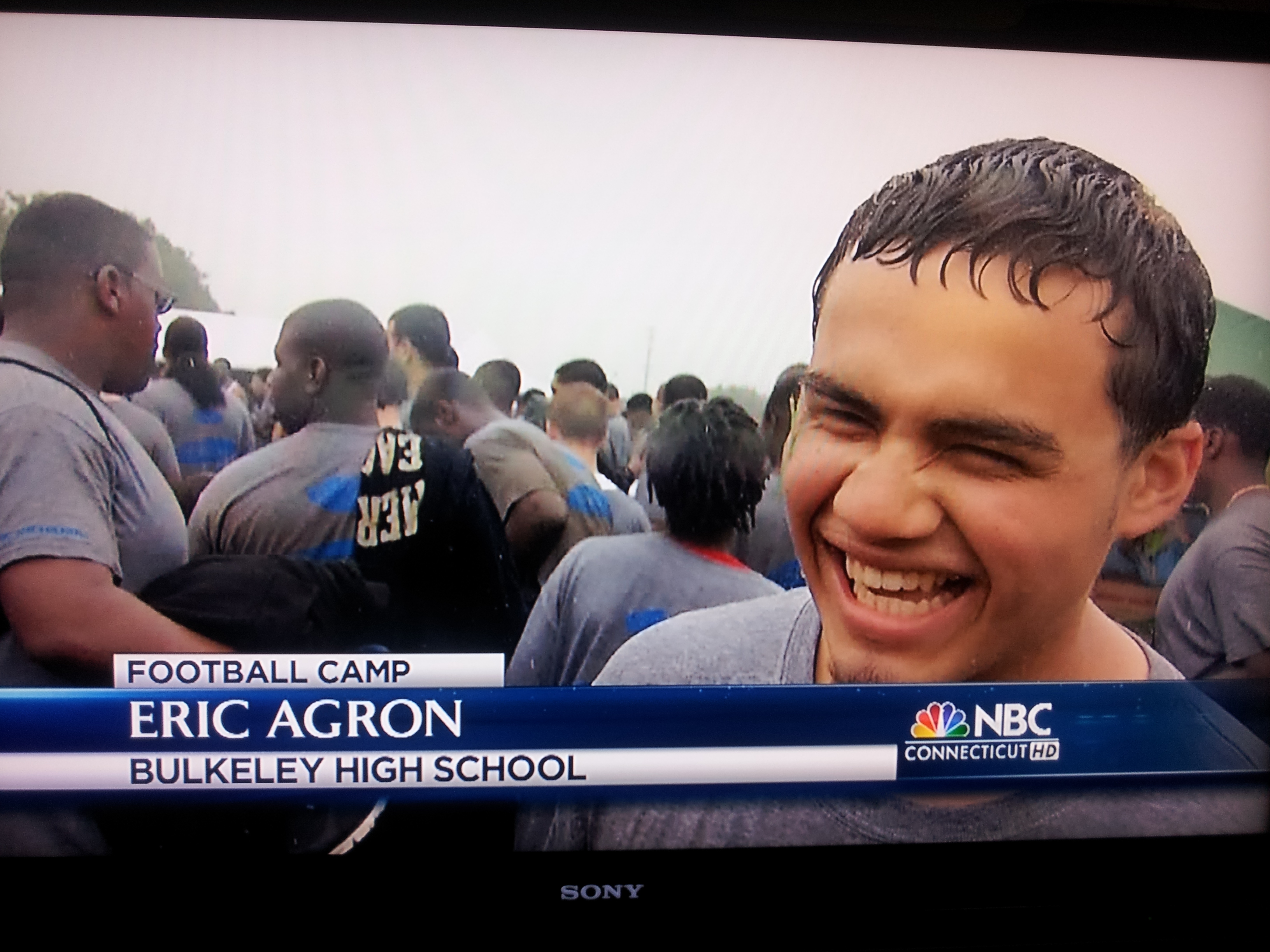 Naturally the campers are especially tuned in for the uptake. When Mangini addressed this year's group — 700-plus, despite torrential rain and wind that carried on for the entire morning and most of the afternoon — you could have heard a pin drop. Bellucci — who is also head football coach (and much more) at Hartford Public High School, the largest of Hartford's inner city high schools — was quick to note that in ten years of putting on the camp, not a single camper out of the approximately 8,000 that have been through over the years had ever been removed for disciplinary reasons. This record stayed clean in 2012 as well.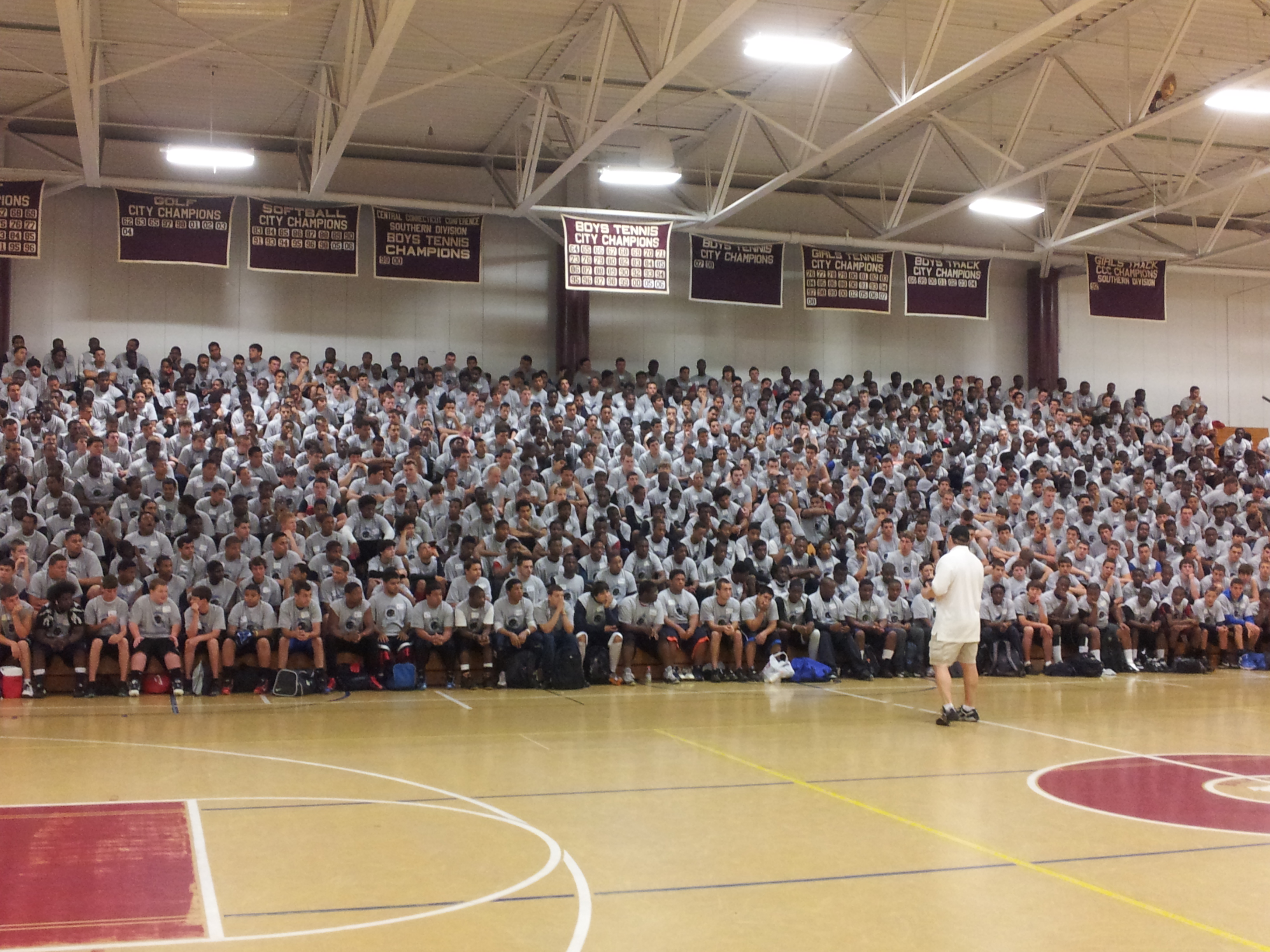 The day is full of opportunities for meaningful interaction between the coaches and campers. In the morning session the campers rotate in small groups through a series of position drills, with two to four coaches manning each station (the Ryan Brothers' defensive back v. receiver jump ball drill was the highlight here). The afternoon session consists of a multi-division 7-on-7 tournament, with each team assigned to 2-3 coaches.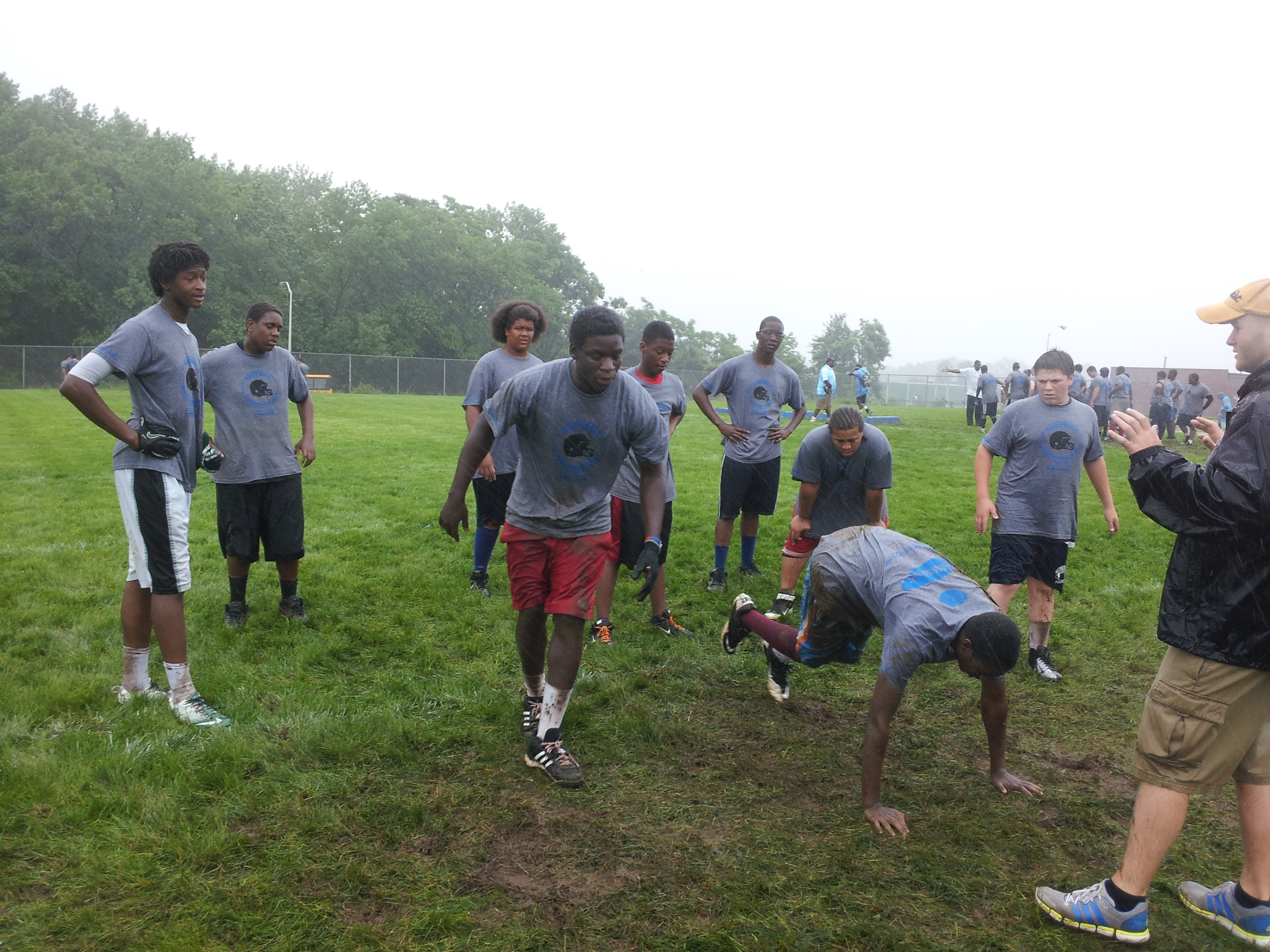 Early on I spoke with a pair of former campers who were there to volunteer, two of Bellucci's kids from Hartford Public who were about to graduate. One's face lit up as he talked about the basic pass coverage skills he picked up at the camp (he's a linebacker), and having the chance to learn from the likes of the Ryan Brothers, Brian Cox, and Brian Sanford, the latter being a graduate of Hartford Public himself.
The other said more stoically, "It's good to see Coach giving back."
This second volunteer had won a new laptop as one of the most outstanding campers at last year's camp, but the computer was shortly stolen from his family's apartment. One of this year's laptop recipients asked for a garbage bag in which to carry his prize home to help prevent the same thing from happening to him.
The camp is open to any high-schooler who can make it there. The fee is $45, but many come for free on scholarships paid for by the Carmine and Frank Mangini Foundation or other sponsors (the Foundation counts a number of businesses, small and large, as sponsors, including headliners Samsung and PC Richard & Son). Campers come from all over New England as well as New York and New Jersey (Jackson notes that Teddy Atlas charters a bus for campers from NYC).
A high school coach from Waterbury, Connecticut — "a city ranked as having the worst quality of life of 300 U.S. metropolitan areas by Money Magazine in 1992″ — told me that the Foundation waived the fee for his entire team, and paid for meals for the bus rides to Hartford and back.
"It's great for my kids," he said. "Getting them out of Waterbury is one thing, but to get them all on the bus and to have them all together out of town in the off-season like this is an opportunity that we just wouldn't have otherwise."
The Ryan brothers have been volunteering at the camp for ten consecutive seasons, and most of the other NFL volunteers have been participating for at least a few years. This year, the Mangini camp fell during NFL training camp, and many of the coaches had to hurry back to their jobs, with some having to skip the afternoon 7-on-7 tournament to make it back on time. One who was able to stay was New York Jets tight ends coach and assistant offensive line coach Mike Devlin,** who played in 58 NFL games himself, including Super Bowl XXVIII with the Buffalo Bills, and with whom I was assigned to coach one of the 7-on-7 teams (most of the writers there, including ESPN's Seth Wickersham and Aaron Schatz of Football Outsiders, were installed as 7-on-7 coaches).
It was impressive to watch Devlin install the offense in about fifteen minutes, all from the same formation, starting with three small variations of the same play. As the team became increasingly comfortable with the plays, Devlin would methodically install additional variations on the fly. Watching the pro work helped make it especially clear that the camp benefits not just the players, but also the coaches in attendance (some of whom are basically kids themselves), and with Devlin's brains and my moral support, our team cruised to the championship in our division.
We also had a really good quarterback, Cody Williams, from Springfield Central High in Springfield, Mass., and it might have also been a good thing that we didn't have to play Schatz's team. Anyway, all the kids were naturally fired up for the tournament, which was naturally a lot of fun. It also offered the day's easiest opportunity for meaningful interaction with the campers, and by that point, my football camp spiel of things I wish someone would have said to me when I was a teenager was pretty well conditioned.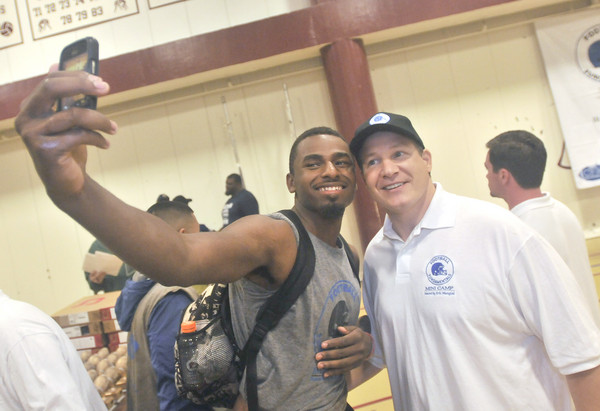 After the tournament, the campers and coaches all gather back in the now buzzing Bulkeley gym for the award ceremony. As I walked in whooping it up with with the guys from the 7-on-7 team (champs!), we approached Bellucci.
"The kid can play!," I shouted about one of his Hartford Public guys who was on my team.
"Yeah," Bellucci replied. "Talk to him about his grades."
Bellucci's kind and matter of fact delivery here made it clear that this kid had already heard it from his coach plenty. But one kid can only hear the same spiel so many times, no matter how authentic and well crafted it is, and no matter how much respect he has for the person delivering it. And not even the best spiel will get through to every kid, or even every really good kid. One coach, or set of coaches, or parents, or guardians can only do so much in even the best neighborhoods.
Talk to him about his grades. Talk to him about life. Everybody's got a different angle.
It's exactly what we were there for. Football was a great excuse.
—————
*I had a chance to speak with Rex Ryan for awhile before the camp started. I introduced myself by telling him that I was a Browns fan and blogger from Cleveland, and that what happened to Mangini in New York and then Cleveland made me resent Ryan and the Jets, even though it was no fault of Ryan himself. He responded by nodding and saying, "Eric has never had enough time," meaning with the Jets or Browns as head coach. I also told Ryan that I started to come around on him because I admired his and his players' response to media coverage of some photos alleged to be of his wife's feet. He laughed and took his phone out of his pocket to show me the background photo on it, which was of his wife smiling, with a close-up of her feet kicked up out of a car door (similar to the photos that made the news in the first place). He said he had this photo blown up to various sizes and framed and posted all over his office, all facing out toward the entrance. He also told me that he had a bouquet of flowers and balloons anchored by a pair of giant plastic feet delivered to Patriots receiver Wes Welker, who had taken a press conference jab at Ryan about the foot thing.
**Devlin, who was hired by Mangini when Mangini was head coach of the Jets, has taken a page out of his former boss's book and started his own NFL-staffed football camp for youngsters in Mt. Sinai, New York. Next year's will be the fifth annual Devlin camp.
—————
The 2012 regular season debut of Xs and Os with the Bros will be posted here first thing tomorrow.