"We had about a three minute stretch there before the end of the first half that, just, you know, uh, wow, you can't do that, you know, against a good football team. And then we battled …" — Pat Shurmur
"You'd think anyone who's played much quarterback would know that you only get one forward pass [per play]." — Dan Dierdorf
"It stinks." — T.J. Ward
"I appreciate where you're going with this, but you're getting a little redundant." — Shurmur
—————
Congratulations to the Cleveland Browns for equaling the worst losing streak in the franchise's 64-year history with their eleventh loss in a row. It's the first 0-5 start since the first season of the expansion era, and yesterday marked the first time since 1960 that an NFL team had allowed an opponent to have a 200-yard rusher and a receiver with three touchdowns in the same game.
After three off-seasons under Mike Holmgren, and three full drafts (three-plus-plus, actually), we're now in Holmgren's third season and Randy Lerner's historically bad decision is yielding historically bad results.
At least there's an end in sight.
As much as it's still incredible that the first names we hear are still Gruden and Cowher (since we haven't learned enough about throwing money at the priciest brand name available), at least this time we're talking about bringing these guys in for people who really do need to be replaced.
Um, that game yesterday was horrible. 
The Giants came in so banged up that it caused the defending champion of our Cheddar Bay Reality Football contest — a lifelong Giants fan who skillfully and persuasively rode Big Blue all the way to the title last year — to pick the Browns to cover the 8-point spread. "It's not an injury bug, it's an injury bomb," he said, pointing out that no fewer than seven New York starters were out yesterday with at least five more playing hurt.
Of course, after the Giants gave the Browns a 14-0 lead with an unforced fumble and a decision to cover a wide receiver deep with a linebacker, it looked like our defending champ's prediction would be right on. The Browns offensive line was getting push and protecting the quarterback, the Giants' suspect back-7 couldn't tackle Trent Richardson, and it looked like Pat Shurmur would finally get a legitimate upset win under his belt. But then the Giants punched back a little bit, Brandon Weeden threw one of the worst interceptions you'll ever see in the NFL, and the whole Browns operation proceeded to completely melt down.
Suffice to say the folks who are blaming yesterday's entire dumpster fire explosion on a single second-quarter decision to pass on 3rd-and-1 (the first Weeden interception) are either out of their minds, unforgivable and/or legendary hacks, or both.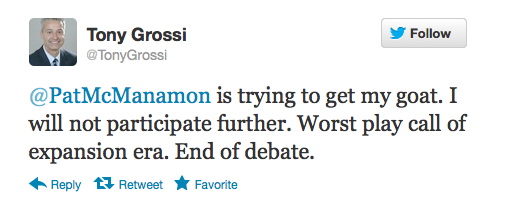 Of course, Shurmur was right to emphasize in the post-game press conference that Weeden made a horrendous throw there. Sometimes you run on 3rd-and-1, and sometimes you want to pass. And what Pat was getting at but couldn't just come out and say was that if one play call in the second quarter really could cause a collapse on the order of what happened yesterday at Met Life Stadium, you've got much bigger problems than that one play call. Of course, to hear so much about one pass attempt on 3rd-and-1 from the same Tony Grossi who couldn't stop howling when we had a coach who recognized the limitations of what he had to work with and did things like call running plays and kick field goals in response, is a nightmare of self-parody on such an order that only the Curse of Wahoo could be responsible.
So, Dick Jauron's defense. For the first time in two seasons under Shurmur and Jauron, the Browns faced an elite quarterback, and the result was a surgical embarrassment. The Giants were the 22nd-ranked rushing attack in the league going into yesterday,  and over-the-hill mediocrity Ahmad Bradshaw went for 200 yards on 30 carries. (Imagine what Richardson would have done in his place.) And T.J. Ward is now in his third season in the league. If he's supposed to be a future star, is it too much to ask of him to step up and make a few plays in Joe Haden's absence?
On the other side of the ball it was Brandon Weeden at least as much as the play-calling that killed the Browns. Yes Weeden hit a wide open Josh Gordon for two touchdowns on throws that Derek Anderson would have made, too. But in addition to misfiring badly on a number of passes throughout the game, there were the two incredibly bone-headed interceptions in Giants territory. The first we've been over, of course, and Weeden's second pick might have been worse. It came after the Giants had taken a seventeen-point lead at which point the referees started letting the Browns defense clothesline Giants receivers with impunity, which led to an Usama Young interception that he returned to the Giants 27. With a chance to close within a touchdown on 3rd-and-goal from the Giants' 10, Weeden threw a pass right into Giants linebacker Chase Blackburn's chest. Dan Dierdorf, calling the game for CBS, was flabbergasted. "The only way that could have possibly been a completion would have been if the defender would have fallen down."
Trent Richardson looked like the best running back in the league yesterday and the offensive line gave the quarterback plenty of time in the pocket (he wasn't sacked once). Through five games, anybody who tells you that Weeden has shown anything that Derek Anderson didn't show when he was four years younger is just making things up.
As for the highlights, it happened on the first drive the third quarter when the Browns rolled the dice and won with a quarterback sneak on a 4th-and-1 at their own 36 causing Dierdorf to comment on how "the luxury of being 0-4″ is something that makes it easy for a coaching staff to make calls like that. Of course, facing a 4th-and-5 five plays later and 20-yards up the field in Giants territory, Shurmur punted, complicating the task of historians of the 0-4 Luxury Offense, and leaving us to wonder what kind of indulgences are coming our way next week now that we're 0-5.
Another match with the Bengals, who are coming to Cleveland after suffering the unimaginable experience of a home loss to a  team that plays under a rookie head coach with a rookie starting quarterback.